Activist Huerta honored as part of Civil Rights Game festivities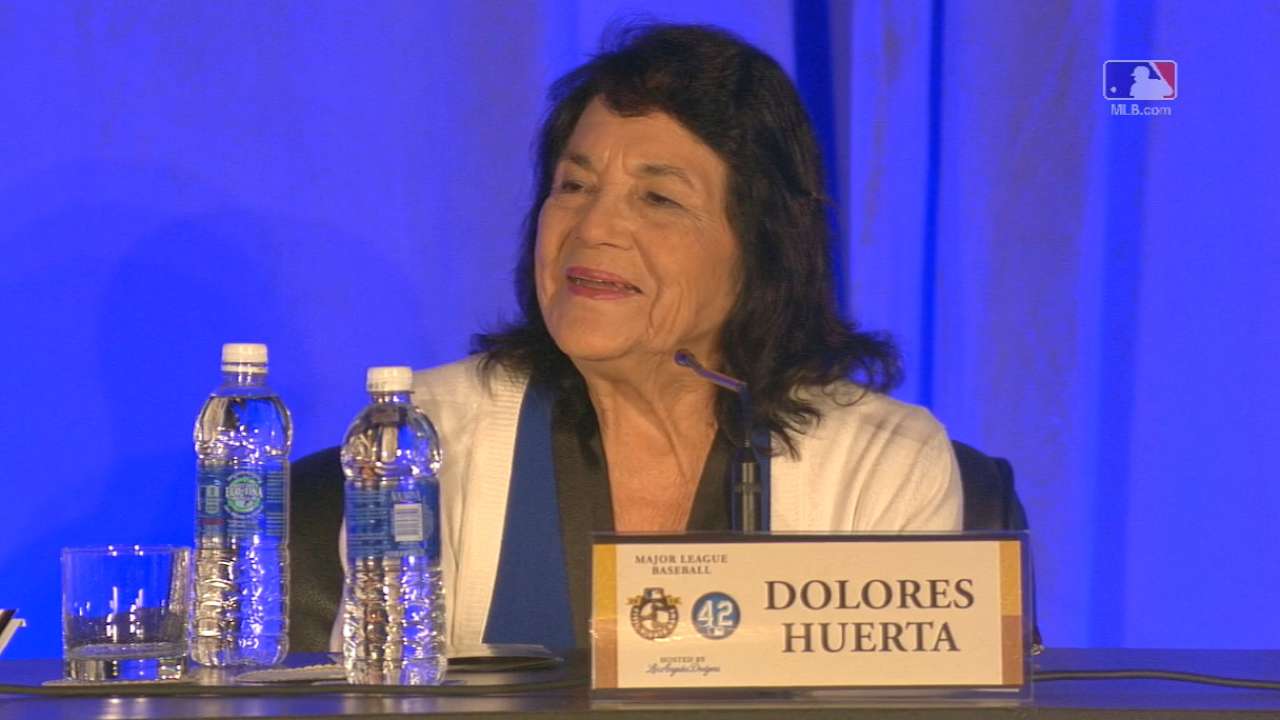 LOS ANGELES -- The latest honor of Dolores Huerta's career will have plenty of company. Huerta, a two-time winner of a Presidential medal for her work in labor and civil rights activism, was lauded with the Beacon of Life Award on Wednesday as part of the Civil Rights Game festivities.
Huerta, 85 years old, accepted her honor at the Millennium Biltmore on Wednesday afternoon before taking part in a roundtable discussion on civil rights and progress in America.
Huerta, who had previously received the Eleanor Roosevelt Award for Human Rights from President Bill Clinton and the Presidential Medal of Freedom from President Barack Obama, said she had held a life-long connection to the Dodgers because of the team's reputation for breaking barriers.
"When people ask me why I'm a Dodger fan," she said, "I say, 'Because of Jackie Robinson.'"
Huerta was just 17 years old when Robinson broke baseball's color barrier, and she said it made a huge impact on her life. Huerta would go on to a life of fighting injustice, and she made her largest impact as a co-founder of the United Farm Workers with peer and friend Cesar Chavez.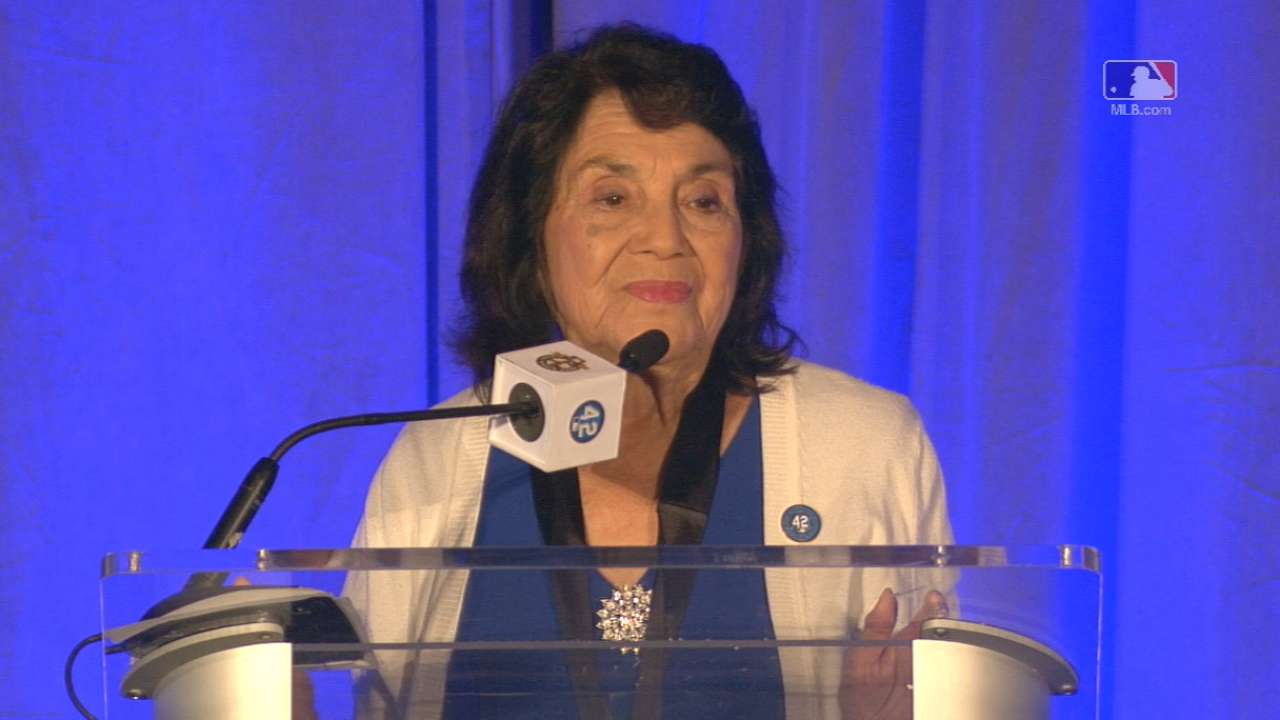 Huerta fought tirelessly to register people to vote and to advocate for better work conditions for millions of farm workers around the world, and she's been arrested 22 times for participating in non-violent opposition to laws and practices she found unfair. Huerta said Wednesday that voting can also be a form of non-violent opposition, and she said she learned so much from Robinson's odyssey.
"That was such a great example. I think for all of us, not only for the African-American community," she said of Robinson's struggle. "It meant that we could do it. He was there and we could do it. And on the international scene, we know the rest of the world is constantly looking at the United States of America. What are we doing?
"I think I said earlier as a community, we talk about making that giant step on the moon. Jackie Robinson made a big, giant step for our society and for the United States of America when he was able to hang in there and not quit in spite of everything that they threw at him."
Huerta, mother of 11 children and the namesake of an eponymous charitable foundation, is not going gently into her golden years. The activist is still lobbying for change, and she said one of her largest projects now is working to reform the school system. Too often, she said, the deck is stacked against minority students, who often wind up victim to truancy or incarceration instead of graduation.
Truancy shouldn't be a crime, she said, and fewer students should be suspended or expelled from school for minimal offenses. Huerta wants to live in a country where the school system provides equal access to everyone, and she thinks that punishments should be designed to teach lessons.
"One of the crazy things they do in the school system, when a student has done something wrong and needs to be punished, if they play sports, right away they punish them and they can't play sports," Huerta said. "Young people are going to do all kinds of crazy things. ... I know one of my daughters is here, by the way, today. Juanita Chavez. In the school that she was in, when she was in detention, they made her run laps. And she was a very good runner. I'm thinking that instead of telling young people, 'When you get in trouble, we're going to get you out of sports,' it needs to be just the opposite."
Sports and society mesh in so many ways, said Huerta, and so many young people are inspired by the games they love and the players that play them. Baseball used to be a community game, she said, and she sees Latin American countries adopting the game in the same way Americans used to.
And that's not necessarily a bad thing. It means that Latin Americans can watch games on television and find someone to identify with, and it means the definition of All-American is constantly changing.
"I remember seeing a television commercial that said, 'Baseball, the All-American game.' And all the players had Latino names on their jersey," Huerta said. "I thought that was pretty cool. And it is the All-American game, and we're talking about the Americas, which is a hemisphere. Absolutely, it has to be very diverse, and not only in terms of Latinos, also Asians. And that's what baseball stands for."
Spencer Fordin is a reporter for MLB.com This story was not subject to the approval of Major League Baseball or its clubs.