Statcast ready for its 2015 debut
Revolutionary technology will track plays in Tuesday's Cards-Nats MLB Network Showcase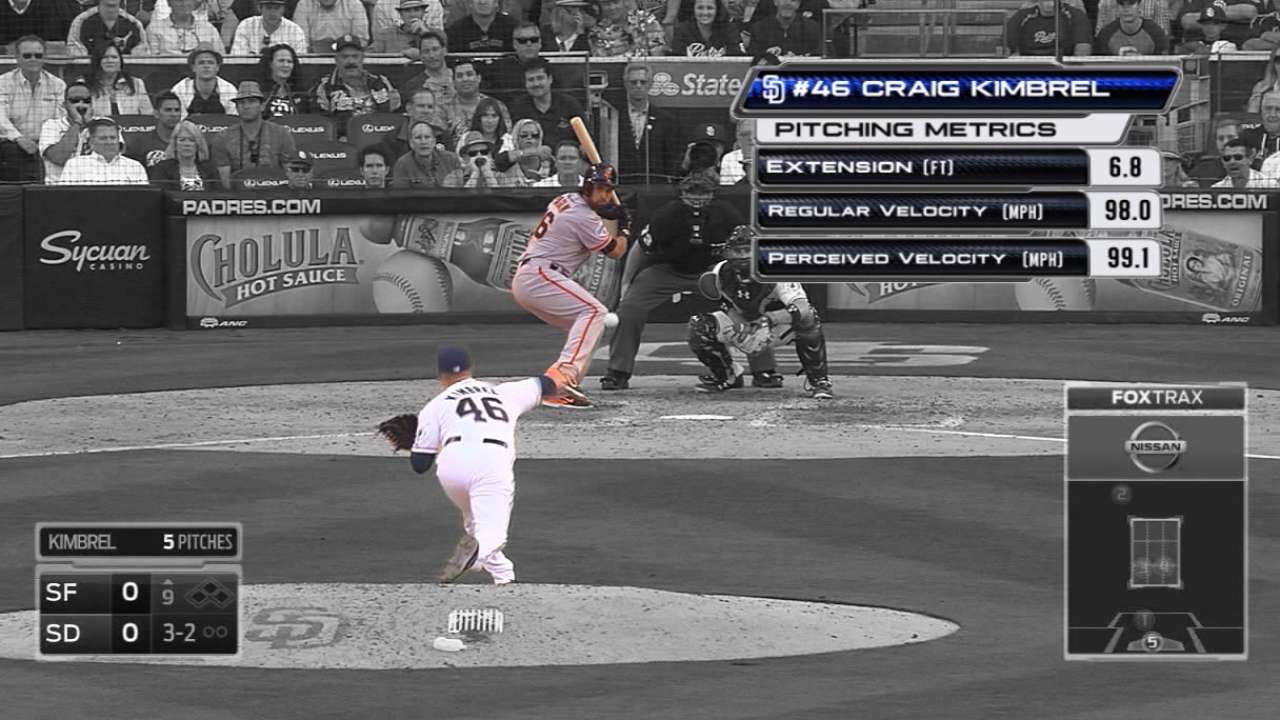 Once deemed the player-tracking technology of the future, Statcast is ready to make its mark on the present, starting with Tuesday's MLB Network Showcase game between the Cardinals and Nationals.
Deemed by MLB Network analyst Brian Kenny to be "a revolutionary technology that will change the way fans around the world view our national pastime," Statcast can track nearly every aspect of a given play in unrivaled detail. It provides information from the acceleration and maximum speed of runners and defensive players, to the release time and velocity on throws, as well as the degree of spin on breaking balls.
Fans will be able to see the technology in action during Tuesday's Cardinals-Nationals tilt, which starts at 7 p.m. ET on MLB Network. The broadcast will be the first of its kind, breaking down plays in never-before-seen ways.
Whether it's breaking down just how fast the ball comes off of Bryce Harper's bat on a home run or tracking Gold Glove outfielder Jason Heyward's route, initial jump and maximum speed on his way to making another spectacular catch, Statcast will provide viewers with an entirely new way to watch Tuesday's game.
"Statcast will provide us, and Major League front offices, with the tools to dig deeper into advanced metrics," Kenny said, "altering the perception of a player's value and helping us to appreciate the unique athleticism a player possesses.
Statcast made its debut last season, though it was featured mainly during the All-Star Game and the postseason. It's expected become more mainstream this season, with the necessary technology now available in all 30 ballparks.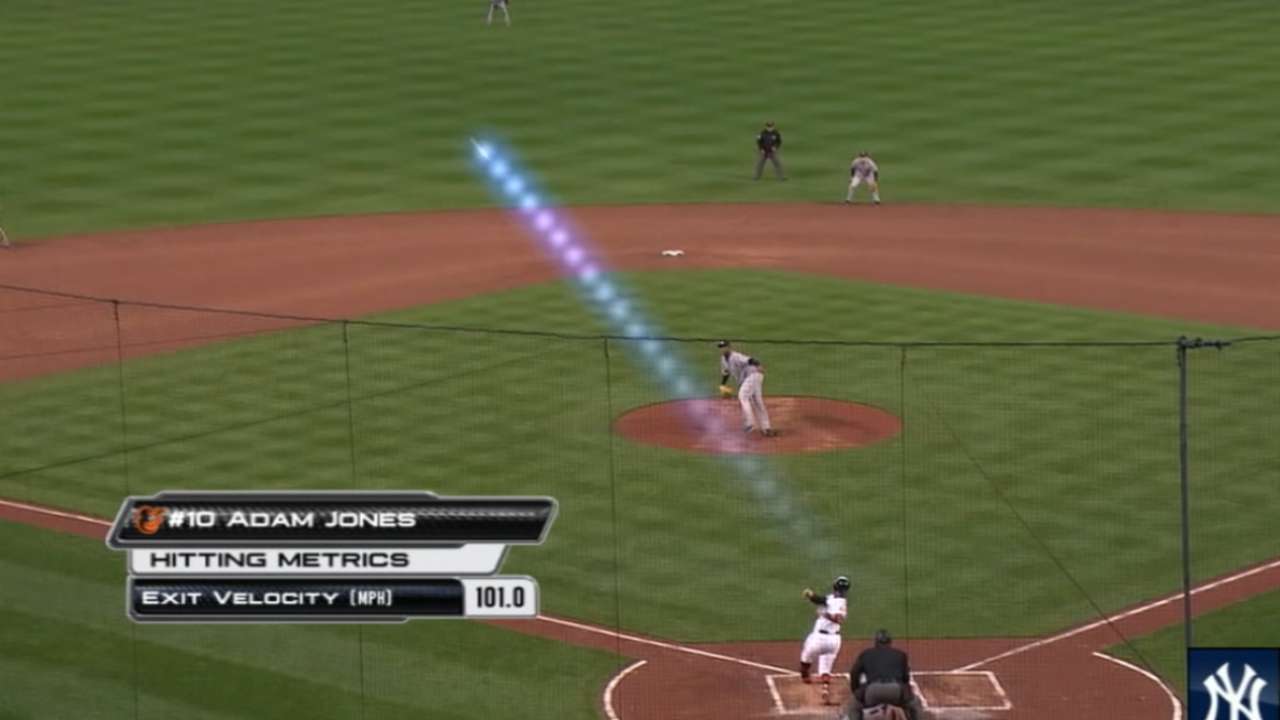 While sabermetrics have attempted to fill in the gaps left by traditional stats, Statcast will finally put numbers to previously immeasurable events. Whether it's tracking Mike Trout's route to eventually robbing a home run or comparing stolen bases by Dee Gordon and Billy Hamilton to see which runner got a better jump or reached a higher speed, Statcast will finally answer some of those questions.
Take, for example, that incredible game-saving catch by the Astros' George Springer this past Sunday that robbed Rangers outfielder Leonys Martin of a grand slam. Thanks to Statcast, we know that the ball left Martin's bat with an exit velocity of 91.4 mph; Springer had an acceleration of 3.19 seconds -- the time between the bat hitting the ball and him hitting his full speed -- and topped out at 17.7 mph before making the acrobatic play.
While Statcast won't solve every debate among fans, it will help fans finally answer some of those long-discussed questions such as who's faster, who hits the ball harder, who's breaking ball has more spin and who covers the most ground defensively.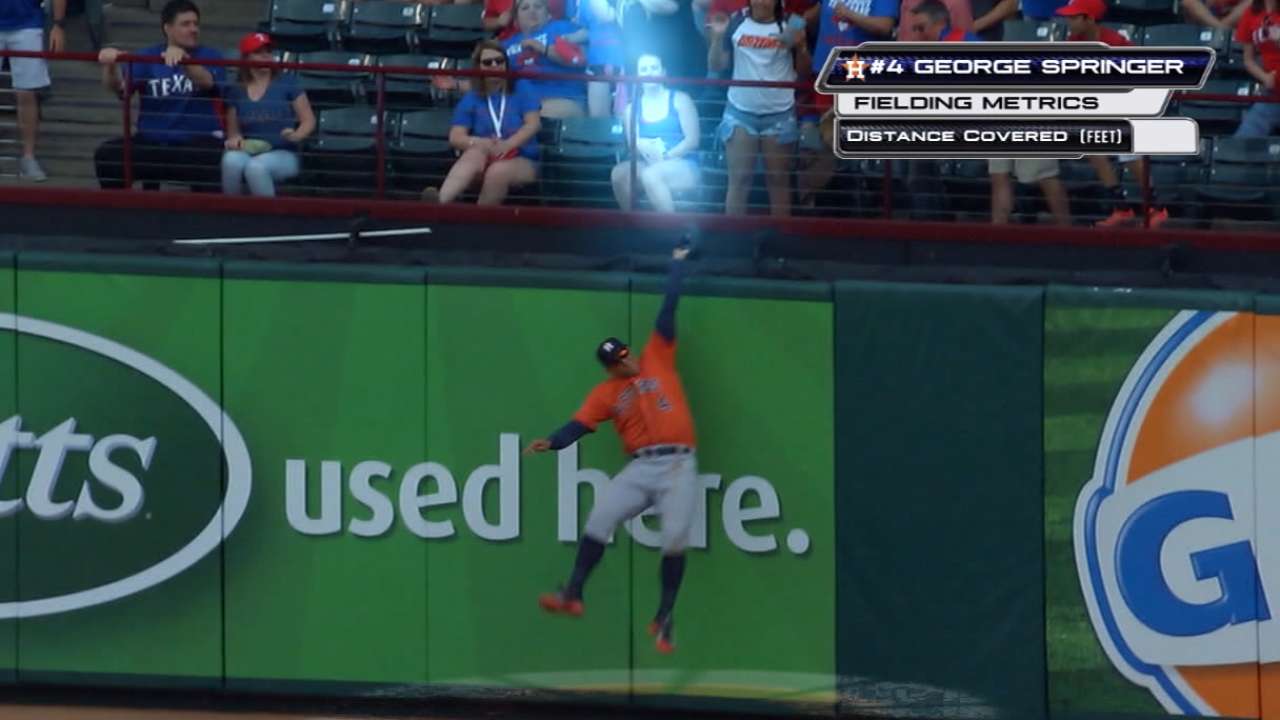 Statcast, however, will do far more than simply alter the fan experience. Major League executives are already using the technology to evaluate current players, as well as certain aspects of potential draft picks and prospects.
The data is the result of using high-resolution, optical cameras along with radar equipment, set up in all 30 Major League ballparks. The technology precisely tracks the location and movements of the ball and all the players on the field at any given time.
Paul Casella is a reporter for MLB.com. Follow him on Twitter @paul_casella. This story was not subject to the approval of Major League Baseball or its clubs.