Pirates join together with MLB to celebrate Jackie
Cutch, Harrison wear special cleats; Bucs honor contest-winning students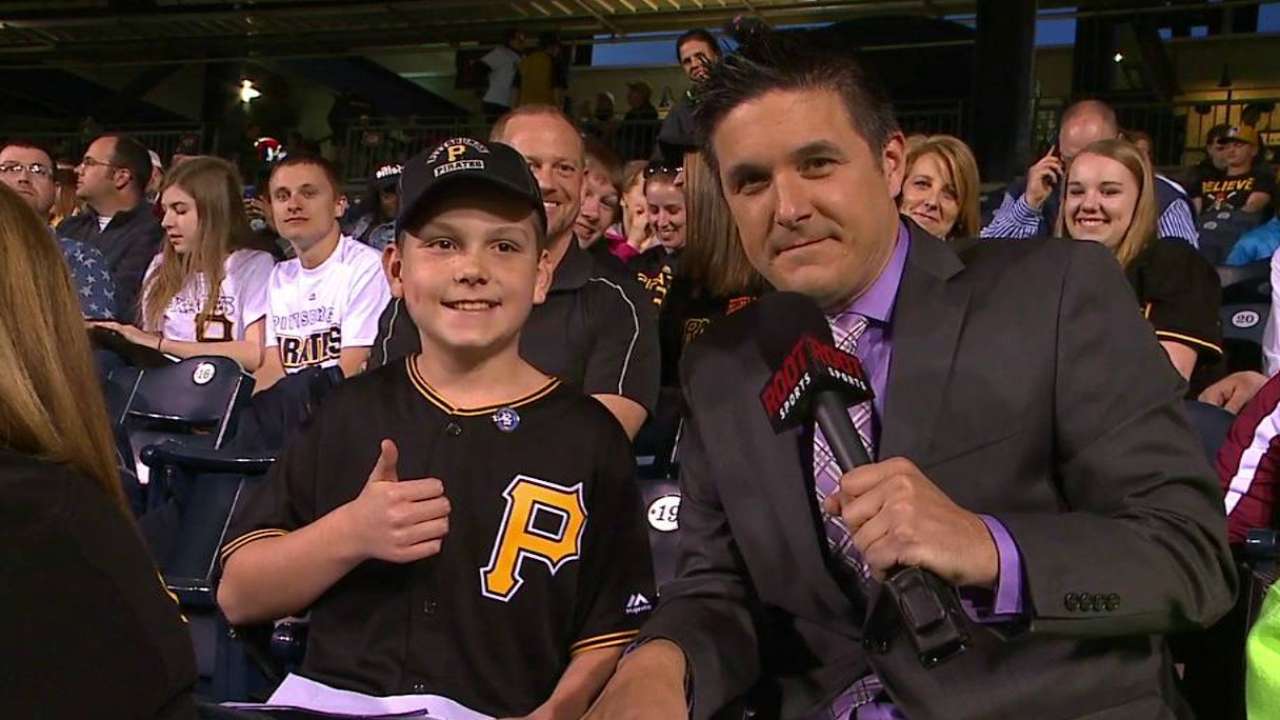 PITTSBURGH -- Pirates manager Clint Hurdle shared three Jackie Robinson quotes in his daily email Wednesday morning. One of them in particular, he said, stands out every time he reads it.
"It's the one that, for me, always resonates with Jackie Robinson," Hurdle said before Wednesday night's game against the Tigers at PNC Park. "'A life is not important except in the impact it has on other lives.'"
The Pirates joined Major League Baseball on Wednesday in continuing the tradition of celebrating Jackie Robinson Day. Each player took the field wearing No. 42 to honor the man who broke baseball's color barrier.
On April 15, 1947, Robinson became the first African-American player in Major League Baseball history. Under the direction of Commissioner Bud Selig, Robinson's No. 42 was retired throughout Major League Baseball in 1997.
The significance of the annual celebration is not lost on Hurdle.
"This might be one of the men you can pick out with anybody in the world that impacted more lives off the field because he played a game on a field," Hurdle said. "[The] on-the-field thing was legendary. Historic. It changed the complexion of the game. But it also changed the complexion of society, human mankind.
"The wake that Jackie left is so positive and so powerful in so many different ways, that one of the best things that Bud Selig did, I think, is to make this a day -- to make it known, to make it public, to get out there and let people know, to retell the story. Fantastic stuff. Honored to be a part of it. Always will be."
In addition to wearing No. 42 jerseys, Pirates center fielder Andrew McCutchen and third baseman Josh Harrison honored Robinson's legacy Wednesday night with special cleats.
McCutchen sported black-and-white Nike cleats featuring a striking "42" written on the side in dark blue.
During a pregame ceremony, the Pirates recognized 18 winners of the 2015 Pittsburgh Pirates Jackie Robinson Art, Essay and Poetry contest.
The contest challenged third- through eighth-grade students to express their thoughts creatively about Robinson's Nine Values for Success in a piece of art, a poem or an essay. The Pirates received more than 3,800 entries from 140 schools this year.
The Bucs also presented Emerald Electrical Services with the ninth annual Jackie Robinson "MVDBP" (Most Valuable Diverse Business Partner) Award.
Adam Berry is a reporter for MLB.com. Follow him on Twitter at @adamdberry. This story was not subject to the approval of Major League Baseball or its clubs.