Roenicke sensitive to sitting Davis on Jackie Robinson Day
ST. LOUIS -- Statistically, it was a no-brainer to start Gerardo Parra in left field on Wednesday at Busch Stadium. Parra entered the day 8-for-17 with six extra-base hits in his career against Cardinals starter Lance Lynn, while the Brewers' other option, Khris Davis, was 1-for-12 vs. the St. Louis righty. But some things are about more than statistics.
"It didn't make it an easy substitution," manager Ron Roenicke said, "because of Jackie Robinson Day."
Major League Baseball celebrated the anniversary of Robinson's debut with the Brooklyn Dodgers on Wednesday, with every player wearing Robinson's retired No. 42. Roenicke knew well how much the annual event means to Davis, who is African-American, so the two met Wednesday afternoon.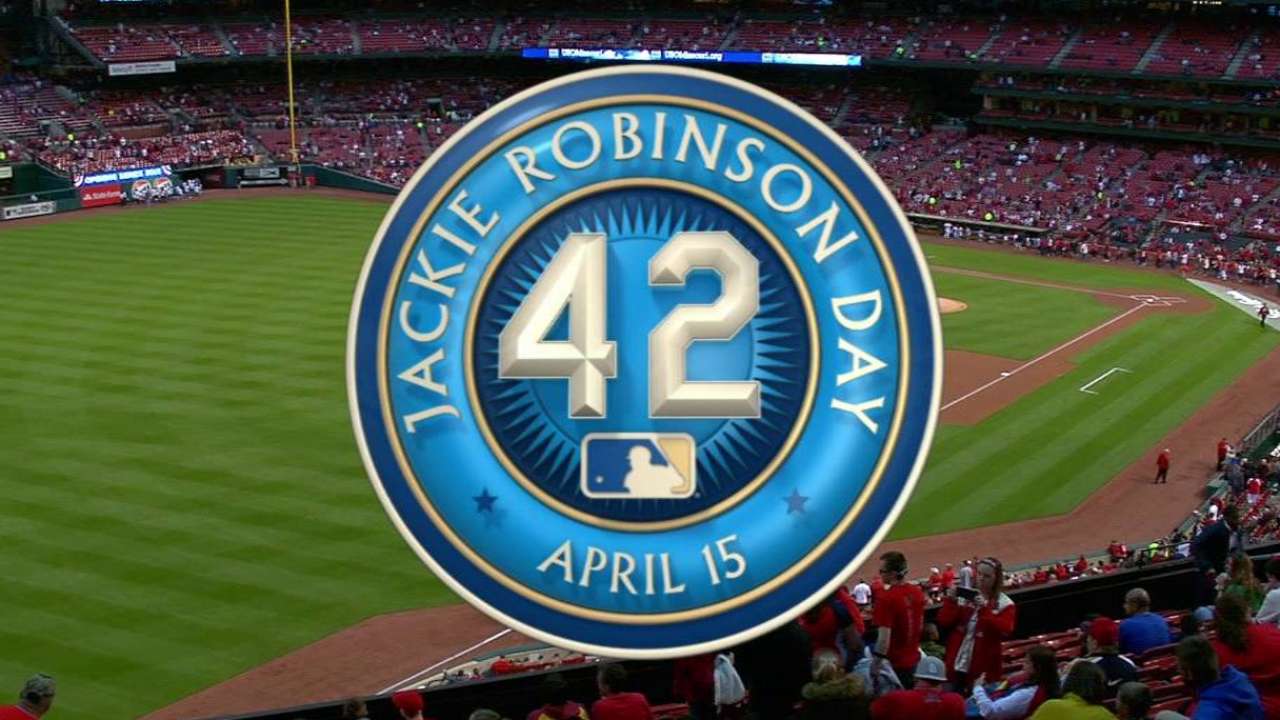 "I talked to him about it," Roenicke said. "He was good. He gave me good answers."
Davis and reliever Jeremy Jeffress are the only African-American players on the current Brewers roster, but Jackie Robinson Day held meaning for many others, including center fielder Carlos Gomez, who posted an appreciation on Instagram; broadcaster Bob Uecker, who said he witnessed firsthand the hate spewed at some black teammates, including Hank Aaron; and Roenicke, who came up in the Dodgers' organization, where the spirit of Robinson was strong.
Thank you Jackie Robinson for paving the way and opening the doors for me and many others! Today we… https://t.co/Ir80lfaHEy

- Carlos Gomez (@C_Gomez27) April 15, 2015
"The history of not just Jackie, but other guys in the game, today's player really doesn't know as much as they have in the past," Roenicke said. "I'm not a big history guy on baseball, but I know a lot because everybody in my era knew about it. You were told stuff, and you cared about it. ...
"I heard a lot about Jackie, and I knew his family because his family was there a lot. Also when I came up, John Roseboro was there, 'Campy' [Roy Campanella] was there. I got a good history lesson when I was with the Dodgers. That was really important to me and all the players, to listen to what they had to go through. It's hard today to think that really happened."
Did Uecker ever meet Robinson?
"Never did," Uecker said. "I wish I would have met him. I used to go to games in Milwaukee when Jackie was with the Dodgers. … I think [Jackie Robinson Day] is great, especially for those of us who came through the Minor Leagues and saw what it was like in certain places."
Adam McCalvy is a reporter for MLB.com. Follow him on Twitter at @AdamMcCalvy. This story was not subject to the approval of Major League Baseball or its clubs.