Semien calls wearing No. 42 'a real blessing'
A's shortstop grateful for what Robinson did to open doors for players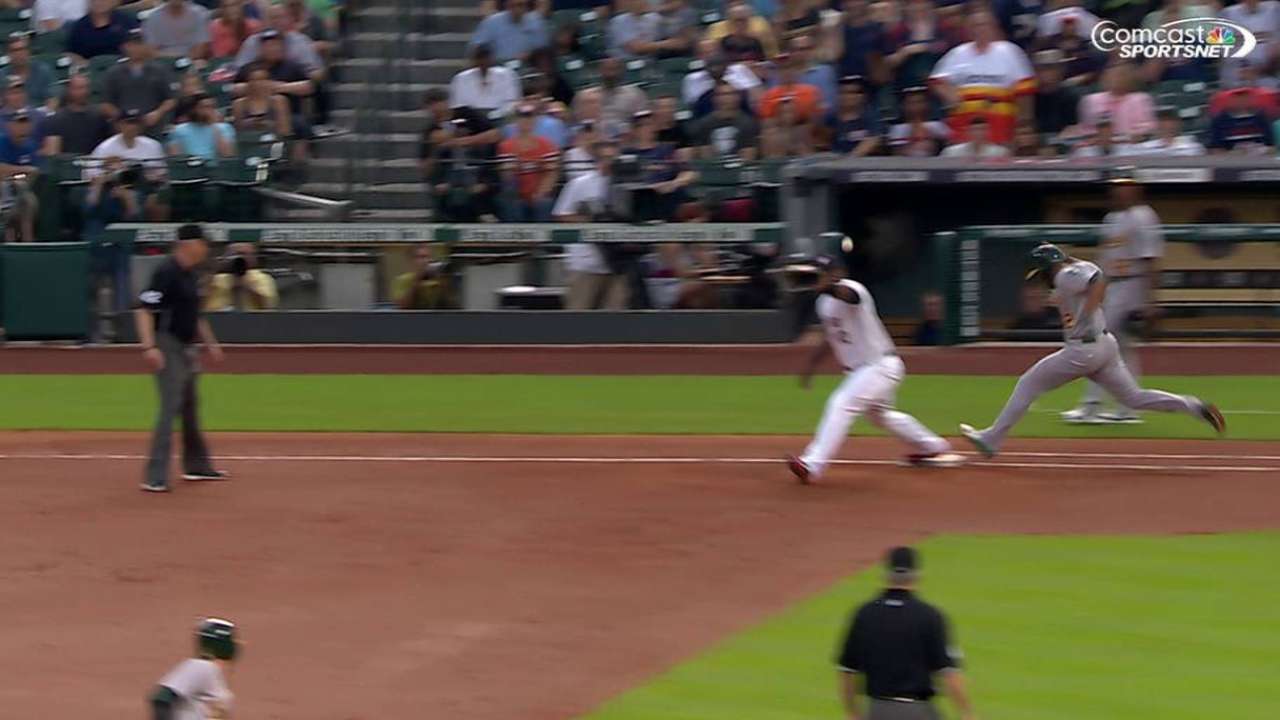 HOUSTON -- Count A's shortstop Marcus Semien among those who consider wearing No. 42 in honor of Jackie Robinson Day "a real blessing."
"I wish they'd even do it in the Minor Leagues," said Semien, who went 1-for-3 with an RBI infield single while sporting No. 42 on Wednesday in the A's 6-1 loss to the Astros. "It's a very special day. He opened a lot of doors for a lot of people, not only African-American players but players from all over, to come in this league and show their talent, and I'm very grateful for that."
Robinson debuted for the Brooklyn Dodgers on April 15, 1947, breaking baseball's color barrier as the first African-American to play in the Major Leagues. Though Semien wasn't born until 1990, the infielder grew up well versed in Robinson's legacy.
Semien believes the 2013 biographical film, "42," opened more eyes.
"As a kid," he said, "I knew about Jackie and what he did, though I probably didn't realize what kind of a player he was and some of the big power numbers he had. Once the movie came out, a lot of people who didn't know much realized a little bit more about the story and what he meant to this game and what he did inside the clubhouse and on the field. It's very courageous what he did.
"It's something special for us all to wear his number for a day every year."
"It's a great tribute," said A's manager Bob Melvin. "Obviously, incredibly well-deserved. He's meant so much to the game. Now that everyone gets to wear it, it ends up being one of those special days within the grind of the season. You have Opening Day, then you have the postseason, then you have certain days that take on a little more significance. This is definitely one of them."
Jane Lee is a reporter for MLB.com. This story was not subject to the approval of Major League Baseball or its clubs.