Lucroy finding his groove
Brewers catcher shakes 2-for-23 start to season with pair of hits against Cardinals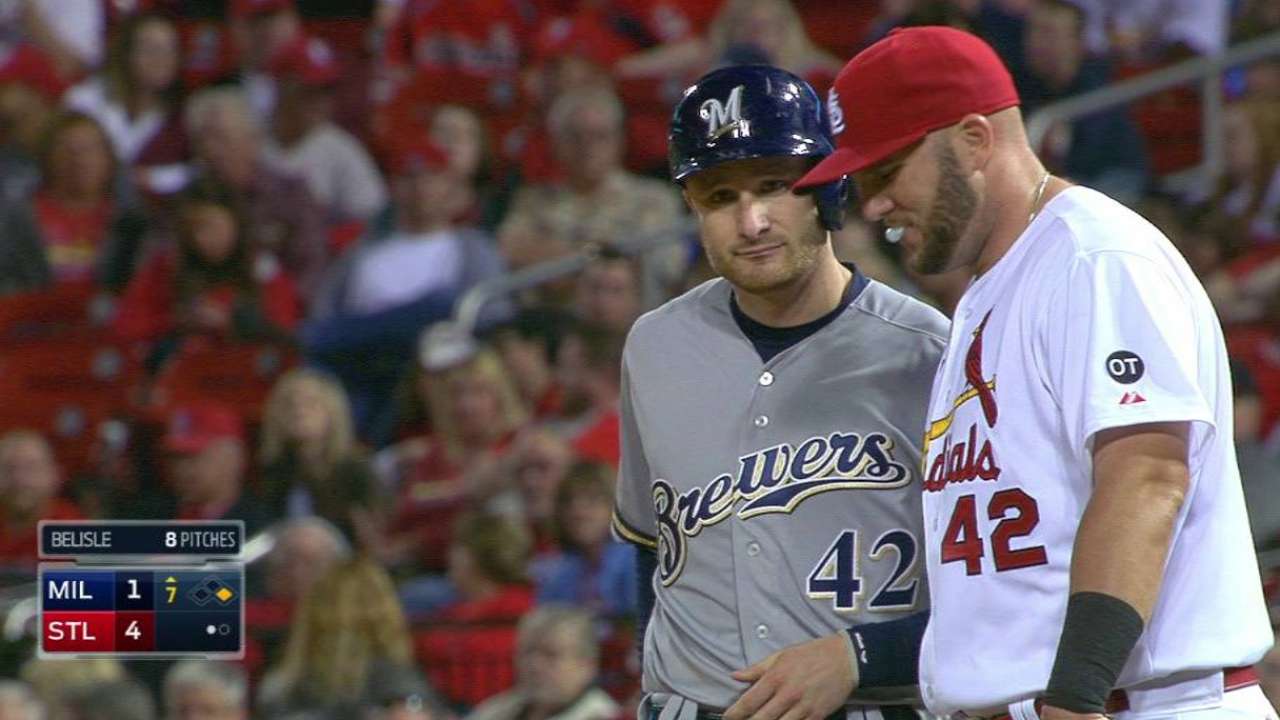 ST. LOUIS -- When Jonathan Lucroy looked up at the scoreboard Wednesday and saw the gory statistical details of his early-season slump, he didn't feel frustration.
He felt anger.
"I'm [ticked]," he said Wednesday afternoon, sitting on a 2-for-23 start to the season that was about to improve. "I hate not competing at the level I should, absolutely. Especially when we've had chances to score runs and I'm a little off and the next thing you know, I didn't get the guy in or I didn't get a hit where I think I should have gotten a hit.
"I'm not panicking at all, it just [ticks] me off and drives me harder to fix it and get back right again."
In Wednesday's 4-2 loss to the Cardinals, Lucroy may have found his footing with two singles, a walk and a flyout to left field in the ninth inning on a Trevor Rosenthal changeup that he felt he just missed. For the first time this season, Lucroy said he felt a level of comfort in the batter's box.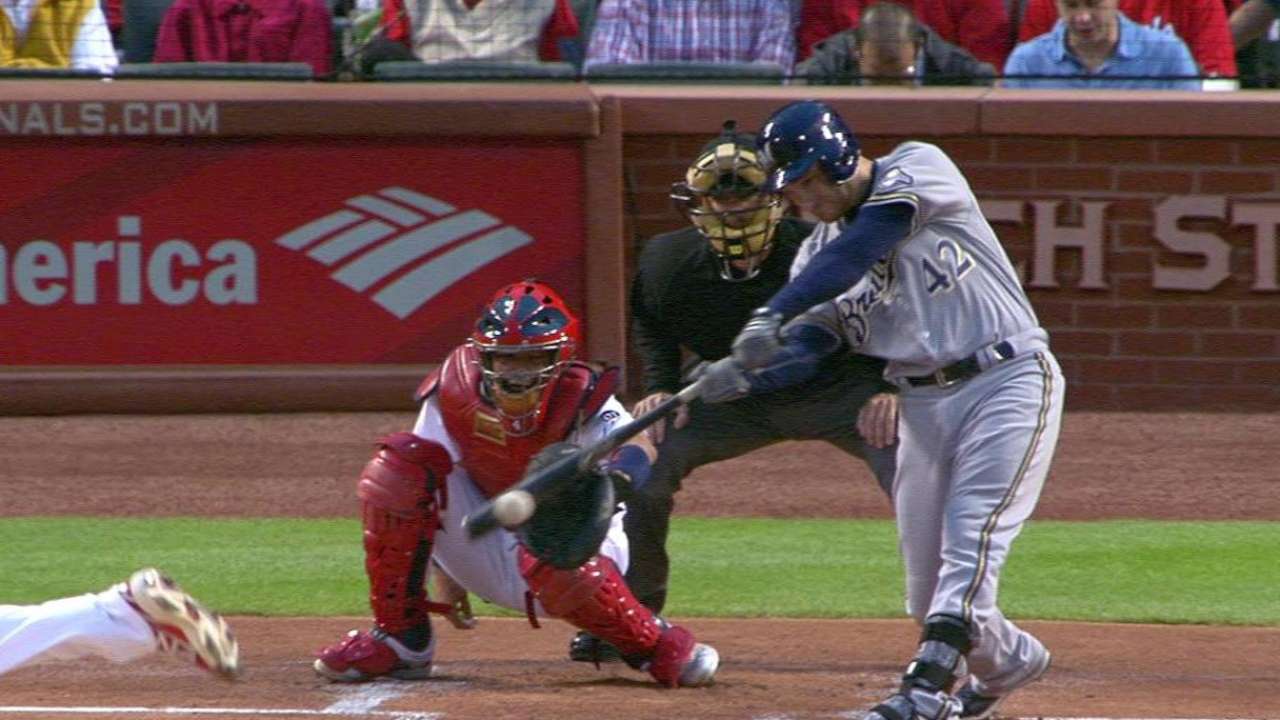 "Now it's just a matter of hitting balls hard," he said after the game. "After watching video of [my at-bats], I feel pretty good."
Lucroy was productive at the plate from start to finish in Spring Training, despite nursing a hamstring injury at the start of camp, and left Arizona with a 12-game hitting streak.
After a day off on Easter Sunday, the Brewers began the regular season against the Rockies and Lucroy's bat went cold. He went hitless in his first 14 at-bats before a triple on Friday against the Pirates, and he was 1-for-20 before reaching on an infield single against the Cardinals on Monday.
"Spring Training is so laid back, you're not trying to do too much, and then you come out there on Opening Day feeling great and you try to do too much," Lucroy said. "Next thing you know, you're out of whack. Next thing you know, you're 2-for-23."
Manager Ron Roenicke has pointed to the quality of Lucroy's at-bats, and spoke with similar confidence about his catcher finding a hot streak. Last season, Lucroy batted .301 with 13 home runs, 69 RBIs and a Major League-leading 53 doubles. He finished fourth in National League MVP balloting.
"He's doing OK," Roenicke said. "He comes out and works at it so hard, and he knows it was there earlier so he knows it's going to come back."
It did not help that the Brewers couldn't find an opponent for the usual end-of-spring exhibitions at Miller Park, instead playing all the way through the final Saturday of Spring Training in Arizona.
Lucroy said he'd already identified some minor mechanical adjustments to address during early batting practice on Wednesday. He was encouraged by the fact that instead of chasing pitches, he was swinging at strikes but simply missing them. He also cited his 0-for-13 start to the 2013 season.
"Look at two years ago where I started off at. It was bad," he said. "I ended up hitting .280 with 18 [home runs] and 82 RBIs. I'm not worried about it, man. I know I can hit."
Adam McCalvy is a reporter for MLB.com. Follow him on Twitter at @AdamMcCalvy. This story was not subject to the approval of Major League Baseball or its clubs.