MLB.com Columnist
Richard Justice
Grinding Desmond embodies Nats as whole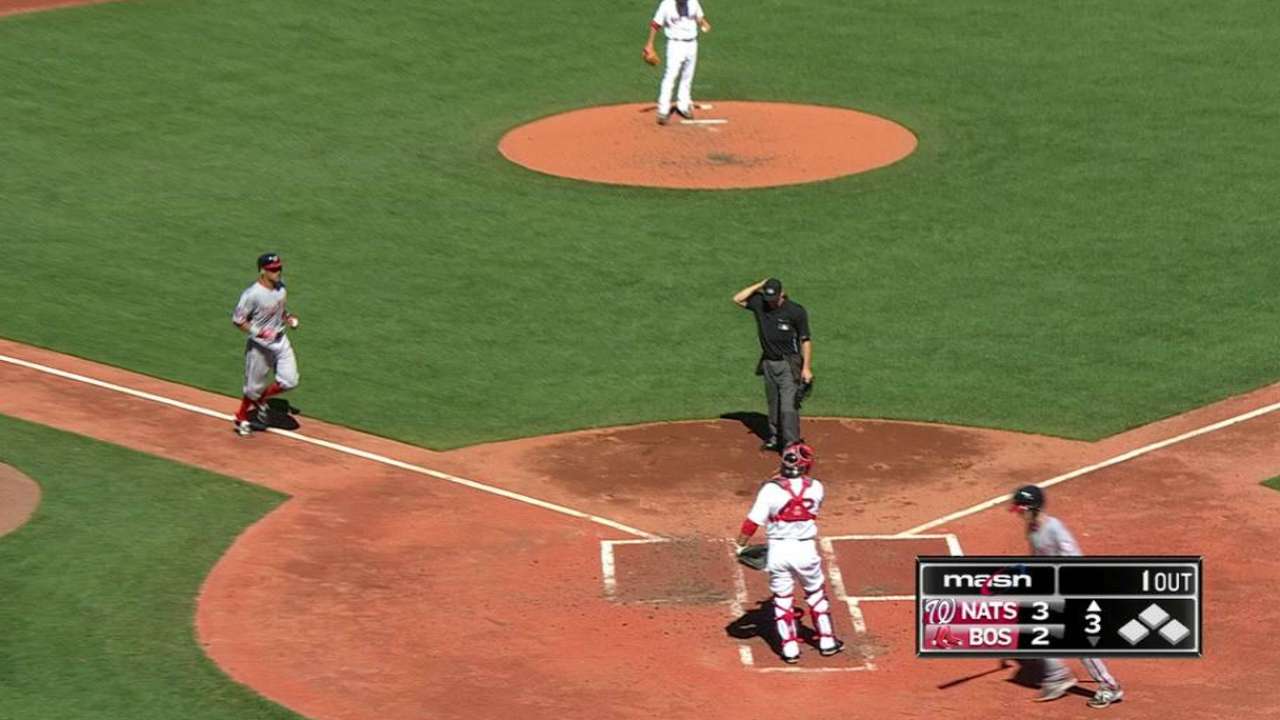 BOSTON -- Sometimes, the worst of times brings out the best in people. Just to be clear, Nationals shortstop Ian Desmond would rather not be this kind of example.
On the other hand, Desmond is showing everyone in professional sports -- and perhaps beyond -- how to handle a few bad days. He is a reminder that grace and poise reveal themselves in a variety of ways.
"It's just baseball," Desmond said. "It's crazy. It'll rack your brain. It'll make food taste really bad. I think the biggest thing is I'm tremendously blessed to have awesome people in my life."
And yet ...
Desmond is leading the Majors in errors with six, and he showed up at Fenway Park on Tuesday with a .115 batting average. His heavily favored team is in last place in the National League East.
"You just want to go hide in a corner," Desmond said, "but there are so many other people wearing those tough games with you. It feels good for them to be able to have a nice deep breath also."
After collecting three hits on Tuesday, Desmond homered and walked on Wednesday as the Nationals beat the Red Sox, 10-5. Years from now, he might not remember the errors or the tough at-bats, but the people who supported him unconditionally.
"[You do] a lot of thinking," Desmond said. "I had a good conversation with my wife [last night]. There are so many people who have reached out the last few days and the last five, six, 10 years that have helped me through those tough times. I'm tremendously blessed to have them in my life."
One text message, from a friend at Mizuno, stuck with Desmond.
"Hey, we believe in you," it read. "Keep going. Proud to have you on our team."
"Little things like that mean a lot," Desmond said.
On a Nats team widely expected to roll through the NL East and play deep into October, this has been a trying start. Even after Wednesday's victory, they're just 3-6.
At various times, they've broken down in just about every area. This is nothing new, and perhaps there's some comfort in that.
Last season, Washington stumbled early as well and didn't climb above .500 for good until the 55th game. The Nationals were tied for the NL East lead as late as July 20, but they would eventually win it by 17 games.
Desmond is one of the franchise's cornerstone players in terms of production, leadership and charitable work. There are very few players in baseball more respected by their teammates, front office, etc. His arrival in 2009 signaled that things were headed in the right direction. In five full seasons, Desmond has won three Silver Slugger Awards and made the NL All-Star team once.
The Nats have grown right along with Desmond, having won the second-most regular-season games in baseball since the beginning of the 2012 season. All they haven't done is have October success, and so the 2015 season began with all kinds of complicated pressures.
Speaking of complicated pressures, did we mention that Desmond is in his walk year after turning down a seven-year, $107 million offer from Washington?
Funny thing is, the Nationals have absolutely no concern that Desmond's numbers will end up about where they usually are and and that he will once more be one of baseball's best players at his position. His bottom line has been so consistent through the years that it's not even a topic of conversation.
Strangely, Desmond started 2014 almost the same way, making eight errors in a 12-game stretch in April. He had troubles in '13, too, but also had a 59-game errorless streak.
"He has been a 20-20 guy for how many seasons in a row?" Bryce Harper asked. Desmond has averaged 23 home runs and 22 stolen bases the past three seasons.
"I don't think it's been a very big deal within the clubhouse or with anybody else," Harper said. "He's going to do what he does."
Harper could have been speaking for an entire organization. Desmond has averaged 30 doubles, 17 homers and 22 stolen bases the past five years, and even though he did lead the Majors in errors with 24 in 2014, his defensive play over the final few months was very solid.
In the end, Desmond's track record is so good that it's impossible to believe that this is anything more than a real good player off to another rough start. He has been accountable every single game, standing in front of his locker and answering question after question. Desmond has not made excuses or run for cover. He simply has continued to work.
"Regardless of what happens the day before, he's got a very short memory, good or bad," Nats manager Matt Williams said. "It's about today. So it's nice to see him have some success. His swing is coming. I think he's getting more and more comfortable in the field as well. He's a unique player. He's dynamic in a lot of areas of the game."
Desmond's entire team is like that. At times, the pitchers have attempted to be too perfect, thinking that allowing just one run would beat them. And hitters have pressed.
In collecting 12 hits on Wednesday, the Nationals looked like the team they believe they'll be. As outfielder Tyler Moore said, "We really hadn't felt that. It was just fun to be out there. It just kind of felt like we weren't so nervous about not messing up. We could go out and relax and play."
Desmond understands.
"We know what we can do," he said. "Just go out there and play and be free physically and mentally. That's not always as easy said as done."
Richard Justice is a columnist for MLB.com. Read his blog, Justice4U. This story was not subject to the approval of Major League Baseball or its clubs.