Jones reflects on Jackie Robinson's impact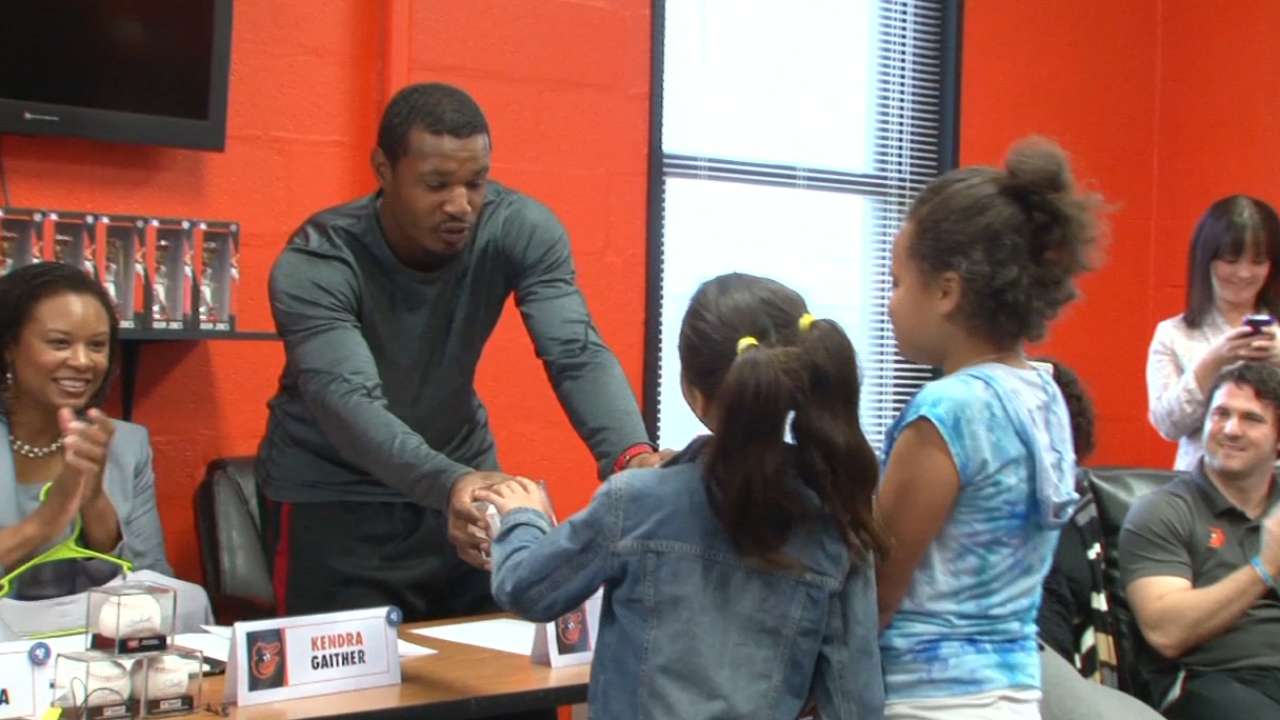 BALTIMORE -- On the 68th anniversary of the day that Jackie Robinson shattered baseball's color barrier, Adam Jones reflected on how the former Brooklyn Dodger's accomplishments still affect life in this country -- and probably will for a very long time.
Jones likes Major League Baseball's celebration of Robinson every April 15, the day where everyone on every team wears Robinson's No. 42. The number has been retired throughout the Major Leagues, and this date is the only time it's worn, and Jones thinks remembering Robinson is crucial in so many ways.
"It's bringing unity to the game, and this game has extreme reaches due to some bravery by Jackie back in those heydays of the 40's," Jones said before Wednesday's game with the Yankees. "As you see in our society, racism is still there, obviously [on] bigger scales than the sport of baseball. But baseball is something that unites anyone. Doesn't matter what you are - black, white or indifferent. It unites us. As you see, our game is very international and our clubhouse is international."
Jones himself was part of a three-person panel that evaluated a "self-expression" contest with the Boys & Girls Club earlier in the day. Members were asked to express their thoughts in a creative manner (through a speech, poem, art or a skit) about Robinson's nine values for success -- citizenship, commitment, courage, determination, excellence, integrity, justice, persistence and teamwork.
Darrell Fenwick earned the win in that contest and threw out the ceremonial first pitch before the game Wednesday night. Jones was on the field to catch it.
Jones spends a lot of time trying to work with children and get them to understand the importance of trying to do successful things in their lives. He also said that focusing on drawing more African-American children into baseball isn't an easy or simple task.
"It's hard to really say 'let's get more African-Americans in baseball,'" Jones said. "It's not as strong here in the states as [in] the Dominican, Venezuela and Asia. I think here kids have too many outlets. You don't have to just play baseball here. I'm not trying to get all African-Americans to play baseball, I'm trying to get them to do something productive with themselves and playing a sport is something that bonds you and creates so many lifetime bonds with people and unities that you never would have had if you don't play sports."
Orioles manager Buck Showalter said a coach on one of his Minor League teams actually knew Robinson and saw some of what he dealt with.
Showalter quizzed this coach several times to find out more about who Robinson was and what he did.
"They ended up getting so much respect for him because of the way he handled a lot of the things thrown his way," Showalter said. "Thank God that we don't have to do that any more."
Jeff Seidel is a contributor to MLB.com. This story was not subject to the approval of Major League Baseball or its clubs.