Blue Jays reflect on equality, honor Robinson
Club wears No. 42, remembers significance of breaking colour barrier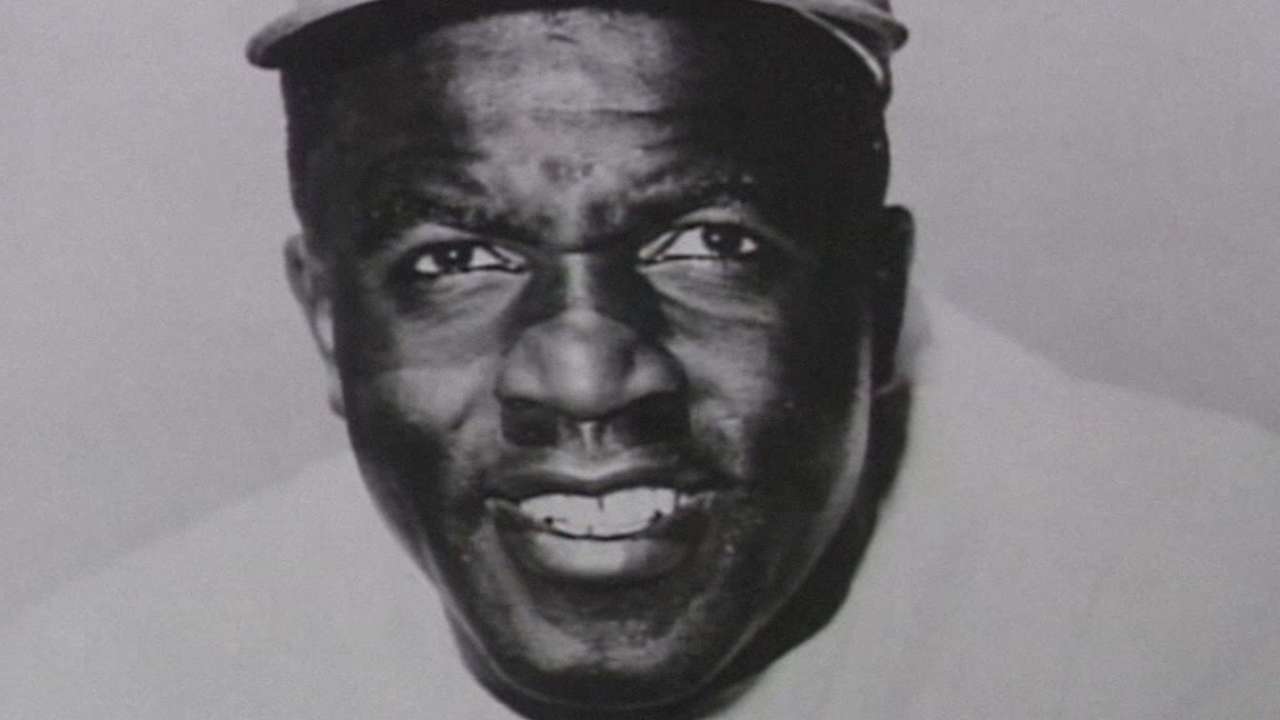 TORONTO -- Sometimes, when Dalton Pompey is having a rough day at the plate or in the field, he'll take time to reflect on how lucky he and his teammates are to be able to play baseball for a living.
On Wednesday, those reflections turned to Jackie Robinson, who 68 years ago broke the colour barrier and changed baseball forever.
"Nothing is life or death in baseball," said Pompey, whose teammates -- and players across MLB -- donned No. 42 to commemorate Jackie Robinson Day. "It's our job, and we take it so serious. You always want to do it well. But today, it's more than being just about baseball. It's huge for everyone. We're all wearing 42. We're all equal today."
The Blue Jays took time during a brief pregame ceremony ahead of their game against the Rays to honour Robinson and the diversity he brought to baseball all those years ago. The club was also planning in-game tributes to Robinson, and took to social media to share video messages from several players, including Pompey, Russell Martin and Jose Bautista .
Rookie infielder Devon Travis was one of several Blue Jays to express his gratitude for Robinson's contributions and the doors he opened up for so many players.
"He's had the strongest impact on this game," Travis said. "I know that without him, I wouldn't be here today. It's a special day, and it's amazing to be able to wear his number on my back."
Blue Jays manager John Gibbons kept his assessment of Robinson's significance short and sweet.
"He was big for the game," Gibbons said. "It was a big turning point. He was a pioneer."
Relief pitcher Liam Hendriks, who hails from Australia, recalls the first time he discovered Jackie Robinson. Growing up in a country where baseball isn't a prominent sport, Hendriks said only those in small, tight-knit baseball circles fully appreciated the magnitude of Jackie Robinson's accomplishments.
"The first time I heard about Jackie Robinson Day, it was a day I'd stayed home from school, or had gone to school late so I could watch baseball on TV," he said. "I can remember wondering why everyone was wearing No. 42, and so I hopped on the Internet and found out. ... It's incredible when you take a step back and look at what he did. It's amazing."
Jamie Ross is an associate reporter for MLB.com. This story was not subject to the approval of Major League Baseball or its clubs.