Morton, Stewart progressing on rehab assignments
Righty to throw in extended spring Saturday; catcher nearing return to Bucs
PITTSBURGH -- Right-hander Charlie Morton and catcher Chris Stewart are making progress, with Stewart potentially nearing a return to the Pirates' active roster.
Stewart, recovering from a right hamstring strain, has played five games as part of his Minor League rehab assignment. The Bucs' backup catcher spent two games with Double-A Altoona and three with Triple-A Indianapolis, and the Pirates plan to speak with Stewart on Thursday to see how he's feeling.
Stewart has gone 6-for-18 during his rehab assignment.
"He's coming along," Pirates manager Clint Hurdle said Wednesday. "Reports are positive, very positive. No setbacks."
Morton, meanwhile, will make his first game appearance since April 4 on Saturday in an extended spring training game in Tampa, Fla. Morton is slated to throw three or four innings, with a 55-pitch limit.
Morton struggled this spring with the changes he made to his mechanics, and his discomfort was obvious in his final exhibition start. Morton walked five batters in 1 2/3 innings in Philadelphia before being placed on the disabled list.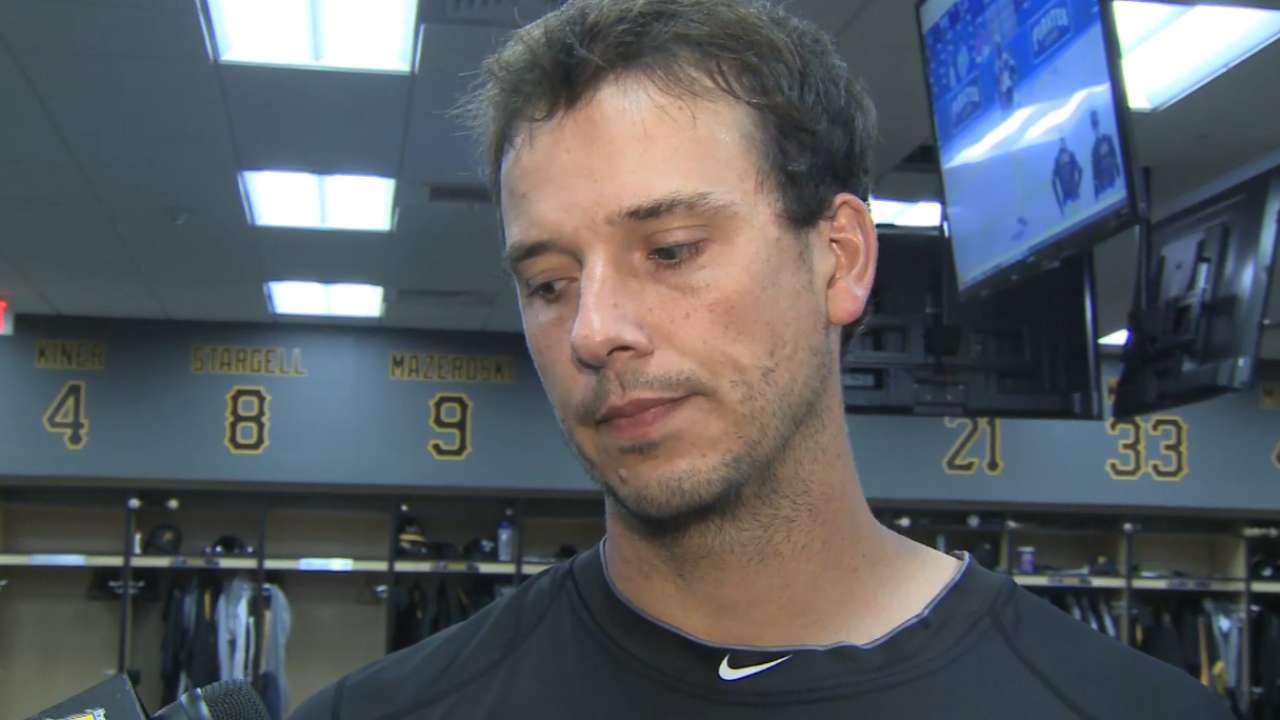 The 31-year-old right-hander threw a bullpen session Wednesday, and pitching coach Ray Searage has been pleased with his progress thus far.
"[Searage] likes what's in place," Hurdle said. "Now we're going to move it forward to get him in a little more of a competitive situation."
Around the horn
• Starling Marte returned to the lineup Wednesday, batting fifth and playing left field after a day off Tuesday.
Marte hit just .115 (3-for-26) with 14 strikeouts and only one walk in his first seven games.
"We revisited some videotape. We talked about the importance of having a slow heartbeat," Hurdle said. "Regardless of what you've done in this game, what you want to do, you've got to find balance in the box."
Marte also used his day off to get a haircut, showing up in the Bucs' dugout Tuesday night with a freshly shaved head.
• The Pirates, who led the National League with 520 walks last year, entered Wednesday tied with the Rockies for the fewest (14) in the league. Their last walk, heading into Wednesday night's game against the Tigers, was Saturday against the Brewers.
• Class A West Virginia, the Bucs' South Atlantic League affiliate, threw its first no-hitter since 2009 -- but lost, 1-0, to Hagerstown on Wednesday. Three pitchers -- Jake Burnette, Jose Regalado and Eric Dorsch -- combined to throw seven hitless innings with three walks and seven strikeouts.
Adam Berry is a reporter for MLB.com. Follow him on Twitter at @adamdberry. This story was not subject to the approval of Major League Baseball or its clubs.