Young Rays honored to wear historic No. 42
Club has participated in honoring Robinson each year since 2008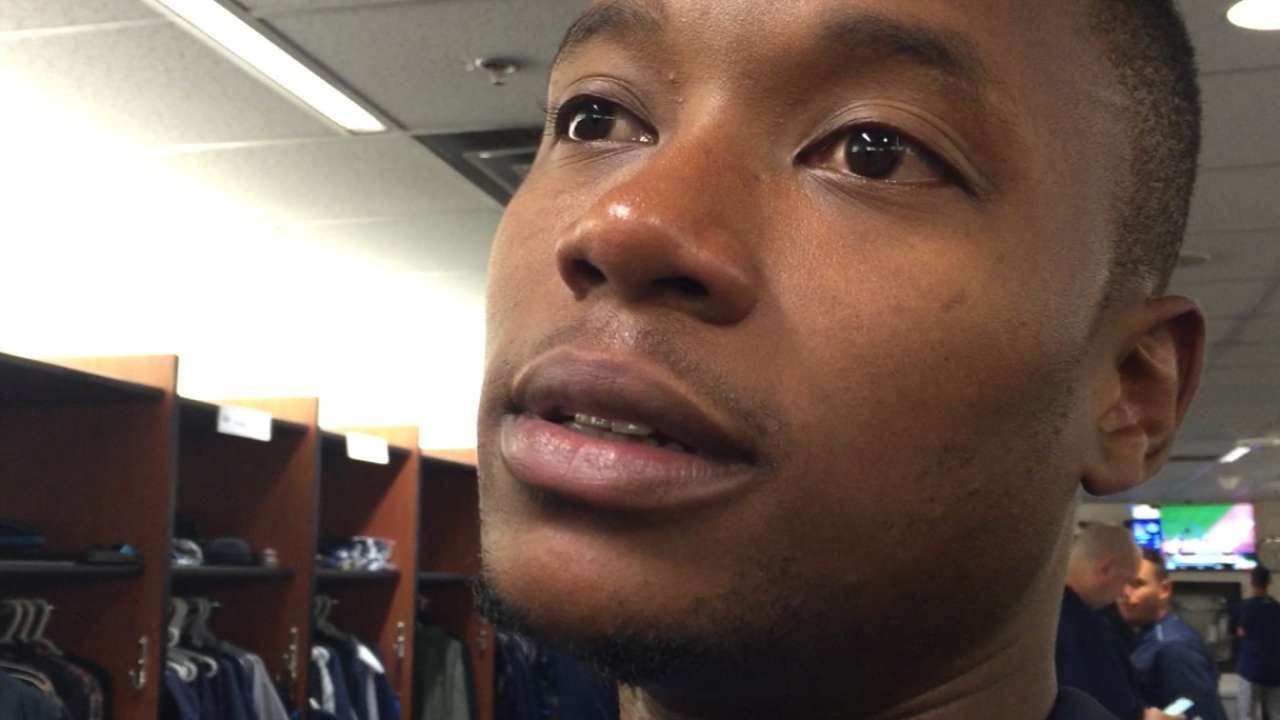 TORONTO -- All Major League Baseball uniformed personnel wore No. 42 on Wednesday in honor of Jackie Robinson.
The annual league-wide celebration is commemorating the 68th anniversary of Robinson breaking baseball's color barrier in 1947.
The Rays have worn No. 42 each year since 2008 on this special day, though they will not be wearing 42 at home this season as they will honor Jackie Robinson Day through a separate initiative.
Despite having one of the youngest rosters in the Major Leagues, Rays players, along with manager Kevin Cash, are knowledgeable about Robinson and understand the significance of Jackie Robinson Day.
When asked the meaning of No. 42, Chris Archer responded, "All the cliche things, obviously." Then he talked about Robinson's involvement in the Civil Rights Movement in the 1960s.
"I don't think he gets enough appreciation for that," Archer said. "He was up there with Martin Luther King and Malcolm X. All the great people who fought [against] all the injustice that was going on in this country."
Tim Beckham started Wednesday night's game at second base, Robinson's position with the Brooklyn Dodgers.
"Jackie Robinson is definitely an inspiration for me," Beckham said. "How hard he worked to get to where he did. Everything he went through."
Kevin Kiermaier plays at a similar break-neck speed to Robinson's. He noted that seeing the movie, "42", really brought home Robinson's contribution not only to baseball, but also to society.
"Just seeing what he dealt with was pretty amazing," Kiermaier said.
Rays manager Kevin Cash called it an honor to wear No. 42.
"What he did," Cash said. "Breaking those barriers, just to get to be a part of the experience. We're honoring a great person -- not just a great baseball player, but a great person.
The first Jackie Robinson Day was officially recognized on April 15, 2004. Bud Selig, Commissioner at that time, said of that new league-wide recognition: "We are further ensuring that the incredible contributions and sacrifices he made -- for baseball and society -- will not be forgotten."
Bill Chastain is a reporter for MLB.com. This story was not subject to the approval of Major League Baseball or its clubs.