Campbell ready to try to fill Wright's shoes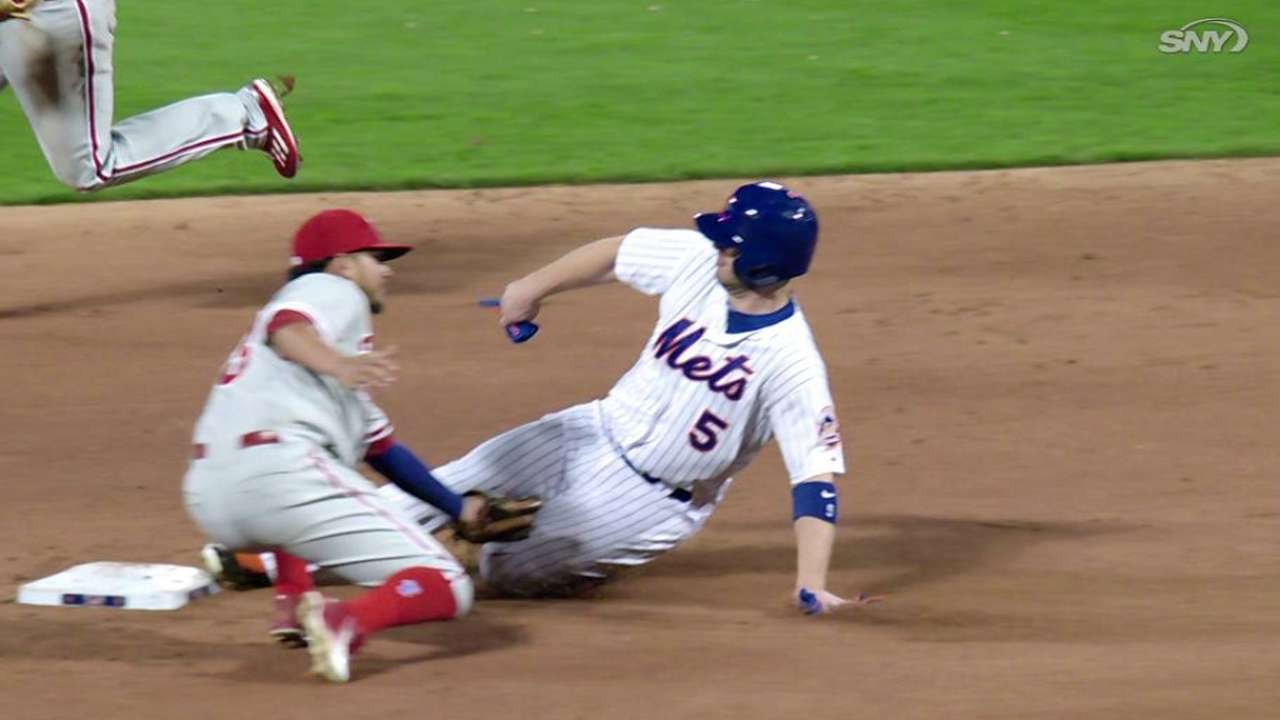 NEW YORK -- The man tasked with replacing some fraction of David Wright's production received his call late Tuesday night in Sacramento, Calif., heading immediately to the airport for a flight to Las Vegas. He slept for a few hours, woke up and grabbed another flight to New York City, arriving in the Mets' clubhouse late Wednesday afternoon.
"It's good to be back," Eric Campbell said, hours before starting at third base in the Mets' series finale against the Phillies. "That week gave me a good chance to get a lot of at-bats in at Triple-A, and I started to feel really good. So I hope to continue that here."
It was never supposed to be this way for Campbell, a pleasant surprise for the Mets in 2014 and a presumptive favorite to make their bench throughout Spring Training. Not until the final week of camp did the Mets seriously begin considering using an eight-man bullpen, cutting their bench down to four.
Campbell was the casualty.
"I don't think I was surprised," he said. "I started to see that they might go with eight relievers probably when everyone else started to see it. I was the odd man out. It's a numbers game. There's nothing you can do about that."
What Campbell could control was his production at Triple-A Las Vegas. In six games there, he hit .550 with two home runs, making it obvious that the Mets would turn to him when Wright hit the disabled list with a strained right hamstring. Though the Mets could have shifted either second baseman Daniel Murphy or shortstop Wilmer Flores to third, figuring out the rest of their infield from there, they felt confident enough in Campbell to "plug and play" him, in general manager Sandy Alderson's words.
"He'll give us some versatility as well," Alderson said, referring to Campbell's ability to play all four corner infield positions and both corner outfield spots, plus catcher in an emergency. "The other thing is he got off to a very good start in Vegas. Some of the other guys who were candidates were not off to as good of a start as Campbell."
So Campbell will play every day at third base until Wright returns, at which point his status will depend largely on his production. Though the Mets are satisfied with how they have performed with a four-man bench, Alderson said that situation will not be "permanent" -- meaning there could be a place for Campbell on the team all summer.
"You don't expect anything," Campbell said. "I just try to make it as hard as I can for them to not call me up. I play hard, try to do well, and that's really all you can control."
Anthony DiComo is a reporter for MLB.com. Follow him on Twitter @AnthonyDiComo and Facebook. This story was not subject to the approval of Major League Baseball or its clubs.