Rays' Breaking Barriers to celebrate Jackie Robinson
Club to host community activities before game vs. Yankees on Saturday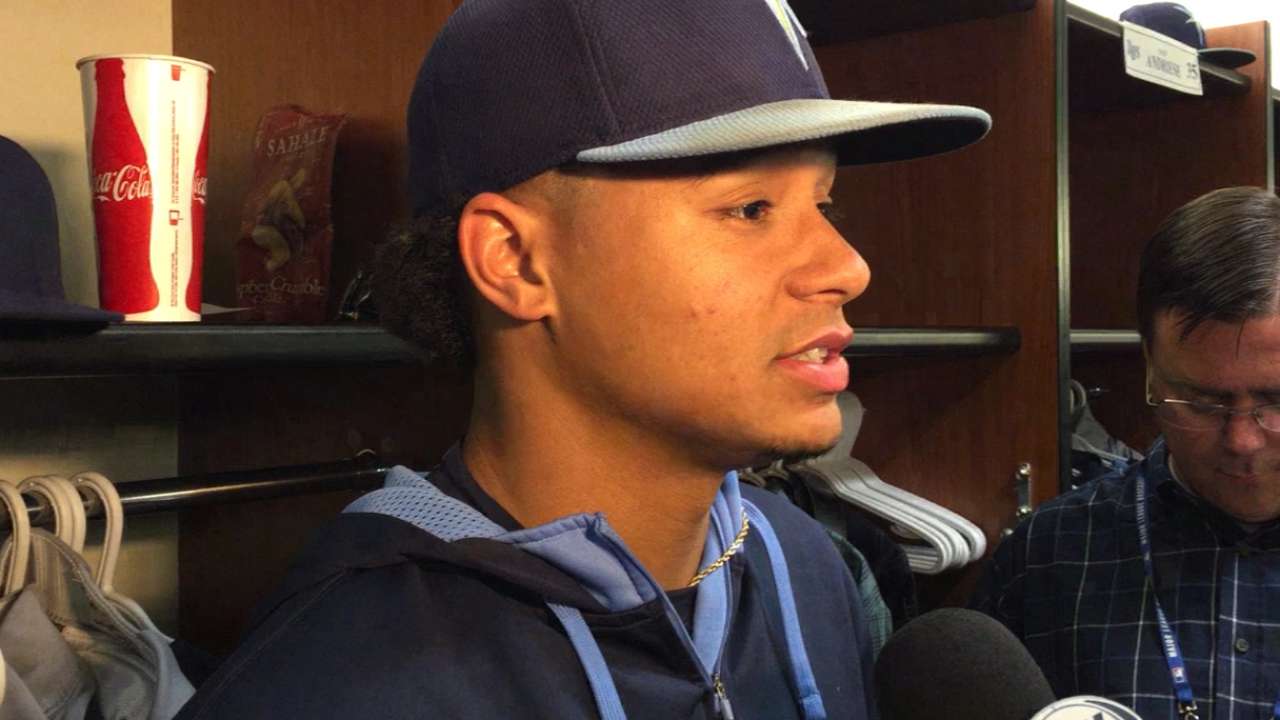 TORONTO -- The Rays will honor Jackie Robinson Day through the organization's Breaking Barriers celebration.
Although Major League Baseball's official Jackie Robinson Day occurred Wednesday, while the Rays were on the road, the organization will host several community activities and recognize community figures leading up to Saturday's 7:10 p.m. ET game when the Rays take on the Yankees at Tropicana Field.
The Rays Breaking Barriers program "uses baseball as a metaphor for life." The curriculum is based on the nine values demonstrated by Robinson: Determination, Commitment, Persistence, Integrity, Justice, Courage, Teamwork, Citizenship and Excellence.
From April 14-16, Rays mascot Raymond will appear at local recreation centers. At these centers, Raymond will distribute activity books and perform a Robinson-themed presentation.
On April 18 beginning at 10 a.m., the Rays -- including several players -- will host a baseball clinic for 120 kids from Burg Baseball Inc., a nonprofit organization that provides free baseball programs for youth players in South St. Petersburg. Participants will then return for the game later that evening.
Prior to first pitch, winners of the Monte Irvin Scholarship will also be announced. The Monte Irvin Scholarship, funded by the Rays Baseball Foundation, was established to recognize and support the higher education of two outstanding minority high school students in Pinellas County. They are selected from the Facilitating the Leadership of Youth Society, a teen-led organization designed to allow youth leaders to be change agents in the community.
During the game, the Rays will also recognize participants in the Poynter Institute's Write Field program, many of whom submitted essays for Major League Baseball's Breaking Barriers Essay Contest in conjunction with Scholastic Inc.
The Rays have also partnered with the United Way Suncoast to recognize three outstanding citizens who have broken barriers in their own lives and serve as an inspiration to others. These individuals will be announced in a pregame ceremony on Saturday.
Additionally, all gameday staff will wear a specially designed "42" T-shirt commemorating the Breaking Barriers celebration. Rays players taking batting practice will also wear the T-shirt, which will be available for auction at raysbaseball.com/auctions, with proceeds benefitting the Monte Irvin Scholarship.
Bill Chastain is a reporter for MLB.com. This story was not subject to the approval of Major League Baseball or its clubs.