Tomas makes debut after being recalled to D-backs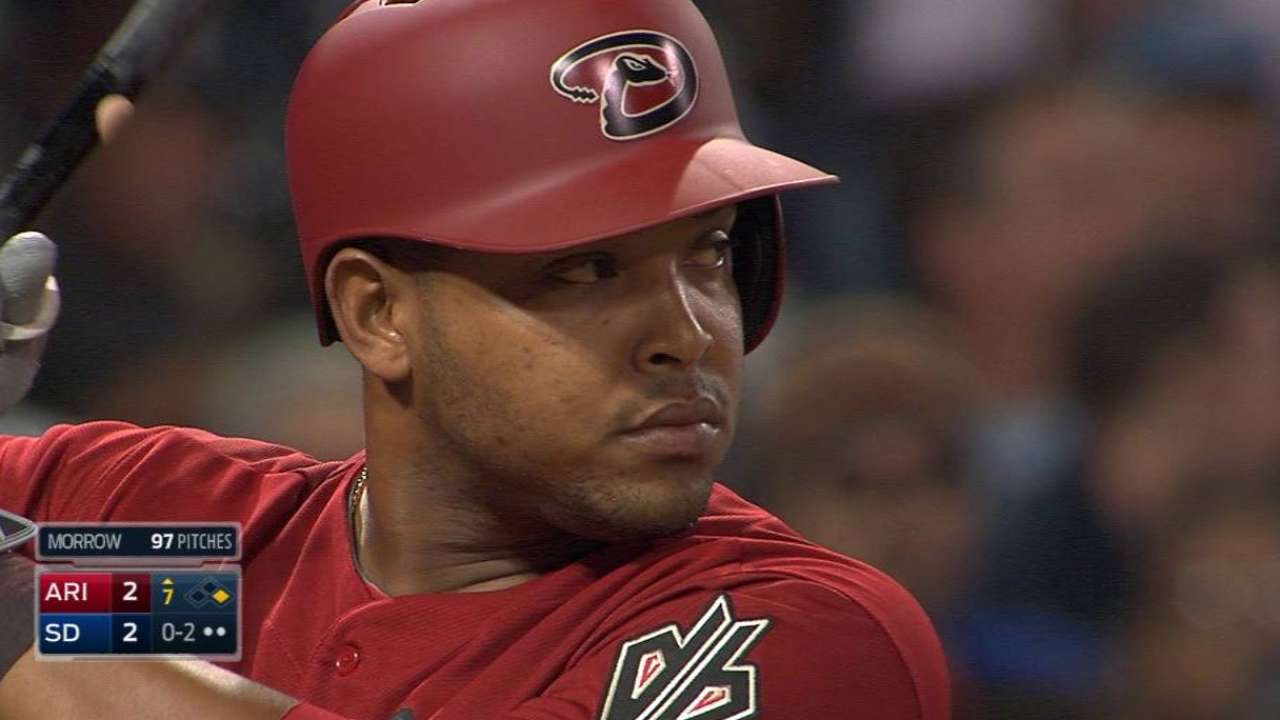 SAN DIEGO -- Yasmany Tomas will have to continue his development in the big leagues, as the D-backs called up the outfielder/third baseman prior to their 3-2 loss to the Padres on Wednesday.
Tomas made his Major League debut -- a pinch-hit appearance in the top of the seventh -- and grounded out to second base.
"I'm going to try to be ready every time they give me the opportunity to get in the game from the bench," Tomas said through translator Ariel Prieto before the game.
Tomas, signed out of Cuba to a six-year, $68.5 million contract this winter, lost out in his quest to win a roster spot out of Spring Training.
Primarily an outfielder in Cuba, the D-backs gave Tomas a chance to win the starting third-base job, but after he was beaten out for the spot by Jake Lamb, Tomas was optioned to Triple-A Reno, because the D-backs said there would not be enough playing time for him to continue his development.
Tomas played right field in Reno and over five games was batting .190 before his callup.
With a pair of off-days next week, the D-backs did not feel they needed a 13th pitcher on the roster so they optioned A.J. Schugel to Reno and promoted Tomas. At least for the time being it seems his role will be as a pinch-hitter.
"It is going to be challenging," D-backs general manager Dave Stewart said about getting Tomas at-bats. "We're bringing him here because we do need a player off the bench -- a player that presents a threat -- and then we'll use the other options as they come."
Figuring out those other options falls to manager Chip Hale.
"There's a couple of ways to look at it," Hale said. "Everybody is going to say he needs more at-bats, he needs to play every day. True, but there's something to coming here, getting a taste of what it's like to be in the Major Leagues, seeing how things work, being with the coaches here, getting the game play ironed out, working in the outfield with [coach] Dave McKay. There's a lot of things he can learn here while not having to worry about playing, you know, four or five at-bats a night. We're going to try and get him as many at-bats as we can, but he knows at this point it's mainly going to be off the bench."
One of the factors that led to the D-backs choosing Tomas is that he is already on the 40-man roster. Since the 40-man roster is full, if the D-backs wanted to bring up a position player who was not on the roster they would have needed to place someone on waivers and risk losing him.
"I think ideally we probably would have liked to have seen him get more at-bats at Triple-A and get more playing time at Triple-A," Stewart said. "But being at 40 men on our roster, when we looked at our roster to see what we had available, we felt he was the best option."
Steve Gilbert is a reporter for MLB.com. This story was not subject to the approval of Major League Baseball or its clubs.