MLB.com Columnist
Bernie Pleskoff
Wicked changeup makes Cards' Gonzales a potential weapon
People have come to expect tremendous pitching depth from the St. Louis Cardinals. Left-hander Marco Gonzales is another in the long line of pitchers the club has developed.
Gonzales attended Rocky Mountain High School in Fort Collins, Col. He earned All-Colorado honors in his sophomore, junior and senior seasons. In his senior year, he went 11-0 with a 2.20 ERA and 87 strikeouts in 54 innings. He hit .486 as well.
The Colorado Rockies selected Gonzales in the 2010 First-Year Player Draft, but he chose to pitch in college instead.
The 6-foot-1, 195 pound Gonzales went on to star at Gonzaga University in Spokane, Wash., where he compiled awards and honors after playing three years for the Bulldogs. In addition to his outstanding pitching efforts, Gonzales also played first base and contributed with his loud bat.
Gonzales is the son of Rockies Minor League pitching coach Frank Gonzales. It was his dad who encouraged him to master his devastating changeup.
The Cardinals selected Gonzales in the first round (No. 19 overall) in the 2013 First-Year Player Draft. He signed his contract and began his career playing for the club's Gulf Coast League team as a rookie.
Gonzales has spent parts of the last two seasons in the Cardinals' Minor League system. He has skyrocketed through the team's classifications, pitching at four Minor League levels last year including time at Triple-A Memphis. He compiled a 4-1 record in eight starts there, covering 45 2/3 innings. He had a 3.35 ERA and 1.13 WHIP. He compiled a walk rate of only 1.8 per nine innings as opposed to his strikeout rate of 7.7 per nine.
Gonzales was good enough last year to be promoted to the parent club. He made his debut June 25, 2014, against the Colorado Rockies, the team that selected him out of high school. He went on to start five big league games and worked in relief in five others. He compiled a 4.15 ERA in 34 2/3 innings. Gonzales also pitched in relief against both the Dodgers and the Giants in the 2014 postseason, working a total of six innings combined.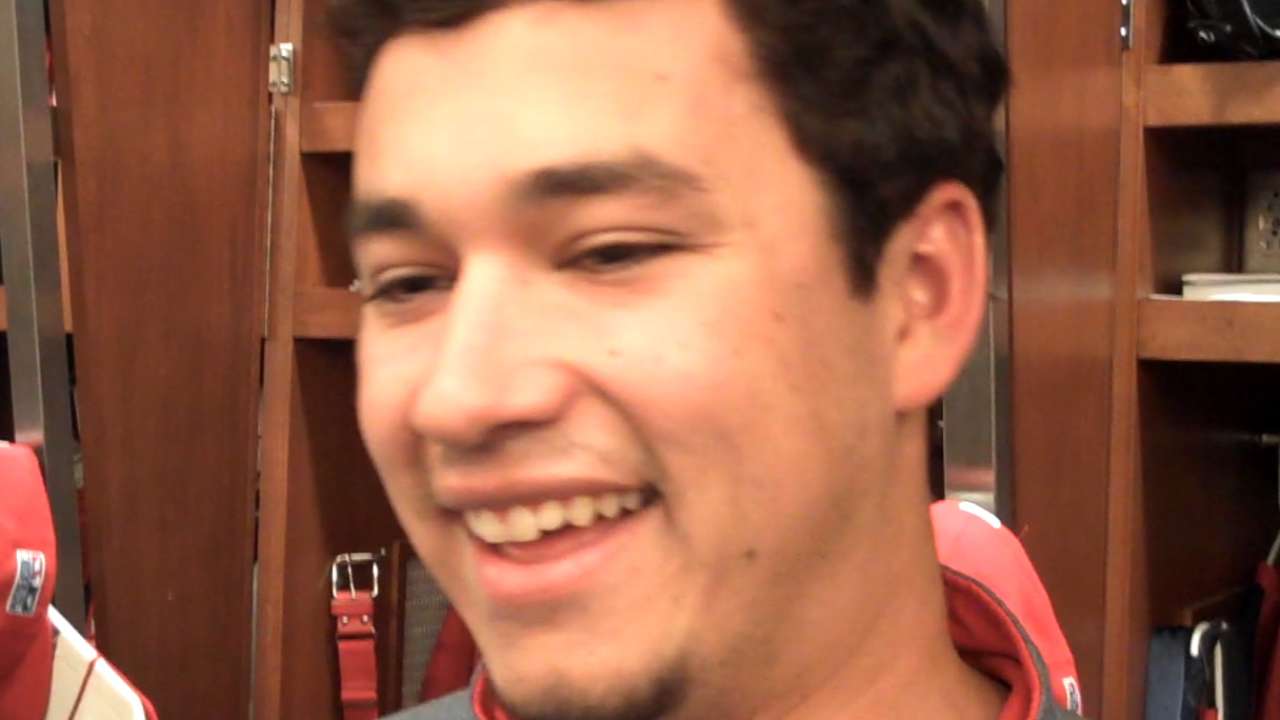 Gonzales' 2014 season went like this: Class A Advanced Palm Beach, Double-A Springfield, promotion to the big league club, Triple-A Memphis, and then back to the big league Cardinals. It was an amazing journey.
Gonzales is No. 2 on the Cardinals Top 30 Prospects list.
When evaluating Gonzales, the pitch that takes center stage is his outstanding changeup. There are scouts who feel he has the best changeup in the Minor Leagues. In short, the pitch is likely his ticket to his potential big league future.
Gonzales is not an overpowering pitcher. He generally sits in the low-90s with his fastball. He also throws that wicked changeup that can be classified as plus-plus, a slider and a curveball. His outstanding changeup and effective slider form his secondary pitches that are used without hesitation in his approach to hitters. His fastball/changeup combination keeps hitters off balance and has them guessing about his pitch sequencing. He isn't afraid to use his "swing and miss" changeup at any point in the count.
Gonzales repeats his easy, effortless delivery and has a consistent release point. That helps make his changeup such an effective pitch. Because he doesn't overpower hitters with his fastball, he has to command the pitch extremely well and throw strikes consistently to add to the effectiveness of his changeup and other secondary pitches. The key is command, and for the most part, the 23-year-old has that down pat.
The Cardinals can use Gonzales either in the rotation or out of the bullpen. Either way, he can be effective. He may gain more velocity on his fastball pitching out of the bullpen, holding very little back pitching in relief. However, regardless of his role, working his repertoire, which includes his nasty changeup following his average fastball, will help him miss bats and stay out of serious trouble.
Bernie Pleskoff has served as a professional scout for the Houston Astros and Seattle Mariners. Follow @BerniePleskoff on Twitter. This story was not subject to the approval of Major League Baseball or its clubs.