Maybin on his way to becoming household name
Key piece in Kimbrel trade hits second homer on Jackie Robinson Day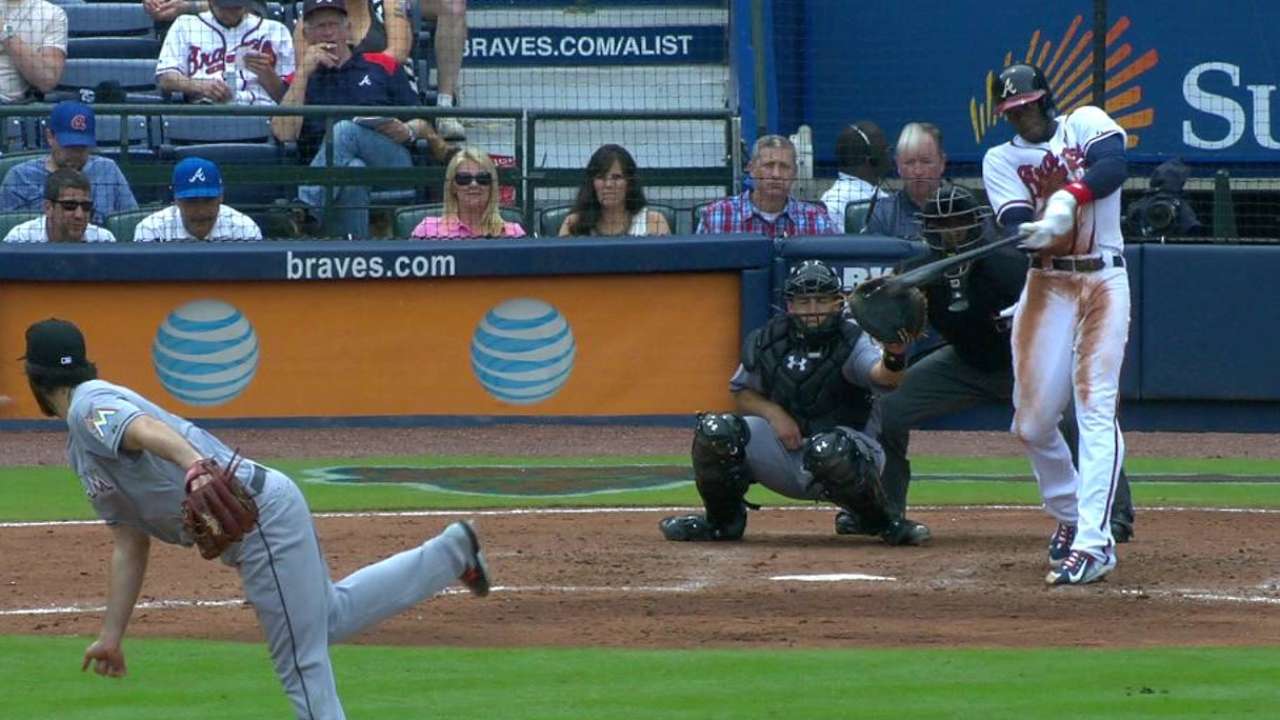 Want to know pressure? Try being traded for a superstar.
Want to know real pressure? Try being traded for a superstar twice.
Cameron Maybin was in that spot when the Marlins traded Miguel Cabrera and Dontrelle Willis to Detroit in 2007, then was there again this past April 5 when Atlanta dealt closer Craig Kimbrel and outfielder Melvin Upton Jr. to San Diego.
In both Miami and Atlanta, he overcame the outcry over losing a popular player by becoming one himself. It's all in the way he plays the game.
"I've always been a guy who gives it his all," said the 28-year-old native of Asheville, N.C. "I respect the game, play the game the way it's supposed to be played. I'm not going to try to do too much or do more than go out and play the way I've always played, that's hard, at 100 percent and good things are happening."
On Wednesday afternoon, Maybin was responsible for one of the few good moments for the Braves, cracking his second home run of the season off Marlins pitcher Dan Haren. It was his second blast in five days and tied him for the team lead. Being a speedster, he doesn't expect to stay there -- he has 34 career home runs and 94 stolen bases -- but he does expect to continue helping Atlanta at the top of its batting order. Even if it's just by watching.
"I'm just trying to do what I can to help guys like Freddie [Freeman] and C.J. [third baseman Chris Johnson] out," said Maybin, who's also a career .988 fielder. "I'm trying to do my part. I'm trying to put together tough at-bats, so those guys can see pitches and be a tough out. I'm just trying to be a spark when I'm in there."
Maybin is not letting a little series loss get him down. He feels free to speak for the entire Braves team as it heads out on the road for a 10-day road trip.
"We're still in a good place. We've won two out of three series on the year," Maybin said. "As long as we keep competing, guys keep believing, we keep putting on pressure, good things are going to happen."
It would be hard to find someone who knows that better.
Jon Cooper is a contributor to MLB.com. This story was not subject to the approval of Major League Baseball or its clubs.