Mild right hamstring strain sends Wright to DL
Mets recall Campbell from Triple-A Las Vegas with third baseman out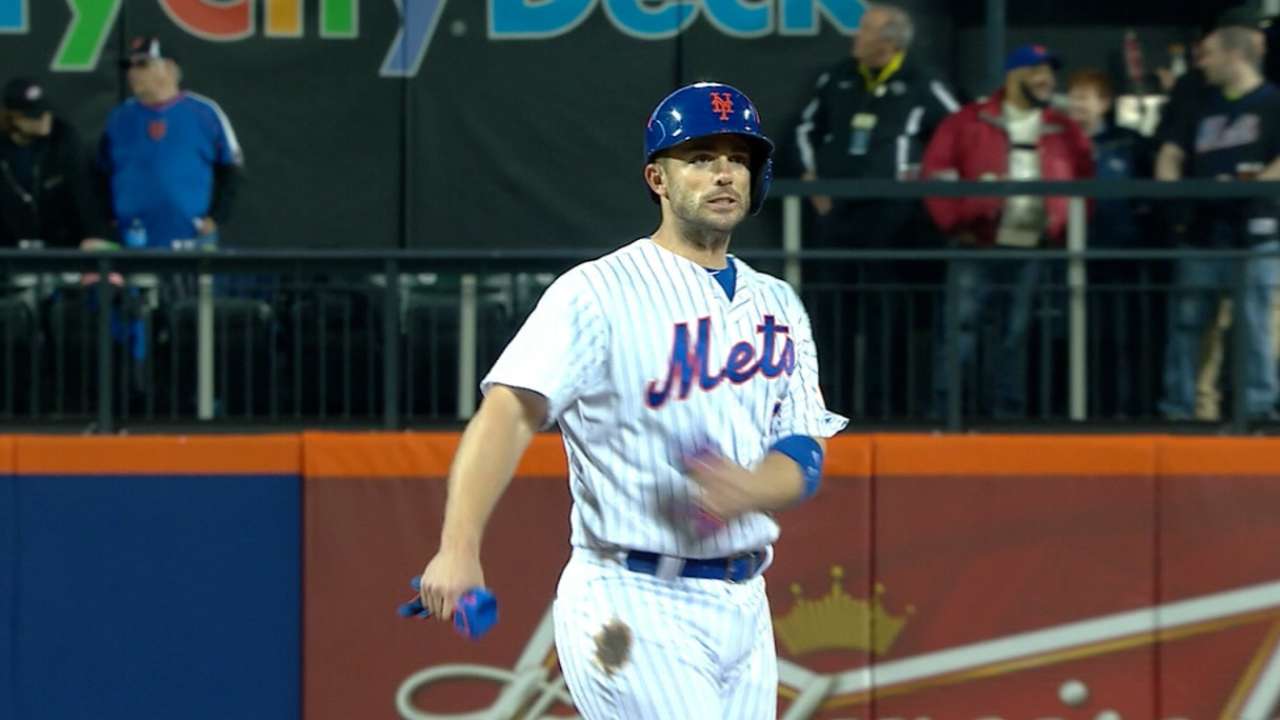 NEW YORK -- David Wright danced off second base and felt another tug in his right hamstring. That's when his inner monologue began. Wright had just hurt his leg stealing second base in Tuesday's 6-5 win over the Phillies, but wasn't yet sure of the injury's severity. He wanted to play. He also remembered what happened two years ago, when he played through what he considered a mild hamstring strain, only to tear it worse and miss seven weeks.
"Ultimately," Wright said, "I think I made the correct decision."
That decision was to come out of the game immediately to receive treatment. One day later, an MRI revealed a mild strain of Wright's right hamstring. He will miss at least two weeks with the injury, though general manager Sandy Alderson called three weeks a more realistic estimate.
The Mets recalled Eric Campbell from Triple-A Las Vegas to take Wright's spot on the roster.
Campbell, 28, was a favorite to make the team out of Spring Training until the Mets decided late in camp to proceed with a four-man bench instead of five. He hit .263 with three home runs in 211 plate appearances last season, playing six positions, including third base.
"You're looking at a guy who's our star player," Mets manager Terry Collins said. "He spent the entire winter getting back into shape -- I mean big, strong shape. He had a great spring and was off to a good start, and now he's hurt. So you feel bad for him. But if you're going to get hurt, this is the best time to do it."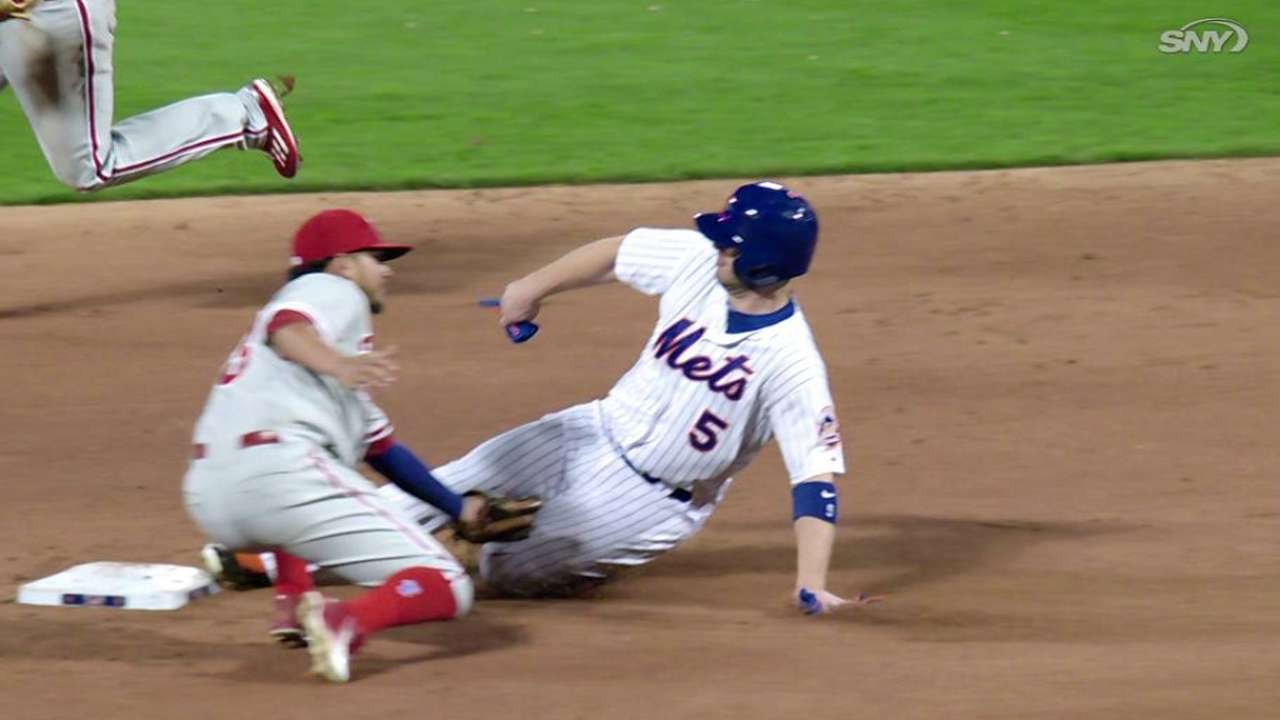 Wright was batting .333 with one home run in eight games prior to his injury. Without expecting similar production, Collins is confident that in Wright's absence, Campbell can man third base without issue. The Mets never really considered shifting second baseman Daniel Murphy or shortstop Wilmer Flores to third, not wanting to move multiple players out of position. They also received enough other good news on the injury front to feel confident about their lineup, with Michael Cuddyer returning and Flores saying he feels healthy. Both players took fastballs off their left hands on Tuesday, suffering only bruises.
Of far greater issue is Wright, who added a second hamstring strain to the shoulder and back issues that have cost him significant time over the past five seasons. So frustrated after his latest injury, Wright spoke to multiple doctors at the Hospital for Special Surgery and members of the training staff at Citi Field, asking all of them if there was anything he could have done differently.
"I'd like to think that I take good care of myself," said Wright, who has played only one full season in his last four attempts. "I hydrate. I work out. I stretch. I do everything I can to try to prevent these types of things. So when something like this happens, it hurts. You get angry. You get frustrated.
"They basically just said it's bad luck. When you run hard like that, your muscles have to work. Sometimes just one wrong step, or you land the wrong way, or you extend an inch too far, something happens."
In this instance, that something will cost the Mets their captain for at least 15 days. The club is confident it will cope as well as possible in his absence.
"We've had other obstacles thrown in our path all through Spring Training and the beginning of the season, and this is just another one of those," Alderson said. "We're thankful that we're only losing David for two or three weeks."
Anthony DiComo is a reporter for MLB.com. Follow him on Twitter @AnthonyDicomo. This story was not subject to the approval of Major League Baseball or its clubs.