Santiago inspired by No. 42, new 'do on Jackie Robinson Day
Lefty allows one run over seven innings in win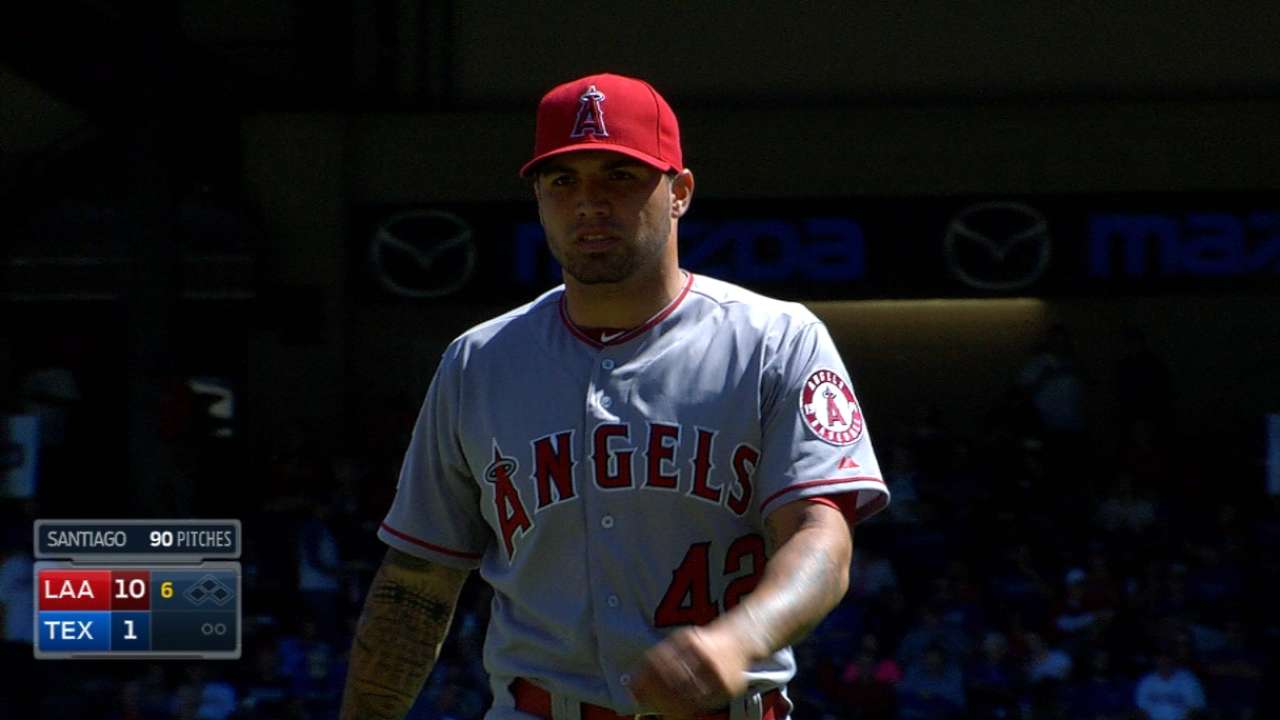 ARLINGTON -- Hector Santiago was giddy about the fact that his second start of the season coincided with Jackie Robinson Day. He's an avid jersey collector and a great admirer of baseball's rich history, so the Angels starter was hoping that pitching on this special day would push him "a little further."
Then he took it a little further with his clippers.
The night before Wednesday's start against the Rangers, Santiago shaved a two-inch line down the middle of his head. It became a constant reminder of his daily quest to maintain a direct line toward home plate with his delivery, and it helped him throw seven innings of one-run ball in the Angels' 10-2 win at Globe Life Park.
Today, the #Angels will don your number with pride. Thank you 42! #Jackie42 #JackieRobinsonDay pic.twitter.com/6MKqs7pxsn

— Angels (@Angels) April 15, 2015
That's what Santiago thinks, at least.
"Every time I touched my hat, I thought, 'Stay in your lane,'" he said. "It was easy because I couldn't take off my hat."
Inspired by Jackie Robinson, buoyed by a new haircut and helped by an early six-run lead, Santiago gave up four hits, walked two batters, struck out five and needed only 103 pitches to record 21 outs -- after requiring 100 to record 16 outs against the Royals five days earlier.
Santiago stayed inside the clubhouse while the Angels plated six runs in the top of the second, never once looked at the scoreboard and didn't even know what inning it was when he gave up a solo homer to Carlos Corporan in the fifth.
He just wanted to focus on attacking hitters, and he wound up throwing first-pitch strikes to 19 of the 27 he faced.
"When he gets into the zone, his stuff plays well, and when he gets into trouble, he gets behind and gives guys too many good looks," Angels manager Mike Scioscia said. "Those guys can swing the bats, and he made some terrific pitches."
Santiago, Mike Trout and Joe Smith got to talking after the Angels were swept at home by the Royals last weekend. The consensus, according to Santiago: "Man, we have to change it up." So Santiago promised he would, and told them he'd go with the reverse mohawk for his next start -- but nobody believed him.
"You guys must not know me," Santiago told them. "I will definitely do it."
There was a method to his madness.
During bullpen sessions, Santiago will draw a straight line from each side of the pitching rubber. It's a lane that helps keep his herky-jerky delivery straight, a concept that allows Santiago to "just drive everything through the zone, instead of getting balls running in and out."
The Angels' strict dress code on travel days forced Santiago to shave his entire head postgame, even though superstition dictates that he not mess with it. But he did keep his No. 42 jersey from Jackie Robinson Day. Santiago has every No. 42 jersey he's ever worn, among the 400 or so others he's compiled over the years.
"It's fun to get a win," Santiago said. "Now I can write 'First Jackie Robinson Day Win' on my jersey."
Alden Gonzalez is a reporter for MLB.com. Read his blog, Gonzo and "The Show", and follow him on Twitter @Alden_Gonzalez. This story was not subject to the approval of Major League Baseball or its clubs.