Padres about to have wealth of rotation options
With Kennedy, JJ on the mend, manager Black faces tough decisions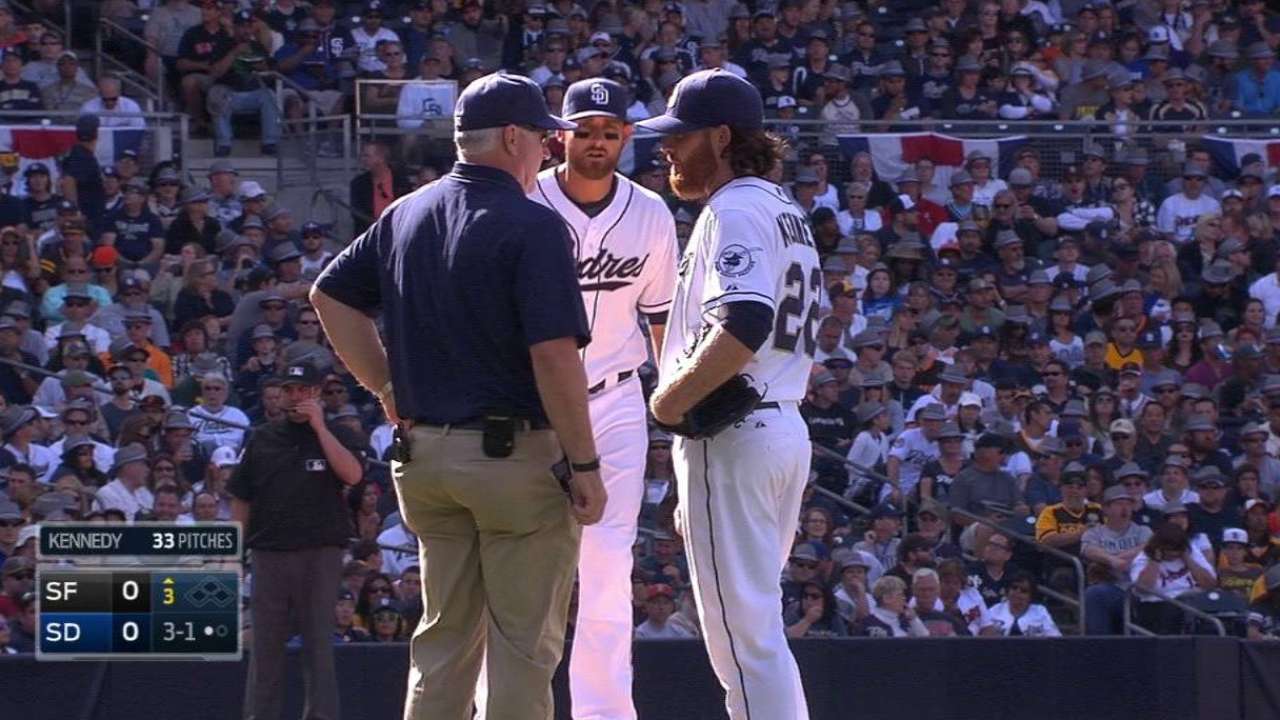 Bill Center, longtime sportswriter for U-T San Diego, is an employee of the Padres.
Bud Black has a way of dealing with questions pertaining to future roster decisions. When asked about where Melvin Upton Jr. will play when he is ready to return from a foot injury sometime next month, Black said: "These things have a way of working themselves out."
Around the same time, Black could be dealing with another roster conundrum. Right now, the rotation is James Shields, Tyson Ross, Andrew Cashner, Odrisamer Despaigne and Brandon Morrow.
But Ian Kennedy looks as though he'll be ready to pitch as soon as his 15-day stay on the disabled list with a mild left hamstring strain ends on April 25. And Josh Johnson is moving quickly in his return from last year's Tommy John surgery.
Padres fans already know what Kennedy can do.
But Johnson was not that long ago one of the most dynamic starting pitchers in the National League with the Marlins. And from the reports from his early bullpen sessions, he might be that good again.
So how will Black get seven Major League starters into a five-man rotation? Despaigne could return to being the long man in the bullpen. But that still leaves the equation of six into five.
Shields has a 2.08 ERA with 15 strikeouts in his first 13 innings. Ross has a 3.75 ERA after two starts after his breakout season of 2014. Cashner has a 4.04 ERA after two starts, but he is coming off a spring that was adversely impacted by the health of his mother in Texas.
Kennedy struck out 207 in 201 innings with San Diego last season. Despaigne has a 0.77 ERA after his first two outings. Morrow didn't allow a run in seven innings in his Padres debut against the Giants.
The six-into-five question might be days away. Kennedy is scheduled to throw a side session Wednesday afternoon, only five days after going on the disabled list.
Despaigne started in Kennedy's spot Tuesday night and held Arizona to one run on two hits over a seven-inning, 84-pitch effort that impressed D-backs manager Chip Hale.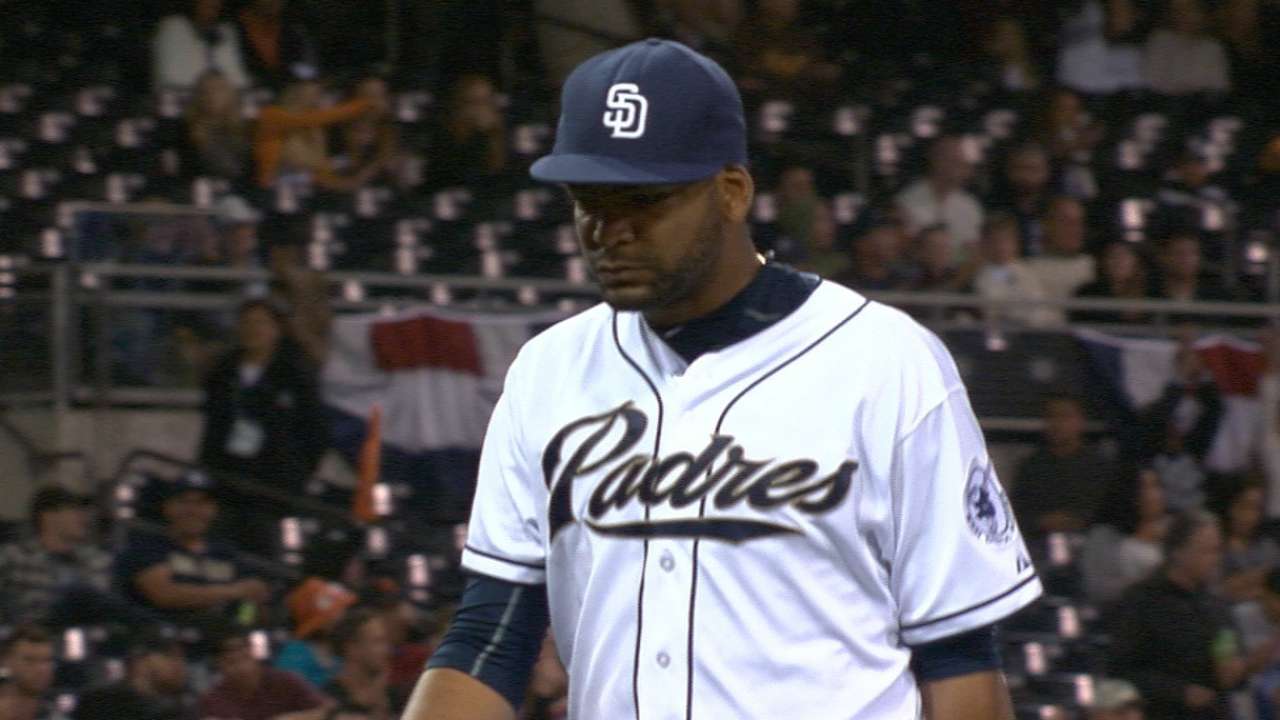 "He just mixed his pitches really well," said Hale. "We had a hard time. We just couldn't crack the code, I guess. So give him credit."
Despaigne can return to the bullpen -- not that he wants to.
"Obviously, I would prefer to start," Despaigne said through an interpreter Tuesday night. "But I'll pitch where they need me."
Notes from the scorebook
• Despaigne is 4-1 with a 1.66 ERA in 65 2/3 innings in 10 games (nine starts) at Petco Park, with 43 strikeouts against 16 walks. He is also 5-4 with a 2.19 ERA in 12 games (11 starts) against NL West opponents.
"That was pretty clean," Black said of Despaigne's 84-pitch outing against Arizona. "O.D. was crisp. He threw a mix of pitches from a variety of arm angles. He was efficient. He doesn't melt. What we saw tonight mirrors Despaigne's good starts."
• Left fielder Justin Upton is one of three Major League players who has hit safely in all nine games this season (10-for-33). His hitting streak is 11 straight games, dating back to the end of last season. The streak was extended Tuesday night on a 389-foot home run into the second deck at Petco Park. The homer was Upton's second as a Padre and his first as a Padre at Petco Park, where he had hit 10 homers as a visiting player.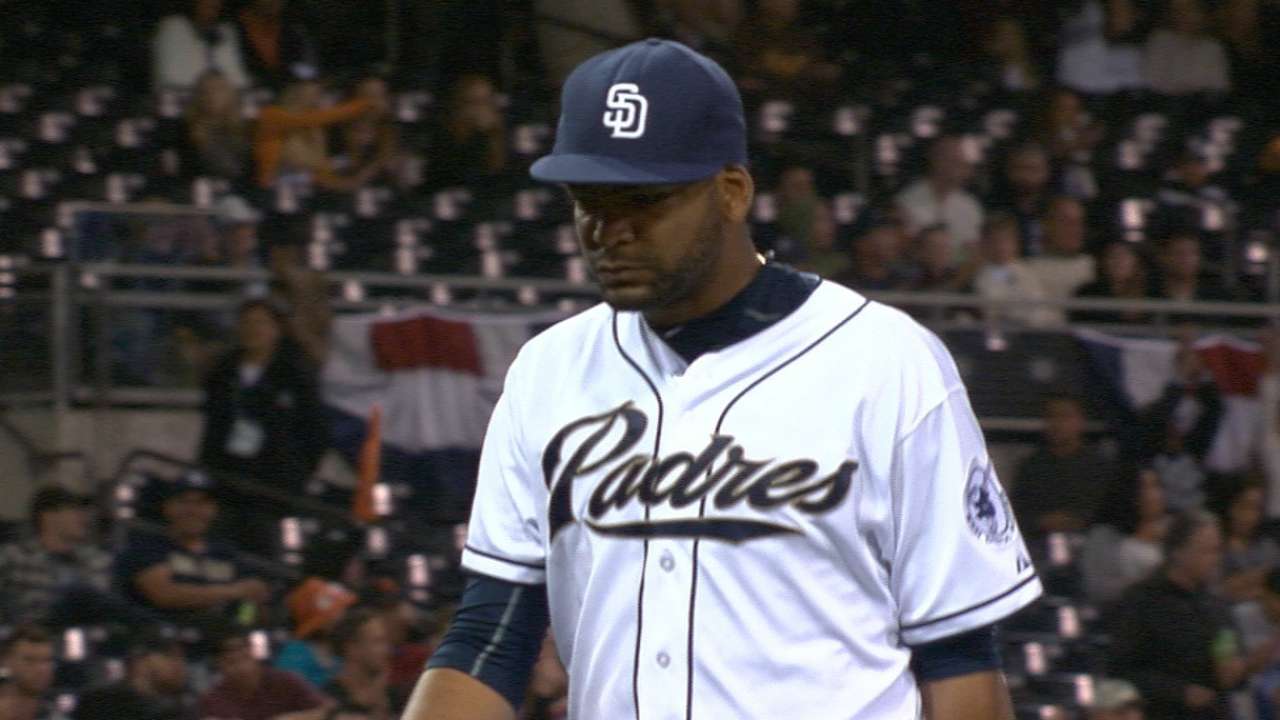 • Right fielder Matt Kemp was 2-for-4 with a triple Tuesday night. It was Kemp's fifth multihit game this season, and he is 9-for-17 with two doubles, two triples, four runs scored and three RBIs over his last four games.
• Center fielder Wil Myers has hit safely in his last seven starts, going 10-for-33 (.303) with four doubles, six runs and four RBIs.
• Infielder Yangervis Solarte has reached base at least twice in four of his five starts. He is 8-for-19 (.421) as a starter, with three doubles and three RBIs. He has a .476 on-base percentage when starting (three games at second, one at first).