Red Sox reflect on Jackie's seismic impact on game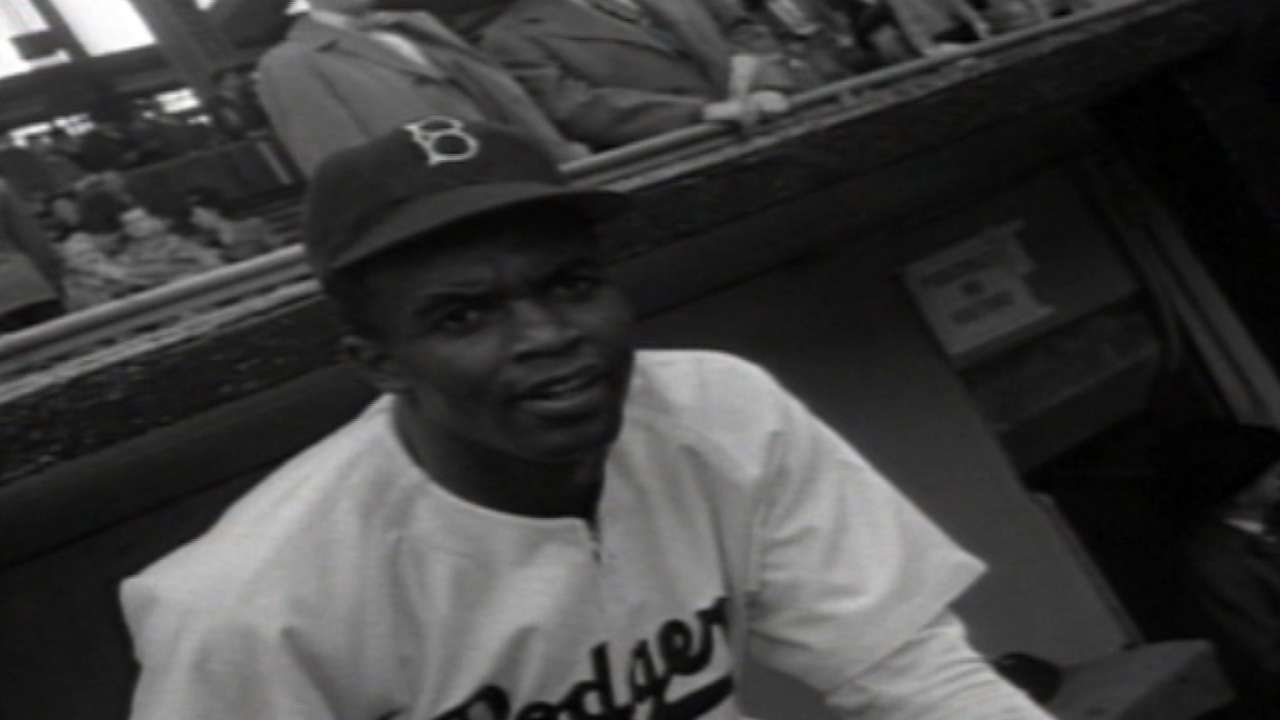 BOSTON -- On this day 68 years ago, Jackie Robinson redefined the tapestry of American sports in an indelible way. In becoming the first African-American player to cross baseball's color line when he debuted for the Brooklyn Dodgers, Robinson's show of courage would catalyze the country's civil-rights movement and help to end racial segregation in the baseball.
The Red Sox joined in with the rest of Major League Baseball in remembering Robinson on Wednesday, with each player wearing his No. 42 jersey that has been retired by all clubs.
"It means a lot," said outfielder Mookie Betts. "The first to come in, do what he did, it means a lot to be able to play on the same field."
Betts, who has taken the Boston sports scene by storm this season, admitted that the sacrifices of Robinson and the others that followed him weren't on his mind growing up. But the 22-year-old said he later grew to appreciate what their legacy meant to the game.
Red Sox manager John Farrell believes the success of players such as Betts can only be beneficial for baseball.
"I can only recall my own childhood upbringing, and that's when I watched someone on TV that I wanted to emulate," Farrell said. "Hopefully that's starting to resonate through New England, and specifically here in Boston. How our players can give back to the community, hopefully that's a way to draw a greater connection to young African-Americans here in Boston."
As of Opening Day, however, only 8.26 percent of players on Major League rosters were identified as black, African-American or African-Canadian, and Lloyd McClendon of the Mariners is currently the only black manager.
Is baseball doing enough to attract African-Americans to the game? Farrell cited the Reviving Baseball in Inner Cities (RBI) MLB community program, but recognized that outreach could still improve.
"There's some initiatives being taken," Farrell said. "The RBI program for one. But I think we all recognize that there are a tremendous amount of athletes that are migrating towards football and basketball. To create more space in the inner city is one possible way to do it. I think we have to continue to find ways to make our game appeal to young people across all walks of life.
"There's a growing concern that our game doesn't reflect our society and its demographic."
As for Robinson, his lasting influence remains important to players of all backgrounds.
"I think it opened a lot of doors for a lot of different players in different countries," said Sandy Leon, a native of Maracaibo, Venezuela. "He changed baseball."
Alec Shirkey is an associate reporter for MLB.com. This story was not subject to the approval of Major League Baseball or its clubs.