MLB.com Columnist
Bill Ladson
Nats join MLB in celebrating legacy of Jackie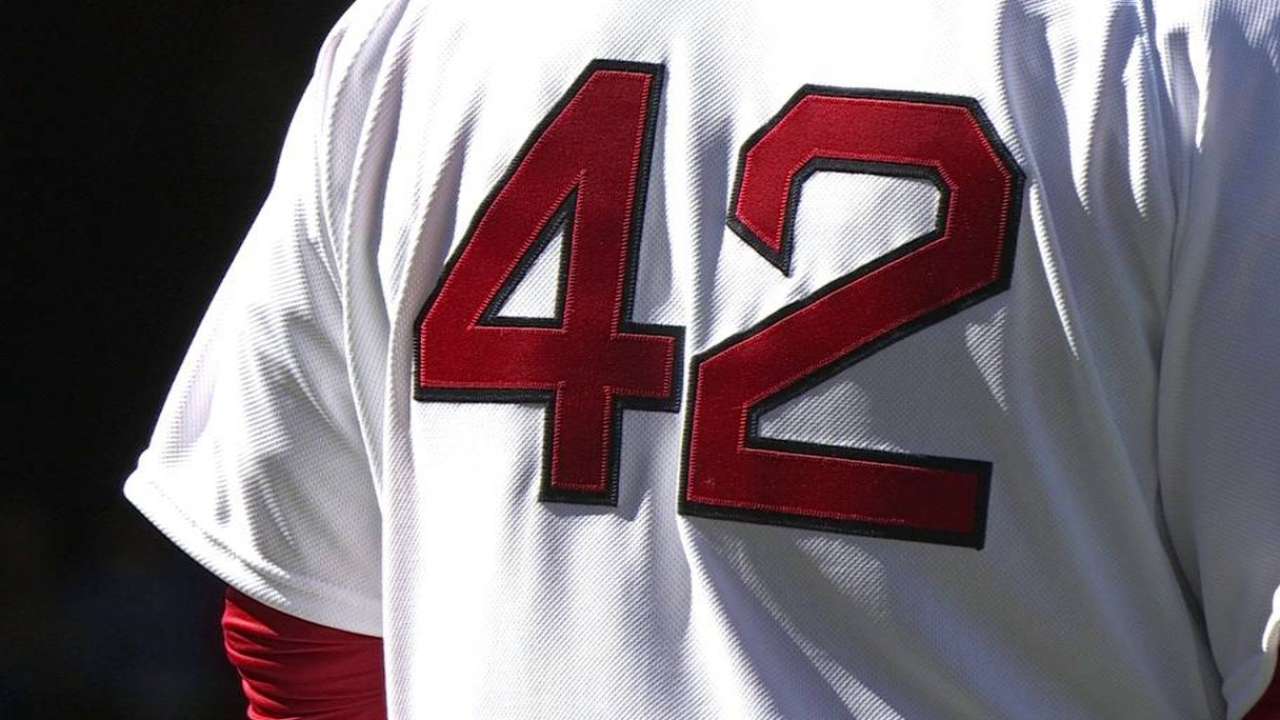 BOSTON -- Nationals outfielder Bryce Harper is a history buff and understands how important Jackie Robinson was to baseball and society in general.
"Being able to look back on history and see him being able to do what he did under the circumstances, it's truly unbelievable," Harper said. "To get that opportunity from [Dodgers executive] Branch Rickey and play in the big leagues, it's an unbelievable task to be able to do that under the circumstances he was under. You can't say enough about Jackie Robinson."
This year marks the 70th anniversary of Jackie Robinson signing his first professional contract with the Brooklyn Dodgers' organization in 1945, which was the first step toward his eventual breaking of the color barrier on April 15, 1947.
As has been tradition each April 15 since 2009, Major League Baseball celebrated Jackie Robinson Day with all players and on-field personnel wearing No. 42 during that day's games, including the Civil Rights Game at Dodger Stadium. Throughout the league, the annual celebration to commemorate the anniversary of Robinson breaking baseball's color barrier will feature on-field, pregame ceremonies in ballparks throughout the league.
Center fielder Michael Taylor said it's great that Major League Baseball takes a day to remember a pioneer like Robinson. Taylor doesn't think he could play under the racial hatred that Robinson went through during his career.
"I can't imagine all that he went through. It had to be extremely hard," Taylor said. "It's hard enough to play this game when you have people behind you. To have people yelling and screaming at you all the time, I don't know how he was able to go out there and concentrate."
For manager Matt Williams, Robinson's impact goes beyond baseball.
"From a baseball perspective -- tenacious, put in a situation that's not comfortable by any stretch," Williams said. "A desire to be in that situation. And fulfilling all the obligations of what was put upon him for many, many years, even when he was done playing the game. So we all look up to him. That tenaciousness, that drive to become the best that he could possibly be in not-so-friendly surroundings. We're proud to be associated with that."
Bill Ladson is a reporter for MLB.com and writes an MLBlog, All Nats All the Time. He also can be found on Twitter @WashingNats. This story was not subject to the approval of Major League Baseball or its clubs.