Braves hold panel, show video tribute for JRD
Maybin homers on Jackie's Day, honored to 'acknowledge a hero'
ATLANTA -- The legacy of Jackie Robinson is timeless and should never be forgotten.
Major League Baseball agrees and has taken steps over the years to assure that, having retired his number 42 in 1997 (that fully went into effect once Yankees closer Mariano Rivera retired at the end of 2013) and holding a day of commemoration at every ballpark on April 15, Jackie Robinson Day.
The Braves made sure to do their part, holding a special panel discussion for a high school group, then just before the first pitch, showing a video tribute for the crowd of 18,342 that made it to the game for the rare 12:10 p.m. ET start.
The panel discussion, held in a section of the Club Level behind the home dugout, was moderated by Doug Shipman, CEO of National Center for Civil and Human Rights in downtown Atlanta. The group got an opportunity to talk about Robinson and ask questions of former Braves players Terry Pendleton and Brian Jordan, as well as current closer Jason Grilli.
The moving video tribute to Robinson's playing career featured commentary from current Commissioner Rob Manfred and showed the montage of African-American and international talent for whom Robinson opened the door.
Once the Marlins and Braves took the field, Robinson's true impact could be seen through the presence and influence of African-Americans such as Atlanta's Cameron Maybin and Miami's Dee Gordon, as well as international players such as gifted Braves shortstop and Curacao native Andrelton Simmons and legendary Japanese star Ichiro Suzuki.
"You're seeing more different ethnicities getting into the game, which is huge," said outfielder Eric Young Jr. "Baseball is an international sport. I personally love the fact that it is worldwide, and everybody loves the game as much as I do and want to play and be a part of it. At the end of the day, it's all baseball and everybody has the same common goal."
The players knew just how special the day was. The number on their back told them so. It's something that never decreases in significance.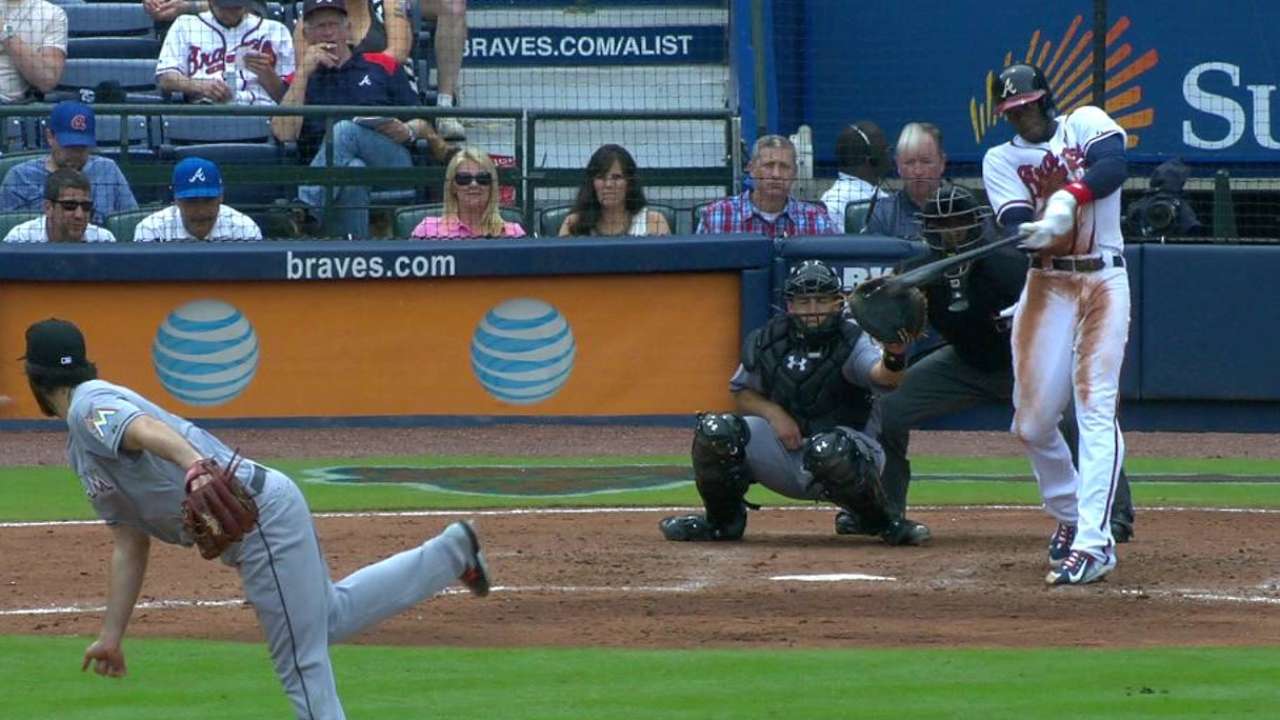 "I've been blessed enough to be able to do it the last six seasons or so," said Maybin, who homered for one of the Braves' two runs on the day. "It's always an honor to be a part of such a special day, to acknowledge a hero, a role model, so many different examples you could call him. It's always an honor."
Young didn't start and was 0-for-1 in a pinch-hitting role in the Braves' 6-2 loss, but the enormity of the day has helped him keep such days in perspective.
"If a call is made against you or something that makes you angry, you're not playing as well, if you think of what Jackie had to do," Young said. "The success that he had on the field with the scrutiny that he got off the field, you had to have tremendous focus, be mentally tough and a thick skin. It kind of makes the things that we get mad at today irrelevant."
Jon Cooper is a contributor to MLB.com. This story was not subject to the approval of Major League Baseball or its clubs.