MLB.com Columnist
Megan Zahneis
Bauer settles into comfort zone on mound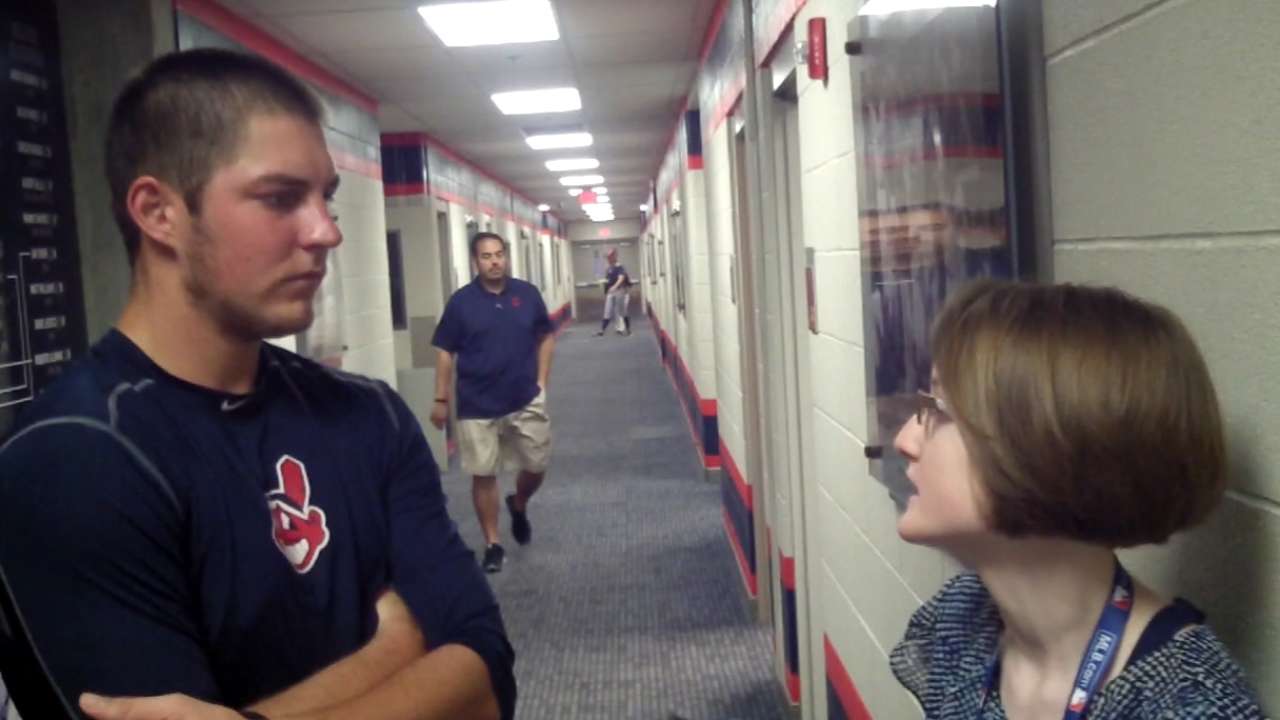 Indians right-hander Trevor Bauer is known in baseball circles for his dedication and intelligence. It's a reputation that is well deserved. Bauer's astuteness and acumen shines through in the first 60 seconds you meet the guy, and it's easy to tell that he eats and breathes baseball.
Is Bauer an overthinker? He doesn't think so. A bit socially awkward? Perhaps, but he's getting more comfortable in Cleveland every day. About to "arrive" as an impact starting pitcher? Bauer certainly did all he could this offseason to make that happen, spending the winter at a "baseball ranch" in Texas honing his skills under the tutelage of pitching guru Ron Wolforth.
Bauer would spend 3 1/2 hours throwing and another 3 1/2 hours pumping iron. Add that to the time he spent reviewing and analyzing video -- he posts slow-motion stereoscopic 3D videos of his mechanics on his YouTube channel -- and reading up on physics and biomechanics, and yeah, you could say he's devoted to his craft.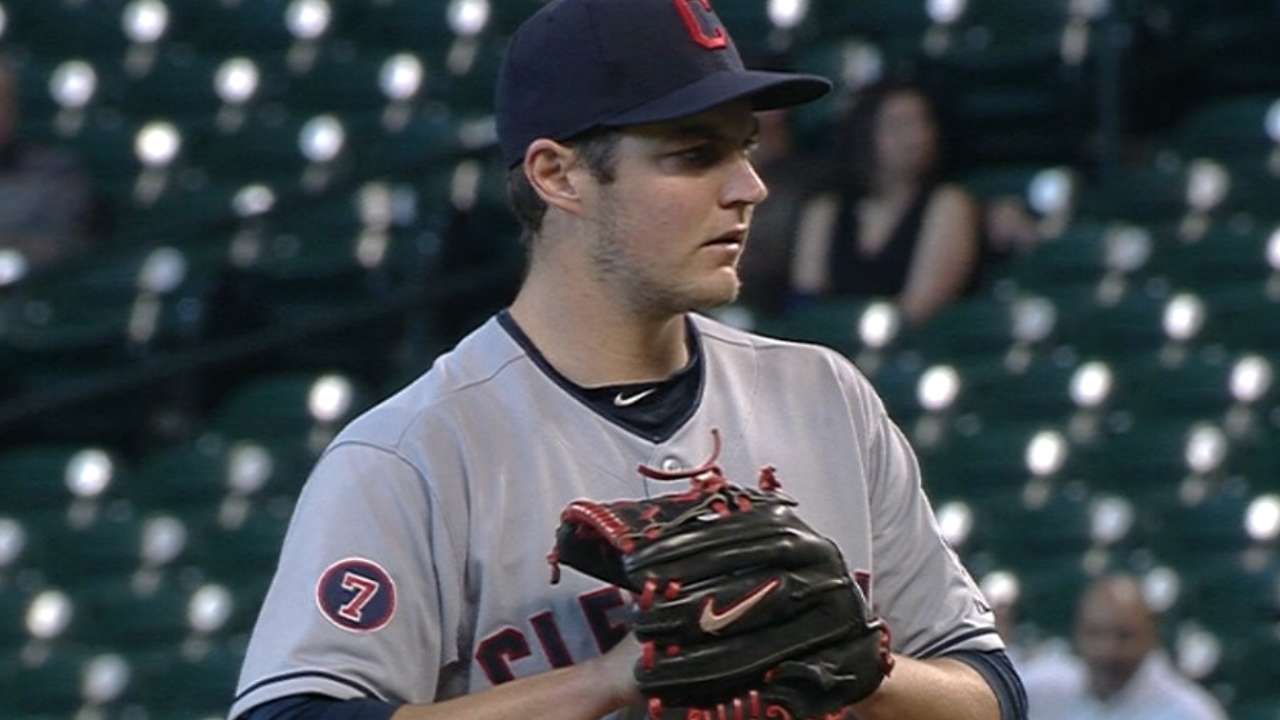 "Motor learning was one of the big [goals] this year -- trying to figure out skill acquisition. What leads to long-term skill acquisition?" Bauer asked. "So if I want to throw a fastball to a specific spot and be able to do that consistently from start to start and year to year, how do I train myself to be able to do that? So I did a lot of reading, listened to a couple different people talk, did some research on it and put together a program to train my command."
This is typical behavior for Bauer, who holds a mechanical engineering degree from UCLA. His quest for knowledge runs deep, especially when it comes to understanding his pitching mechanics and how they correlate to the laws of physics and gravity.
"It's always been something that I've been interested in," Bauer said. "I took a physics class my sophomore year of high school. My professor, my instructor was Mr. Kirby, a British guy, and he made class really fun. It was my favorite class, probably my favorite class of all of high school, and it just kind of grew from there.
"I didn't know a whole lot about it, so I tried to apply what I did know to baseball. But as I've gotten into pro ball and I have more free time in the offseason, I've been able to do the research and learn. I have more resources available to me, it's kind of accelerated and I've been able to get further down the line on understanding the biomechanics, the motor learning, the strength conditioning -- all the different things that go into the big league season."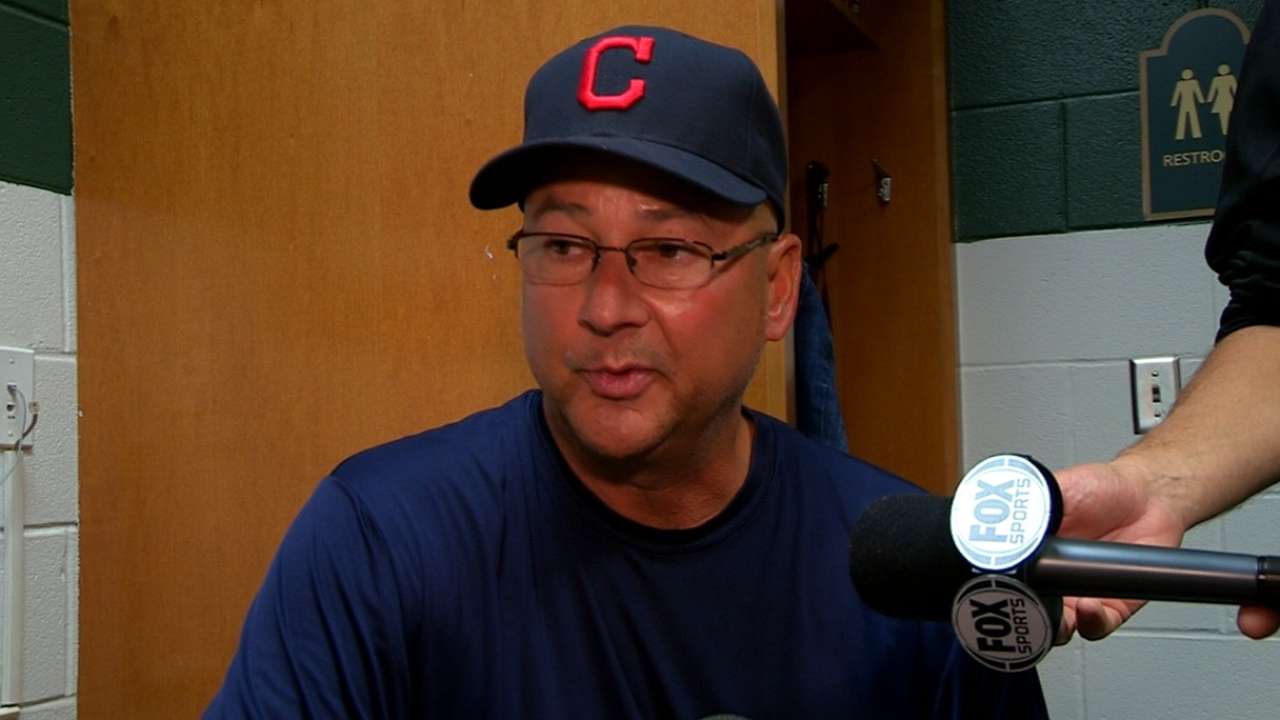 In case you can't tell, Bauer has one of those minds that never stops running a mile a minute. One fan sent Bauer a tweet asking if the 24-year-old worries about overthinking on the mound. It's a fair question, one that prompted a thoughtful response from Bauer spanning the length of nine tweets.
"People that say I overthink, they don't know me," Bauer said. "They don't know how I go about my business. Once people do get to know me in the clubhouse and they spend time around me and they realize when I do think and when I don't think and the way I go about it, there's very, very few of them that would say I overthink.
"I think overthinking as a term in general is just a way for people to try to describe what's going on when they really have no idea what's happening. [They'll say,] 'He had a bad outing.' 'Oh, he was overthinking it today.' Well, no, he might have been doing the exact same thing he always has, but they don't know why he had a bad outing. I don't like the term. I think it needs to be more clearly defined."
Bauer prefers the term "analytical" as a descriptor of himself and his methods.
"People get this idea that I'm on the mound consciously thinking, like, 'OK, I'm going to move this way and I'm going to do this,' and I have this -- almost like a Rain Man-type thing with all the numbers going on in my head, and that's not the case," Bauer clarified. "I go out there, I compete and I try to be involved in the flow of the game.
"I think I'm analytical. I think I process information well. I know a lot, I learn a lot. I spend time researching and stuff, and I try to use that stuff to my advantage."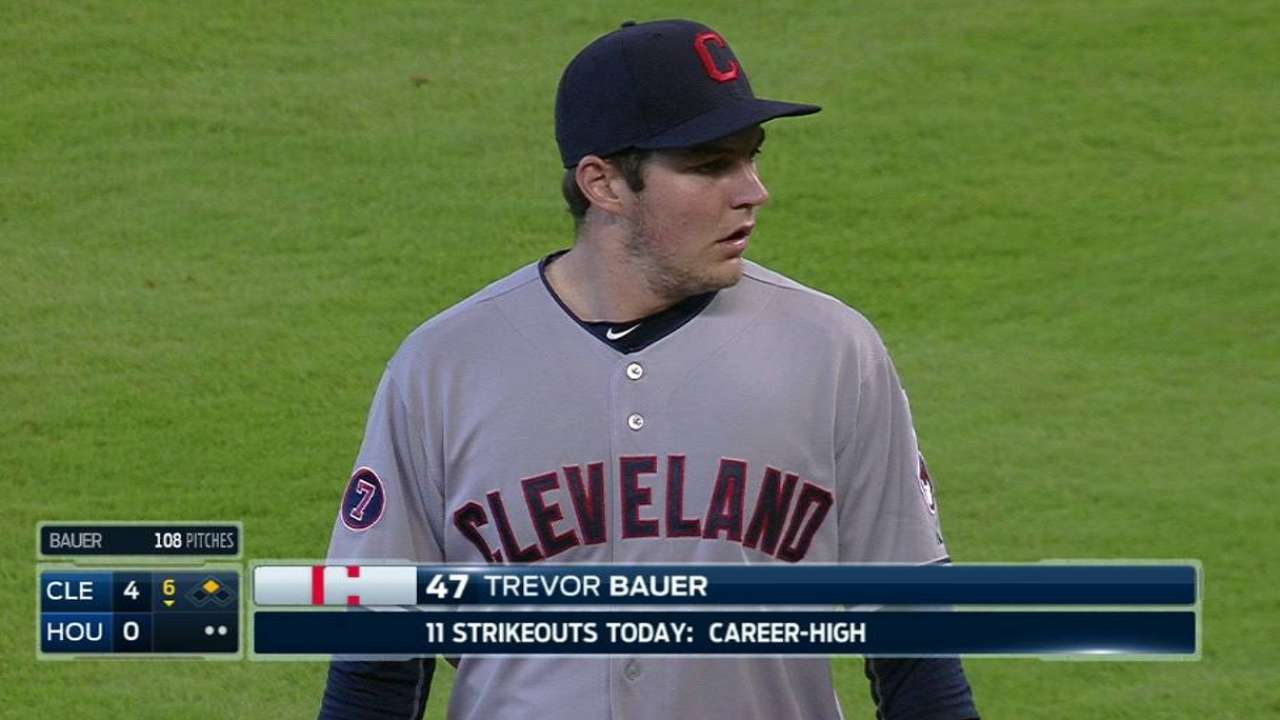 Bauer's Twitter feed, cleverly branded @BauerOutage, is full of gems like these -- 140-character tidbits of advice for amateur pitchers, inquiries into the technological aspects of drone gimbals, thoughts on March Madness (Bauer's beloved Duke Blue Devils won the NCAA men's basketball championship this year), and assurances that he feels "the best I've been at any point in my career."
It's easy to see that Bauer is coming into his own as player for Cleveland. Once regarded as hard to work with during his short tenure with the D-backs, Bauer has shed that label in his third season with the Tribe. His persona seems to have evolved as he grows confident in himself and his abilities.
"It always kind of takes me a couple years to get comfortable on a team," Bauer said. "In high school or college, I didn't really get comfortable until the middle of the second or the third year. It takes a while for people to get to know me and my personality, and it takes me a while to get to know everybody else enough to where I feel I can joke around. Once I do get there, I like to have fun, I like to joke with people and shoot the breeze. It's nice to be in that spot where I'm comfortable with the team and the organization, and hopefully I'm around for a while so I can continue that."
Megan Zahneis is a reporter for MLB.com. This story was not subject to the approval of Major League Baseball or its clubs.