MLB.com Columnist
Anthony Castrovince
Indians hope to push past early injuries
Carrasco's scare, Brantley's back, Gomes' knee have made for tough start to 2015 for Cleveland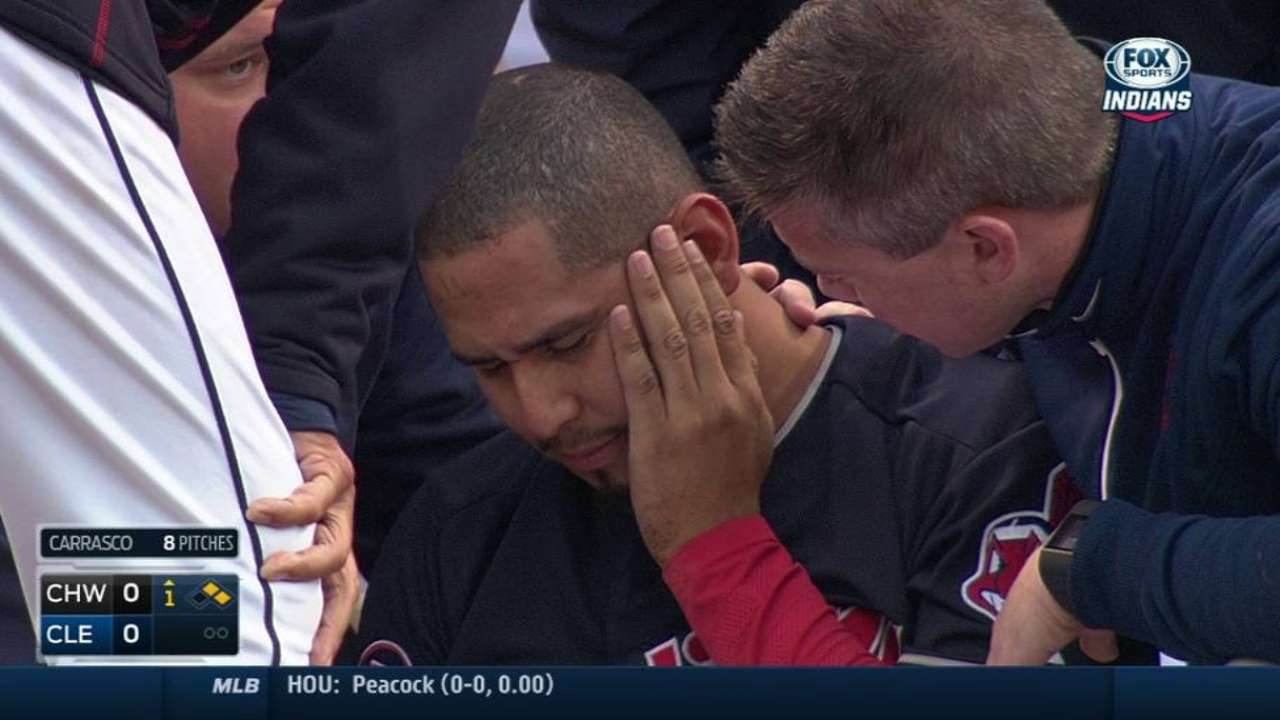 CLEVELAND -- Eight pitches into the season's seventh game, Carlos Carrasco lay face down on the ground in front of the mound, and your heart sank.
Here's a grounded young man with a growing family, a genuinely pleasant disposition and a wealth of talent who finally, in a brilliant 10-start stretch at the end of last season, put it all together and became the dominant starter the Indians long expected him to be. Off the field, a heart condition that required non-invasive offseason surgery and steady medication reminded Carrasco of his own mortality and inspired him to take the money on the table -- a four-year, $22 million contract that certainly seems team-friendly -- and the security it affords him.
But no medicine and no contract could shield Carrasco from that Melky Cabrera comebacker, which appeared to nick Carrasco's hand and glove before connecting with his left cheek, knocking him to the ground, flat on his face.
The moment was awful enough on its own, an all-too-vivid depiction of every pitcher's worst fear in a dangerous game.
That it doubled as the latest in a series of adverse developments impacting a Cleveland team expected to contend only made the scene harder to stomach.
Hours later, there would be good news -- or at least as good as could be expected. Carrasco had no signs of a concussion or head injury and was being treated for a jaw bruise.
"Obviously, we've got to check him in the morning and see how he's doing," manager Terry Francona told reporters. "But I think in the big picture, we dodged a really big bullet."
Ultimately, Carrasco's health and well-being were all that mattered. Sports can sweep us up in silly storylines and manufactured drama (witness the breathless coverage of the Browns' uniform unveiling elsewhere in this city Tuesday night), but sometimes real matters of life and death present themselves. Thankfully, Carrasco was OK, on the whole.
But that's the way it's been with the Indians thus far this year. The "good news" has only been relative in nature.
Sure, it was good news that an MRI turned up no structural damage in Michael Brantley's ailing back. But the back is still ailing, all the same, and the 2014 American League MVP Award finalist has played just 28.6 percent of the season schedule, to date. Cleveland is hoping Brantley can return to the lineup Friday in Minnesota, but even if that's the case, the situation will merit continued monitoring even when he does come back.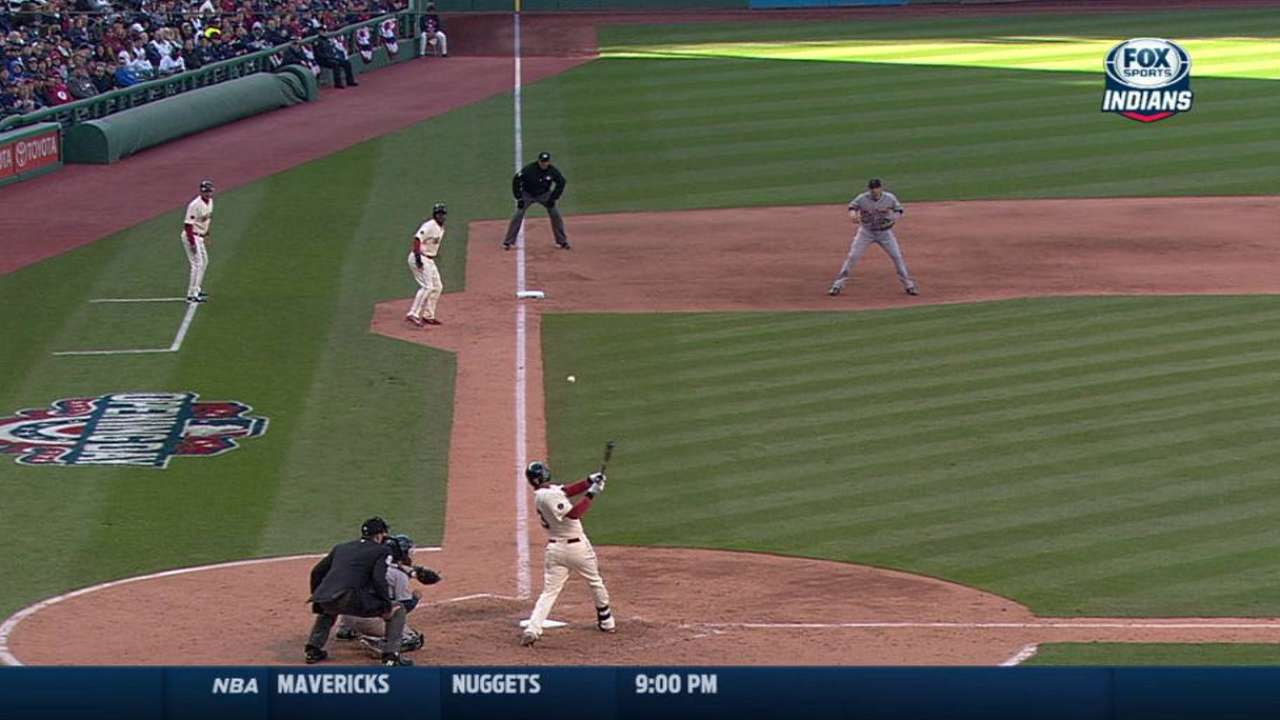 It was good news that Yan Gomes' right knee injury -- suffered on an awkward play at the plate on Saturday against the Tigers -- was a sprain of the medial collateral ligament and not a tear, which would have been a season-ender. But Gomes is still going to miss a minimum of six weeks, robbing the Tribe not just of an impact defender and game-caller behind the plate but also a legit No. 5 hitter.
And, yes, it's good news that we're only 4.3 percent of the way through a long season, which means the early injuries and the 2-5 record are surmountable obstacles.
But even if the season is still wearing temporary tags, it has already asked an awful lot of a short-staffed club that can ill-afford a slow start in a deep division.
The Indians, losers of four straight, already had their anticipated issues with left-handed pitching (the White Sox's Jose Quintana became the latest to tie them up in knots Tuesday night), yet that somehow now seems a back-burner concern at a time when the roster is in such relative disarray.
The Tribe finds itself in the unexpected position of hoping Jerry Sands' would-be weekend star turn is sustainable enough to provide some needed lineup balance and that de facto starting catcher Roberto Perez, a strong defender who earned the trust of the pitching staff in his first exposure to the bigs last summer, can also carry his weight offensively in an everyday role. The back of the rotation had a rough first turn, and so the depth acquisition of Jhoulys Chacin, coming off a injury-shortened 2014 season in Colorado, is not to be totally ignored.
Would that the early injuries and adversity could be ignored and dismissed as April aberrations. But knowing how fickle backs can be, knowing how much the knees play a part in the life of a catcher and knowing how much a liner to the face can impact a pitcher's psyche, we have no choice but to take a wait-and-see approach.
What we've seen in recent days from Cleveland has not been easy on the eyes. And nothing was harder to watch than Carrasco taking a liner to the cheek. Eventually, encouragingly, he was able to rise to his feet.
We'll see if the Indians can do the same.
Anthony Castrovince is a reporter for MLB.com. Read his columns and follow him on Twitter at @Castrovince. This story was not subject to the approval of Major League Baseball or its clubs.