MLB.com Columnist
Tracy Ringolsby
'New wrinkle' gives Ottavino arsenal to be Rox's closer
Reliever revives cut fastball to gain effectiveness against lefty hitters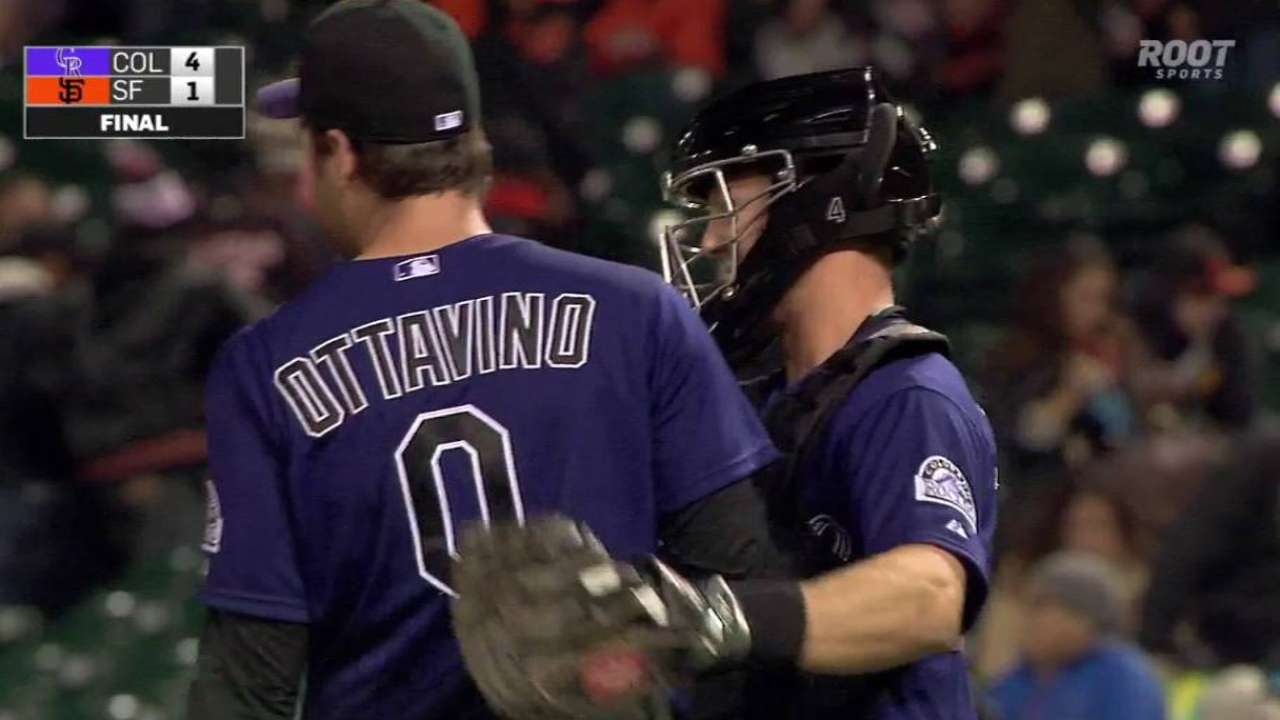 SAN FRANCISCO -- Those Nasty Boys that carried the Reds to the 1990 World Series combined to tally a Major League-leading 50 saves that year. Five relievers had saves in what has been commonly labeled a bullpen by committee.
Every committee, however, has a chairman.
On that Reds team, Randy Myers had 31 of those 51 saves. Was he the chairman or the closer?
Does it matter?
Myers was the guy who got that shot at the ninth whenever he was rested and ready to go.
And two days after saying LaTroy Hawkins was being given a break from the ninth-inning bullpen role with the Rockies, manager Walt Weiss has decided Adam Ottavino is Colorado's chairman or closer or whatever label someone wants to slap on him.
It was the plan all along.
Weiss waltzed around the issue Monday. He said he was going to give Rafael Betancourt the chance in the ninth of the series opener against the Giants at AT&T Park, and Betancourt responded with a 1-2-3 effort to preserve a 2-0 lead.
What went unsaid is that Betancourt was really the only late-inning option the Rockies had Monday. Hawkins was being given that late-inning break. John Axford went on family medical-emergency leave Sunday. And Ottavino had not only pitched Saturday and Sunday, but he went 1 1/3 innings in the Sunday appearance, which meant he wasn't pitching Monday in any inning, including the ninth.
Tuesday, however, it was a different story. When the ninth inning rolled around, Ottavino got the call. He answered it, striking out the side to finish off a 4-1 Rockies victory.
If the opportunity arises Wednesday, Ottavino will get the call again. For now, every time he's rested and ready, he will be the man on the mound when Colorado has a lead to protect in the ninth.
"I'm not against closer by committee or anything," Weiss said, "but I think Otto deserves a shot at closing games. We've got some guys that can do it, but Otto will do well in that role."
Finally, Ottavino admits, he's ready for that ninth-inning challenge. He had only had eight big league save opportunities in his career before this season and converted only one of them.
But then Ottavino didn't really have a way to get left-handed hitters out before this season. Now, however, he does, and it is as apparent as that dominating ninth Tuesday when he struck out the left-handed-hitting Brandon Crawford to open the inning and the left-handed-hitting Nori Aoki to end the game.
Left-handed hitters are 0-for-5 with one walk against Ottavino this year and have struck out three times.
Big deal?
Real big.
In the last two seasons, Ottavino dominated right-handed hitters, allowing a .218 batting average. Left-handed hitters, however, hit .333 off him -- a 115-point difference.
"Unacceptable," said Ottavino.
Closers can't be situational guys. They have to have the arsenal to get out hitters from both sides of the plate. Ottavino didn't have that before. He, however, does now.
Given the challenge at the end of last season to find a way to nullify left-handed hitters, Ottavino watched videos, and it wasn't pretty. The bulk of his pitches to left-handed hitters were on the outer third of the plate.
"Guys would just sit on [the pitch away] and were even hitting pitches off the plate," said Ottavino. "That's how comfortable they were."
Ottavino's changeup to left-handed hitters seemed to have "hit me" stamped on it. And his slider not only broke down into a left-handed hitter's hitting zone, but was in the mid 80-mph range.
"I tweaked my approach," Ottavino said.
Tweaked? That's putting it mildly. Ottavino broke out a cut fastball, which he hadn't used since his days at Northeastern University, and put that changeup on hold.
"It's a new wrinkle," said Ottavino, a first-round pick of the Cardinals in 2006, who joined the Rockies as a waiver claim in 2012. "You are looking at 90, 91 miles per hour with action. I worked on it all spring.
"I had to have a strategy."
Now, Ottavino not only has the strategy, but he also has the chance to pitch the ninth inning.
"It is always nice to be the last guy out there, to get that last out in a game," said Ottavino. "It is something every reliever aspires to do."
It is something Ottavino is finally getting the chance to do.
Tracy Ringolsby is a columnist for MLB.com. This story was not subject to the approval of Major League Baseball or its clubs.