Rockies bullpen pitches in for victory over Giants
Oberg gets win in Major League debut; new closer Ottavino earns save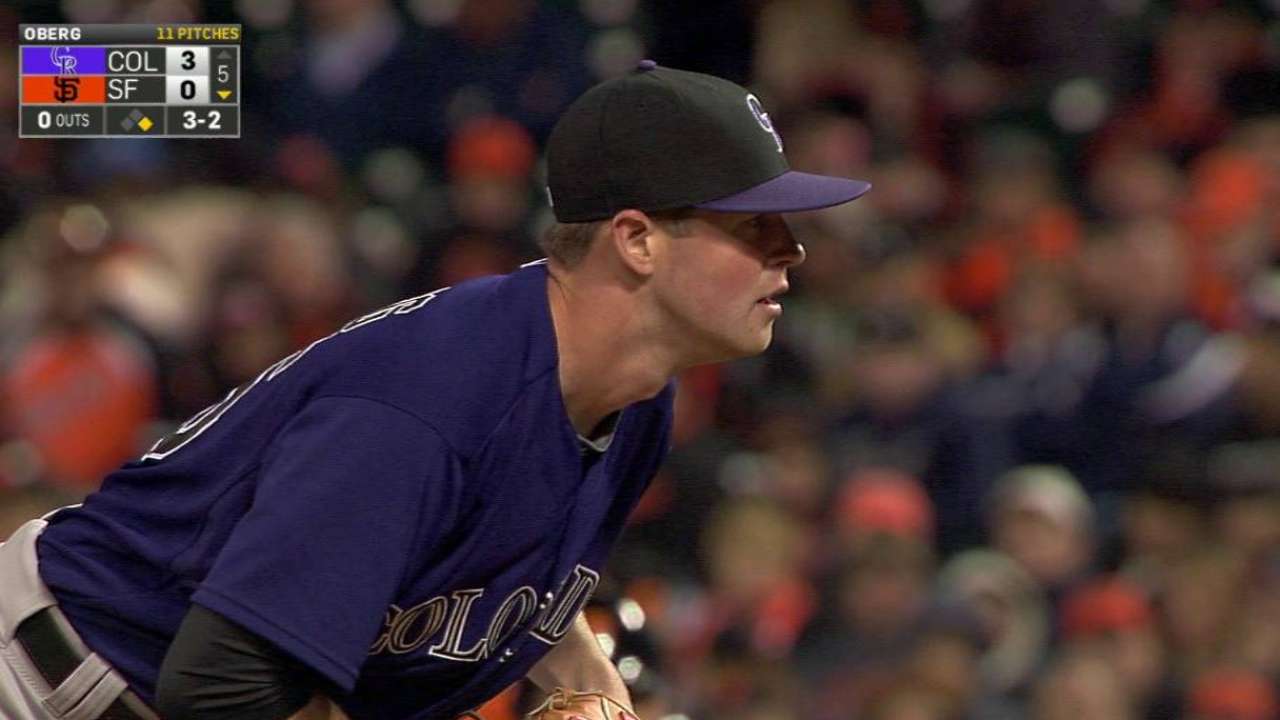 SAN FRANCISCO -- Right-hander Scott Oberg admitted feeling jitters in the Rockies' bullpen before his Major League debut Tuesday night.
"[Catcher Nick] Hundley came out there to make sure I enjoyed it and threw strikes, and Tulo [shortstop Troy Tulowitzki] came out there and said the same things," said Oberg, who delivered his important, scoreless fifth inning in the Rockies' 4-1 victory over the Giants at AT&T Park.
Oberg, called up from Triple-A Albuquerque after John Axford took family leave, would have plenty of help from his new bullpen friends after he left.
Starter Christian Bergman, who had thrown just one inning since Spring Training and was filling in for the injured Jorge De La Rosa (who could be back soon from a left groin injury), threw four scoreless innings but exhausted his 85 allotted pitches, thus leaving the game to the relievers.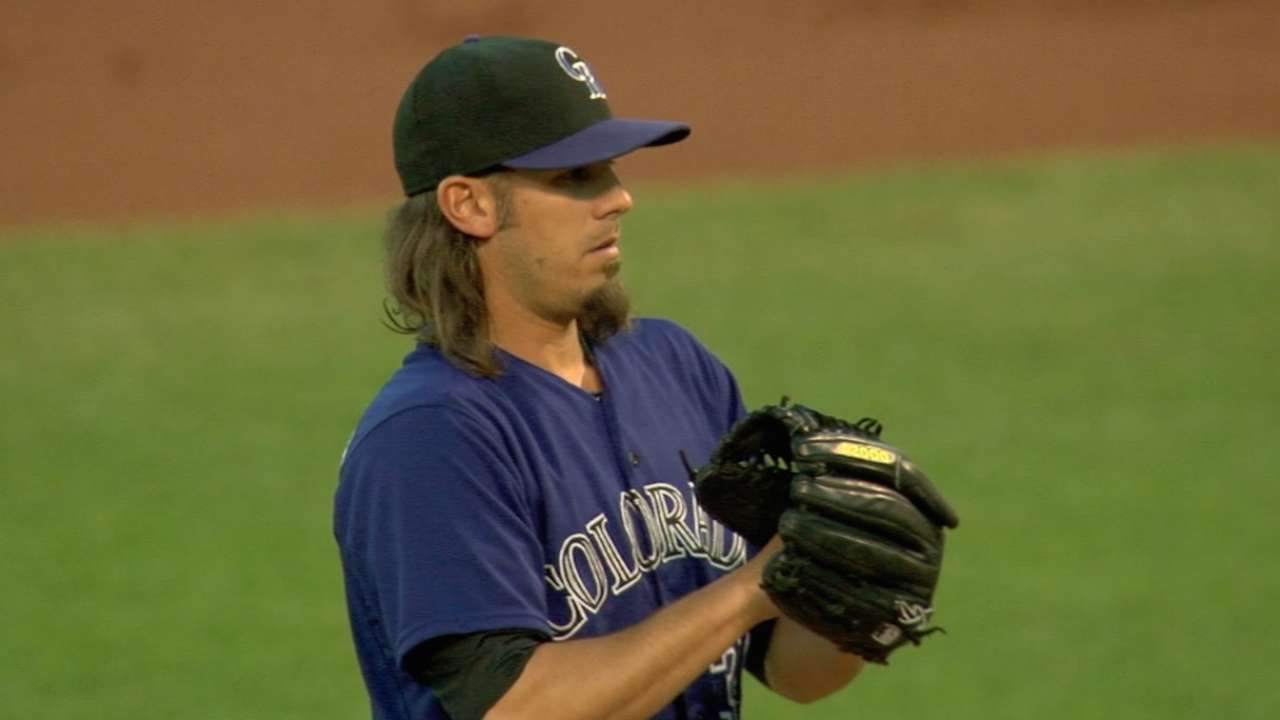 Oberg (1-0) worked around Nori Aoki's leadoff single and forced a Brandon Belt grounder to end the inning with Aoki at third. LaTroy Hawkins and Christian Friedrich each added a scoreless frame. Rafael Betancourt, buoyed by Nolan Arenado's acrobatic catch and a Charlie Blackmon wall-slamming center-field grab of Buster Posey's pinch-hit drive for the third out of the eighth, gave up one run.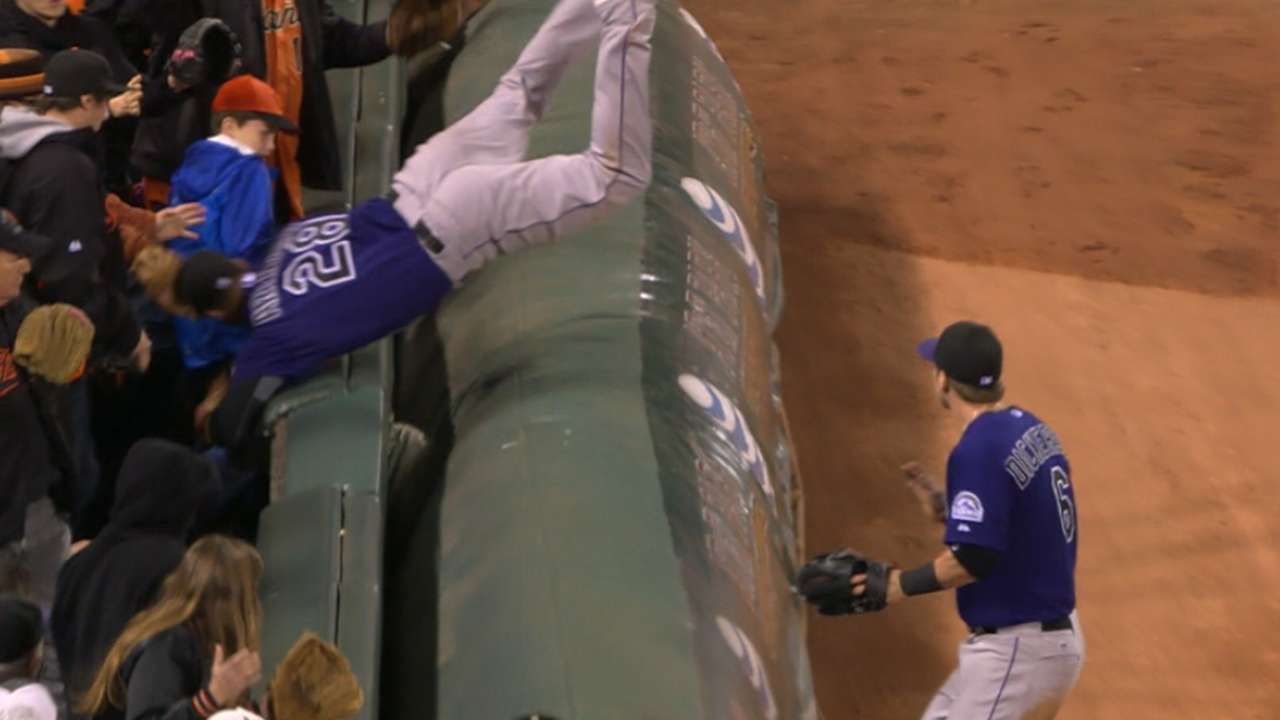 Finally, righty Adam Ottavino -- informed by manager Walt Weiss before the game that he is the new closer -- fanned all three hitters in the ninth for his second career save (the other on July 30, 2014, at Wrigley Field against the Cubs).
"The bullpen's been great, and they were great tonight," Weiss said.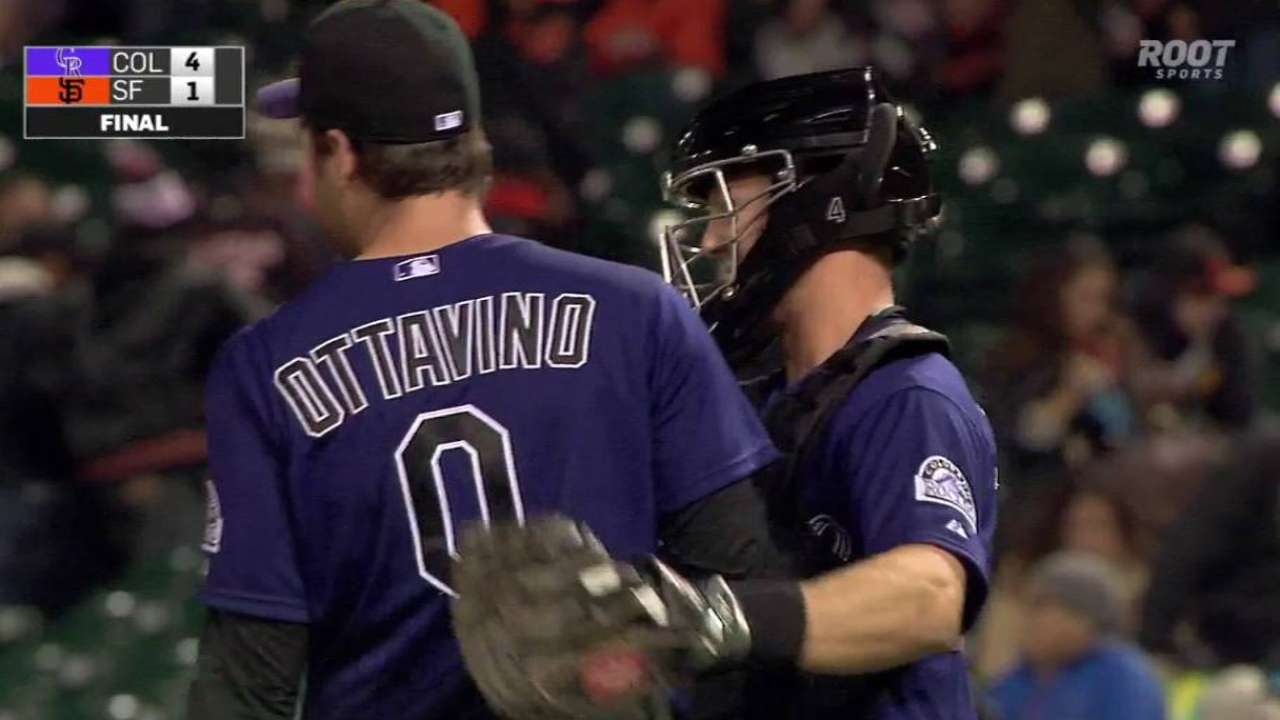 Rockies relievers are a key reason the team is 6-2. They've posted a 1.80 ERA and held opponents to a .146 batting average.
The only hiccup has been Hawkins, who blew two of three save chances before Weiss informed him Monday that he would be pitching earlier innings. Hawkins threw a clean inning Tuesday and declared that the inning doesn't matter.
"This is what we're supposed to do," said Hawkins, who has a full stat sheet -- a win, a loss, a save, two blown saves and a hold. "I didn't do my job two times and I did it tonight. You pass the baton.
"People talk about the closer role but every pitcher when he's out there thinks he's the closer."
Betancourt closed Monday's game because Ottavino had pitched 1 1/3 innings Sunday. On Monday, Ottavino had a new title but thought of himself as still part of the group.
"I love our staff right now, and the 'pen has been a great unit," Ottavino said. "Everybody's pulling for each other. We don't care when we pitch."
Thomas Harding is a reporter for MLB.com. Read his blog, Hardball in the Rockies, follow him on Twitter @harding_at_mlb, and like his Facebook page, Thomas Harding and Friends at www.Rockies.com. This story was not subject to the approval of Major League Baseball or its clubs.