Good as gold: Arenado makes fantastic catch
Rockies third baseman bounces off tarp, nearly doubles up runner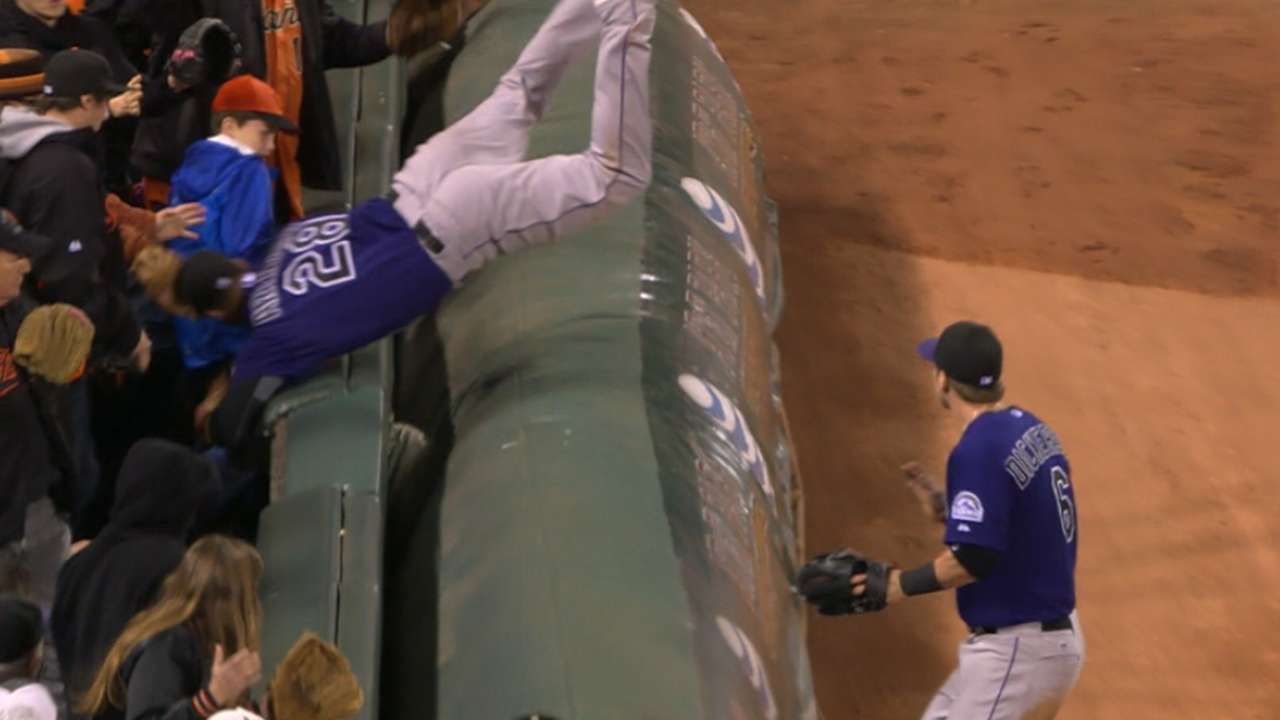 SAN FRANCISCO -- Rockies third baseman Nolan Arenado had just lived the play of the night, of the year, and possibly of his lifetime. He didn't want to see it again, not immediately. It was too scary, too exhilarating, maybe even too good for his own eyes.
But Arenado's tumble into the tarpaulin roll behind the Giants' bullpen to grab a foul pop by Gregor Blanco in the eighth inning of Tuesday's 4-1 Rockies victory at AT&T Park went viral practically the second the highlight went online.
"I've got, like, 60 messages right now -- it's definitely going crazy," Arenado said. "I'll check it out. I definitely want to watch it. But knowing what I did, what I went through and how scared I was, it's probably a little freaky.
"The adrenaline rush doesn't stop until you get back to your hotel when you play here. When I settle down and I'm almost ready for bed, that's when I'll try to watch it."
The play, with runners at first and second and no outs, almost was even more freakish.
Blanco popped Rafael Betancourt's 0-1 pitch toward the stands behind the bullpen in left-field foul ground, about 100 feet from where Arenado was positioned.
"I know the wind here, and I know the ball's always coming back," Arenado said.
As the ball hit his glove, the left side of his body hit the tarp, knocking his legs into the air. He landed atop the wall -- "Thanks to that lady who was there, too, for helping me up -- that was nice of her," he said.
And Arenado sensed Angel Pagan would tag and try to take third. From his knees on the tarp, Arenado's throw skipped just under shortstop Troy Tulowitzki's glove.
The catch was beyond improbable. A double play on that would have qualified as impossible.
"I don't know if I've ever seen a better play than that," Rockies manager Walt Weiss said.
Of course, the play is reminiscent of Yankees star Derek Jeter's catch that took him into the stands and took his face into one of the Yankee Stadium seats in a July 1, 2004, game against the Red Sox.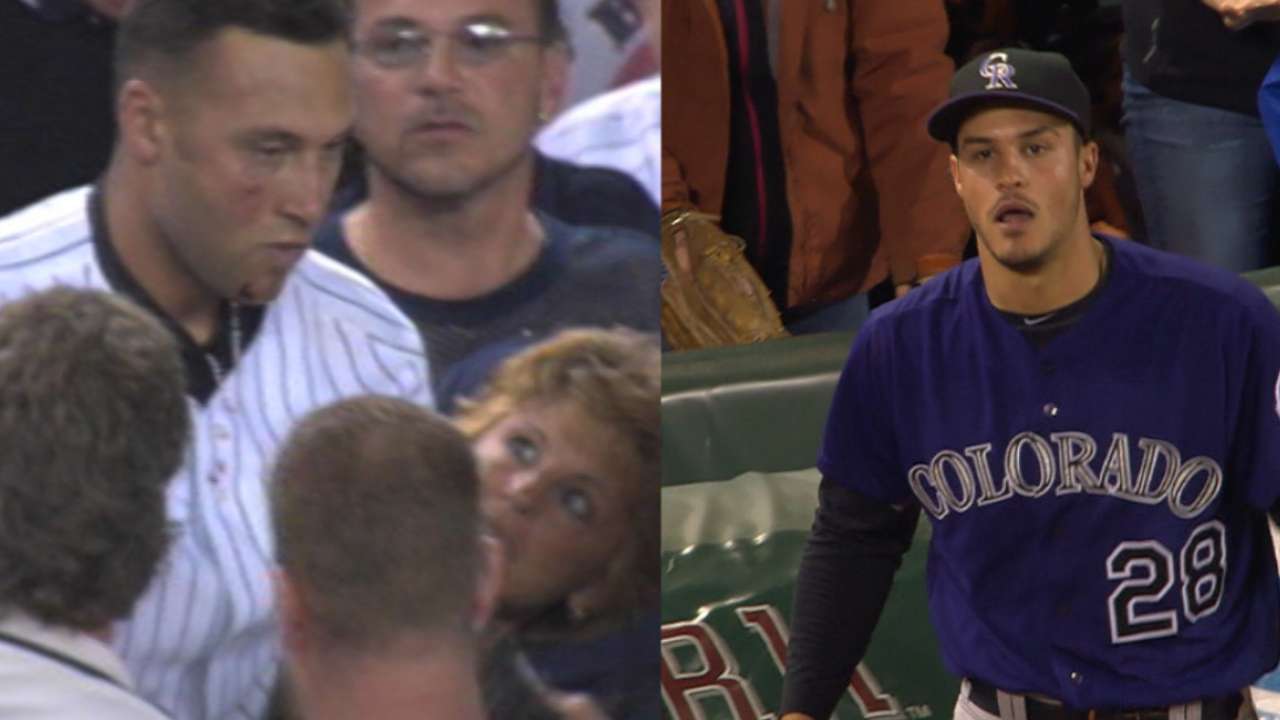 A couple of key differences: Arenado hit the tarp as soon as the ball hit his mitt, while Jeter's catch came a step before the warning track, and Arenado almost had two outs for the bruises of one.
"That was the greatest play I'd ever seen from a teammate," Betancourt said.
While Rockies head athletic trainer Keith Dugger visited Arenado to make sure he was not hurt, the team checked replay to see if it could appeal but determined it didn't have a play.
Arenado, who won Rawlings Gold Glove Awards each of his first two seasons in the Majors, has been asked many times which play was his favorite. This may eclipse any, but he isn't interested in topping it.
"I hope it doesn't happen again," Arenado said.
Thomas Harding is a reporter for MLB.com. Read his blog, Hardball in the Rockies, follow him on Twitter @harding_at_mlb, and like his Facebook page, Thomas Harding and Friends at www.Rockies.com. This story was not subject to the approval of Major League Baseball or its clubs.