Dodgers have put the rally back in their bag of tricks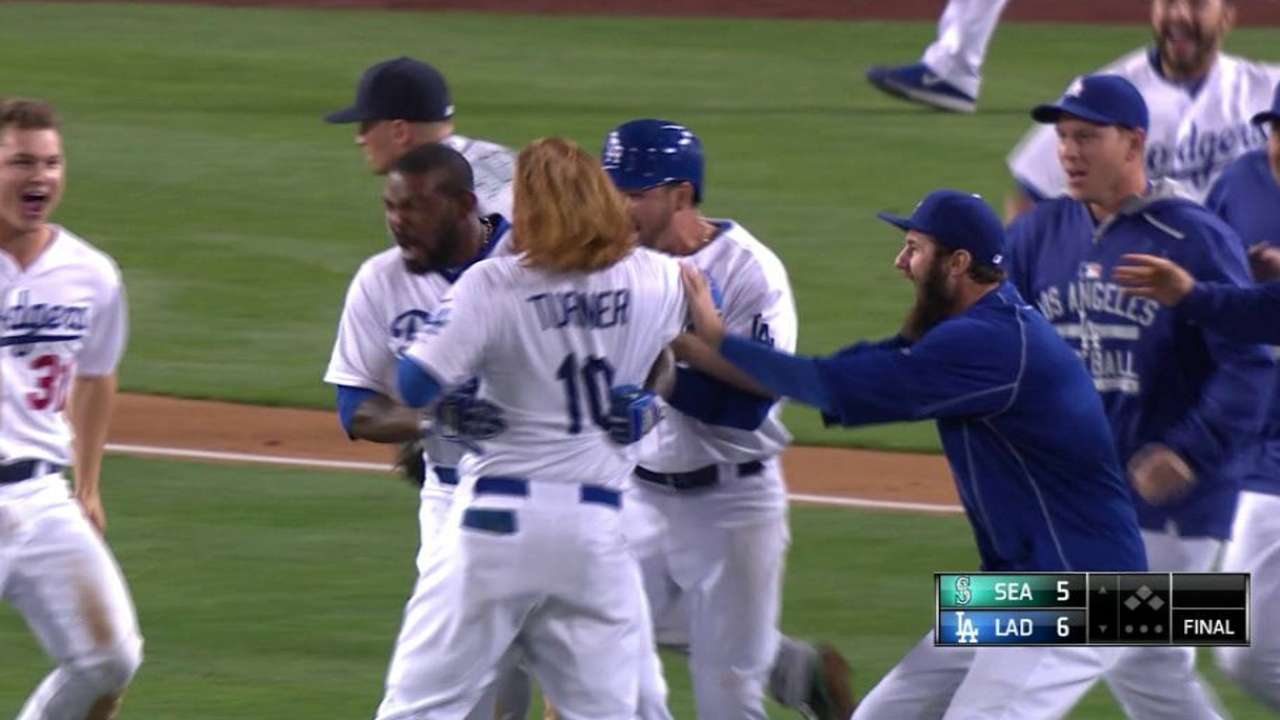 LOS ANGELES -- After Game No. 8 of 2015, the Dodgers already have as many comebacks as they did all last season. Trailing after six innings last year, they were 2-54. This year, they are 2-2.
"It could very well be coincidence," manager Don Mattingly said after Howie Kendrick's bases-loaded, two-run single in the ninth beat the Mariners, 6-5, for the Dodgers' second walk-off win in as many nights and first late-inning comeback since rallying for a 6-3 victory over the Padres on Opening Day. "But early on, the quality of our at-bats has been very good.
"And even when San Diego beat us [in the second game of the season] with the guy they got from Atlanta [All-Star closer Craig Kimbrel], our guys had good at-bats. We fought, even in the ninth inning, and that showed me a lot. Just make those guys fight for outs and good things can happen."
It happened Tuesday night, even though spot starter David Huff dug the Dodgers a 3-0 first-inning hole by serving up back-to-back homers to Robinson Cano and Nelson Cruz. The Dodgers parlayed doubles by Jimmy Rollins and Adrian Gonzalez for one run, got a two-run pinch-hit homer from hot-hitting Alex Guerrero in the fourth and a solo shot from Andre Ethier in the sixth.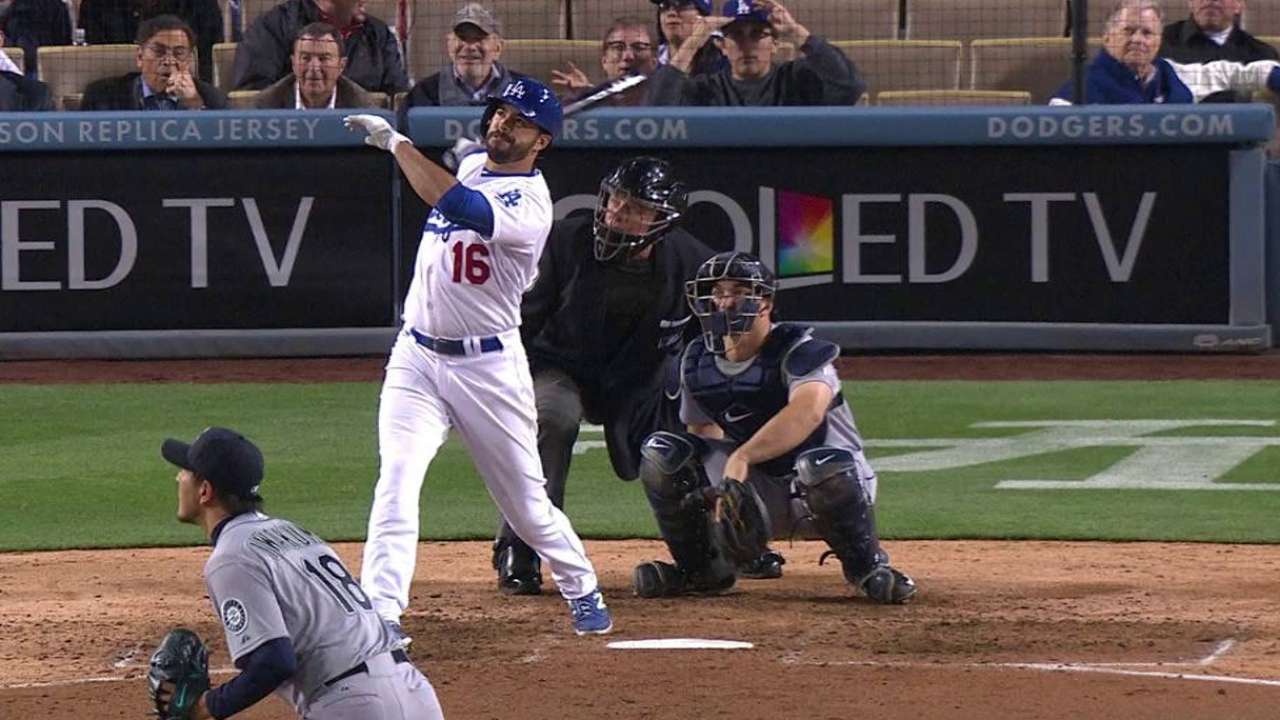 With Mattingly staying away from Joel Peralta and Paco Rodriguez, relievers Juan Nicasio, J.P. Howell, Chris Hatcher and Yimi Garcia allowed one run over the final five innings to give the offense a chance in the ninth trailing, 5-4.
Justin Turner -- at the plate when Joc Pederson was ruled out trying to steal second through an instant-replay reversal to end the eighth inning -- led off the ninth with a single off Mariners closer Fernando Rodney. Given the bunt sign, Rollins took a strike, then mistakenly took the bunt off and swung at a changeup for strike two.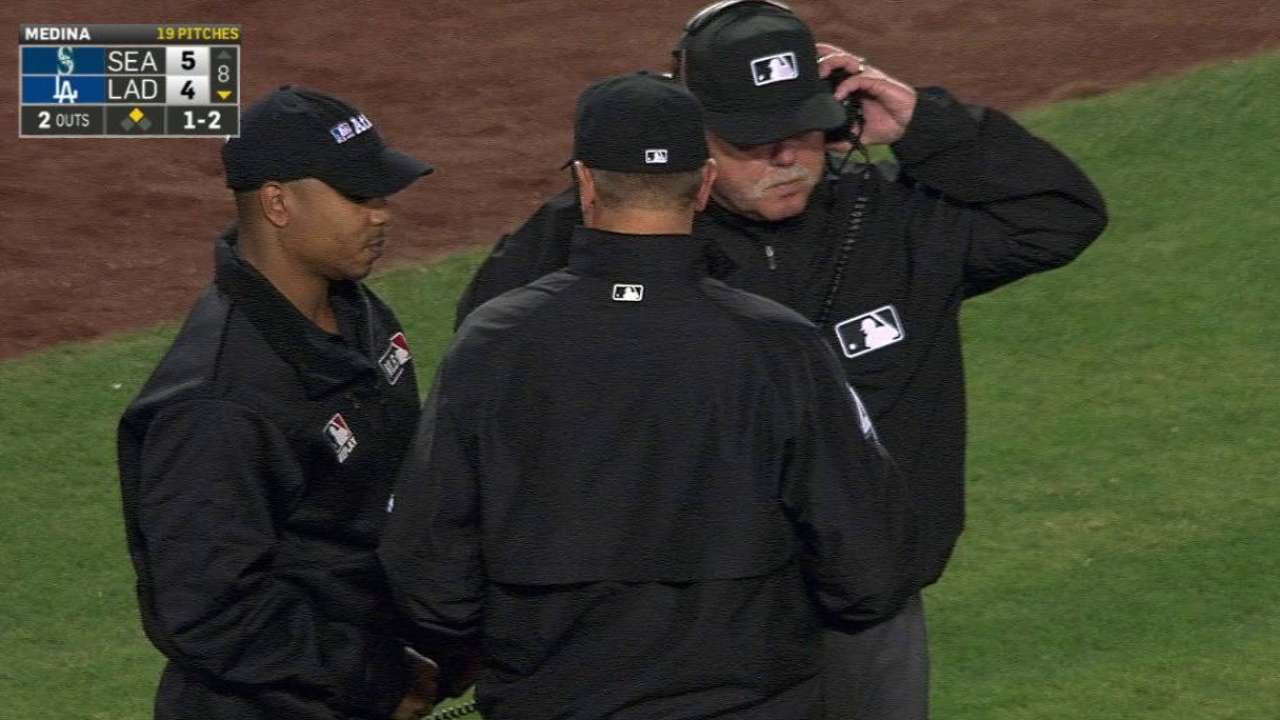 "In harm's way," as Mattingly described it, Rollins rallied to single on an 0-2 fastball and send Turner to third.
"I completely messed that up," said Rollins, now 4-for-4 against Rodney. "But doing that, it relaxed me and slowed me down. I messed up, but it worked out. You need luck, no doubt about it."
Carl Crawford then slapped a fastball to third baseman Kyle Seager. Turner broke for home to stay out of the double play and was caught in a rundown, but the Dodgers still had runners on first and second with one out.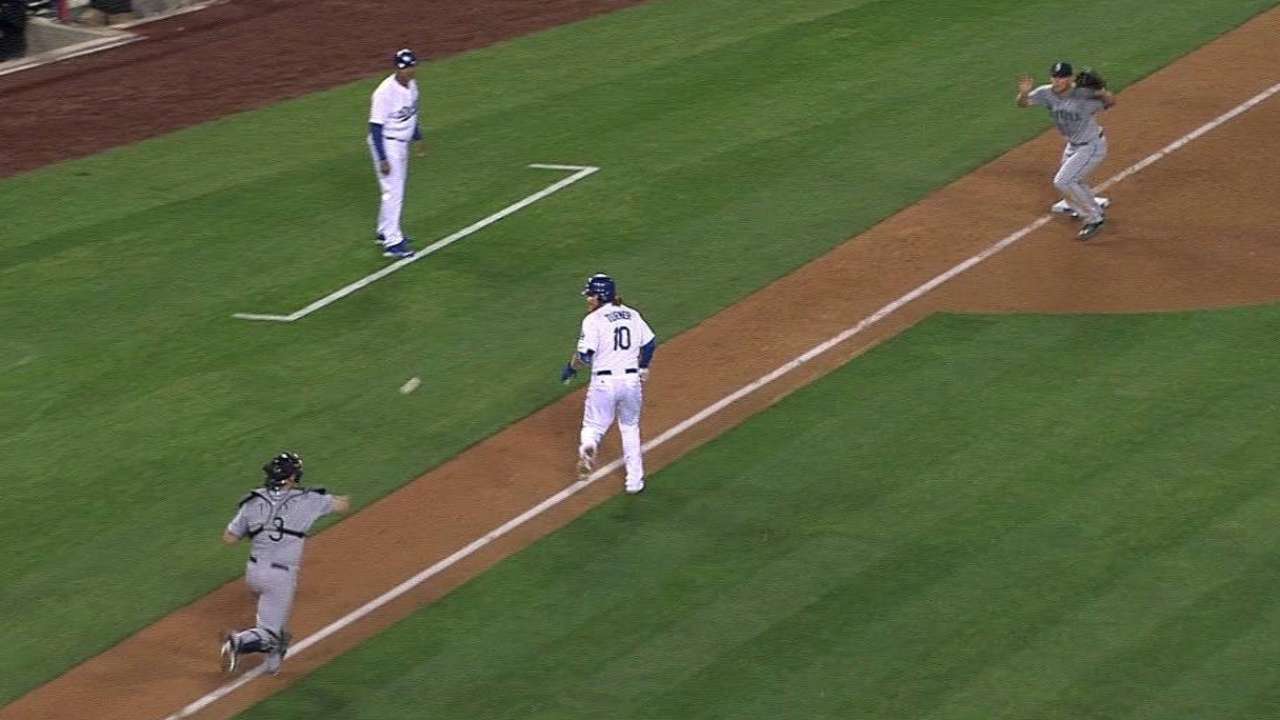 Gonzalez worked a walk to load the bases for Kendrick, whose bat was sawed off by the first-pitch fastball from his former Angels teammate, but the liner to right field scored Rollins and Crawford, who beat Cruz's throw to the plate.
"I've seen Howie do it with the bat flying so many times," said Rollins. "That was a signature Howard hit."
Turner called last year's comeback record "a stupid stat" because it was one-sided, and he believes these early comebacks can create a reversal of momentum.
"It creates confidence and expectations for the whole team, knowing that it doesn't matter how many runs we're down by, we still have a chance to win the game," Turner said. "Two nights in a row. It can be contagious for the whole team."
Ken Gurnick is a reporter for MLB.com. This story was not subject to the approval of Major League Baseball or its clubs.