Ventura: Recognizing Jackie 'great' thing for baseball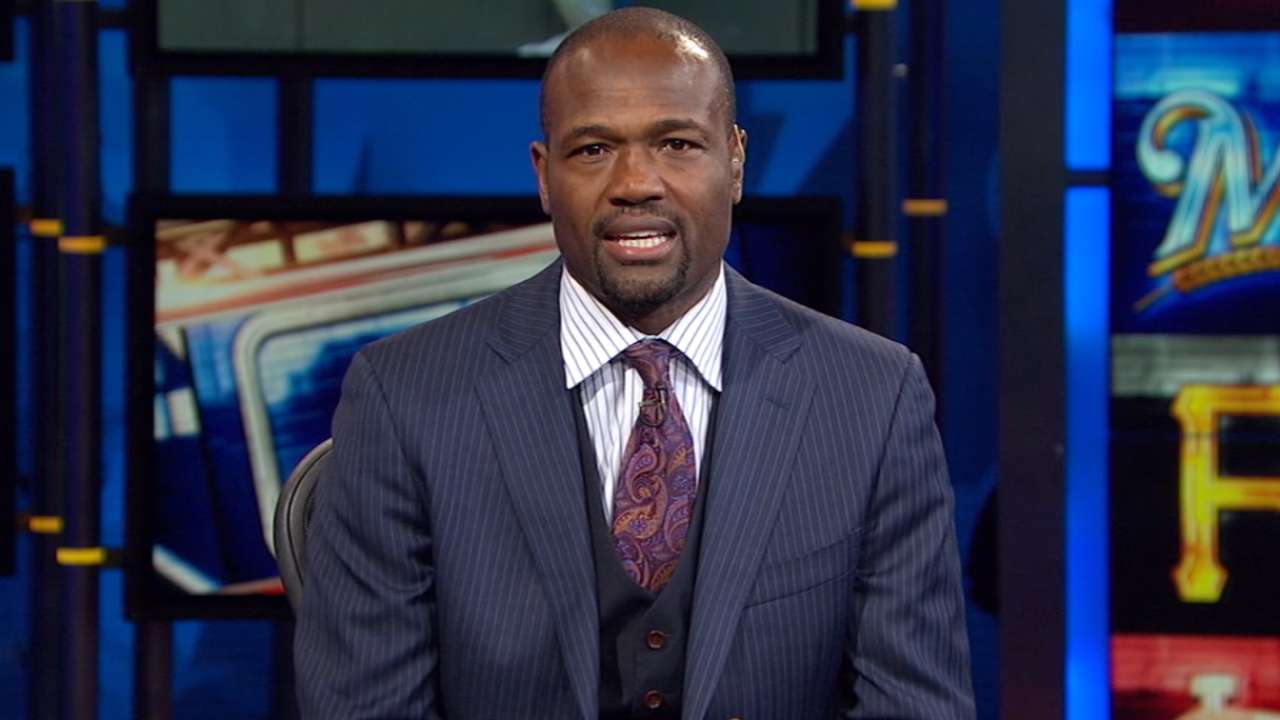 CLEVELAND -- Players, managers and umpires across the league wore No. 42 on Wednesday, recognizing and honoring the day Jackie Robinson broke baseball's color barrier in his Major League debut -- April 15, 1947.
"I think it's a great thing for us to be able to do," White Sox manager Robin Ventura said. "I think some kids lose track of who guys are that are important in our game. I would be shocked if they don't quite understand who Jackie Robinson is and his importance, but I think for everybody, it just reawakens you as to how far we've come.
"It does boggle your mind to think that he was the first guy. You would think it would have happened much sooner. I think we've still got a ways to go in doing things, but I think it's great for baseball."
The league has officially recognized Robinson's debut every April 15 since 2004.
"It's beyond baseball," Ventura said. "Even when you see everybody out there, you see the perspective that baseball has had on society. I think it's good for our young players to actually learn about it and know who this guy is and what he went through. It's one thing to see the movie, and it's another thing to really put the uniform on and get the feeling of it."
White Sox reliever Javy Guerra tweeted out a message in honor of Robinson shortly before the game:
#salute #respect #honored2wear42 -Thank you pic.twitter.com/T6731RTbHI

- JavyGuerra54 (@JavyGuerra54) April 15, 2015
Some more updates from Wednesday morning:
• Reliever Jake Petricka is making progress in his rehab from right forearm soreness that popped up in Spring Training. Petricka, who saved 14 games in 18 chances for the White Sox last season and will serve as a setup man this year, threw 25 pitches in a simulated game on Monday, and he will make one more rehab appearance before the White Sox determine the next step.
"He threw good," Ventura said. "We're just continuing to monitor that. Everything went well. He's pretty good, so hopefully he's on track."
• The White Sox have typically been an aggressive offensive team in recent years, but it's been taken to new levels in the early going this season. The team entered play Wednesday having walked just eight times, the lowest total in baseball and six walks behind the next-lowest team. They also own baseball's highest swing rate.
"You hear all the things in the offseason, and everyone gets excited, and they want to swing the bat and show off a little bit," Ventura said. "I think being selective needs to be more of an emphasis, making sure you get strikes and things like that. You'd like to see them walk a little bit more. We do have some guys that notoriously don't walk -- I think [Alexei Ramirez] is probably at the top of that. But even [Jose Abreu] is swinging early. That's just stuff that will get better. "
August Fagerstrom is an associate reporter for MLB.com. This story was not subject to the approval of Major League Baseball or its clubs.