Tribe righty Bauer pleased with way season has started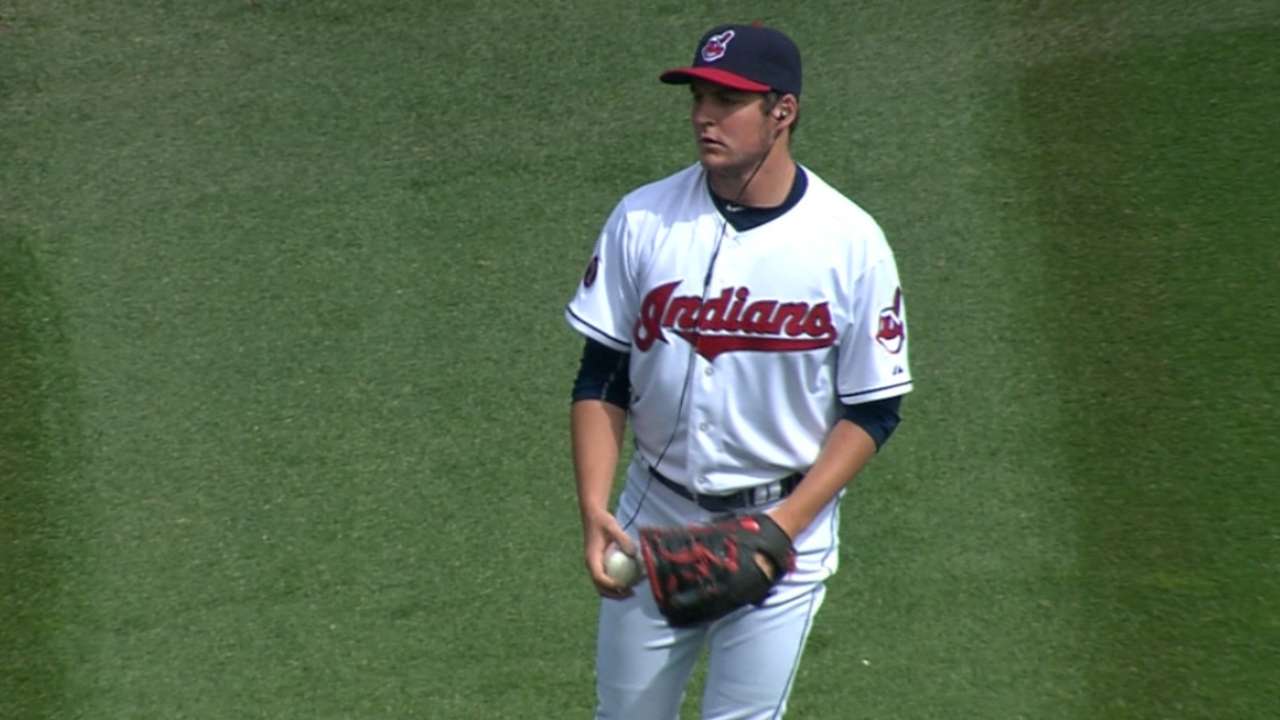 CLEVELAND -- It was a strange spring for Trevor Bauer, and his enigmatic ways have lingered into the early portion of the regular season. After two victories and a near no-hitter, the young Indians right-hander is not about to complain too much about the interesting opening to his campaign.
"Overall, I think I'm off to a good start," Bauer said. "I'll definitely take where I'm at."
On Wednesday, Bauer found himself in the win column after logging six solid innings in a 4-2 victory over the White Sox, salvaging a split of the two-game set at Progressive Field. The right-hander did not allow a hit in his first three frames, giving him nine consecutive no-hit innings to begin his 2015 season, dating back to his first outing last week in Houston.
That intriguing streak put Bauer in some rare company.
The last starter in the Majors to begin a season with at least nine straight no-hit innings was Hideo Nomo, who went 10 2/3 innings into the 2001 season (including a no-hitter on April 4 that year) before relinquishing a hit. In Cleveland history, only Hall of Famer Bob Feller accomplished the same feat as Bauer, no-hitting the White Sox for nine innings on Opening Day in 1940. Feller allowed a hit to the first batter he faced his next start,
Simply put, Bauer has befuddled batters to this point this season.
"He's got good stuff and he's got multiple pitches," Indians manager Terry Francona said. "And there's some deception, because he's not the biggest kid, but he's throwing hard. He can get the fastball by you. He can elevate it. He can sink it. He has all the pitches. It's kind of hard to really get a bead on him."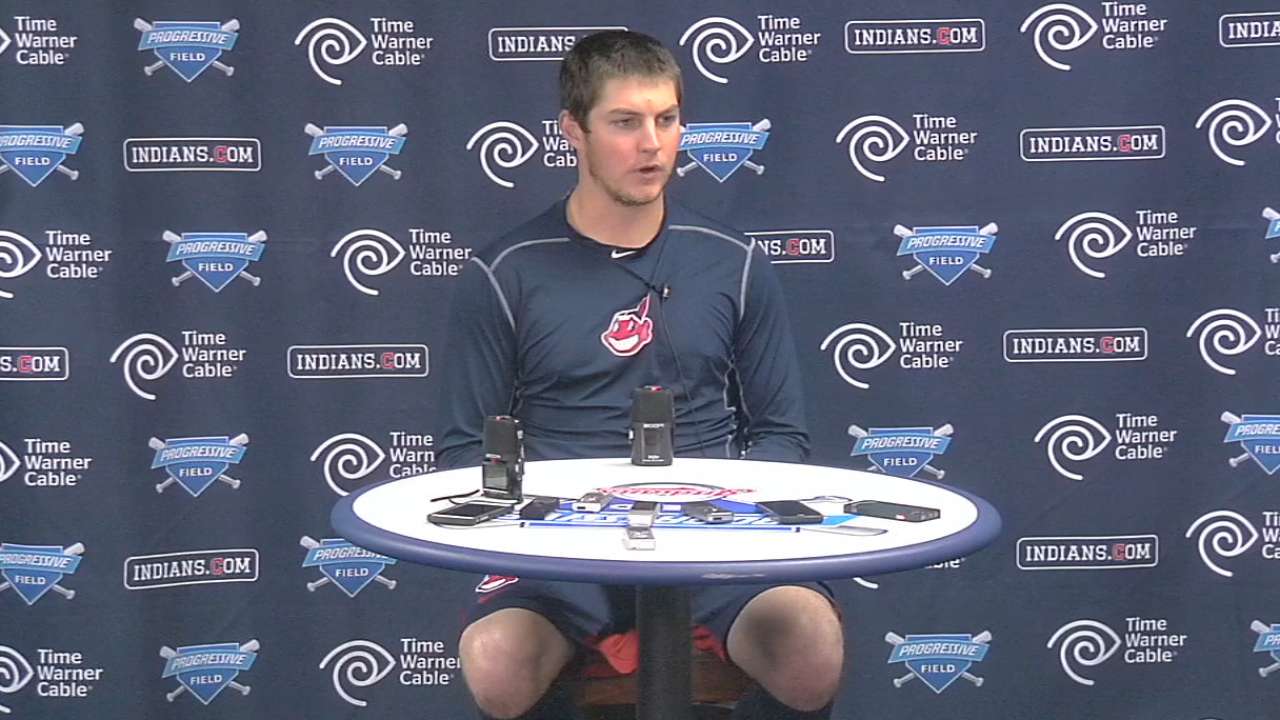 The White Sox did not disagree.
"That kid was tough," Chicago manager Robin Ventura said. "He's a little erratic -- almost to his credit. He's not sitting there just pumping strikes the whole time. He had us swinging at some stuff away."
Bauer's run of no-hit innings ended in the fourth, when White Sox slugger Jose Abreu slashed a pitch to right field for a leadoff single. The Indians' starter then issued a walk to Adam LaRoche, who drew three of Bauer's four free passes on the afternoon. Two batters later, Alexei Ramirez pulled a pitch to left field for a single to load the bases with one out.
In the previous inning, the Indians grabbed a 1-0 lead, and Bauer was swiftly in a jam that made a shut-down inning seem like an improbable scenario.
"When somebody asks you, 'What's the most important inning in the game?'" Francona said, "[The answer is] it's after you score. We hadn't been real good at that [the past week]. To play winning baseball, that's one of the key ingredients. When you score, go out and shut them down."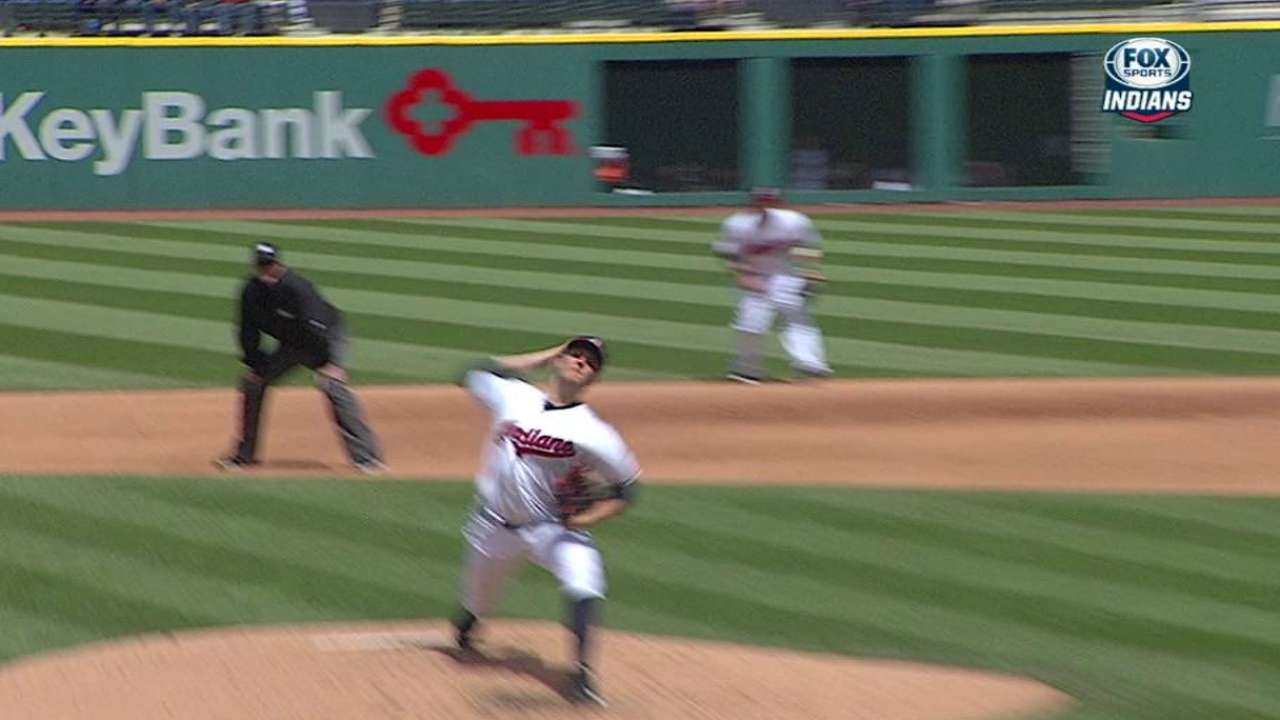 Bauer settled himself down and used a fastball to induce an infield flyout off the bat of J.B. Shuck. The pitcher then worked into a 2-2 count against Geovany Soto, who was frozen by a 94-mph sinker over the outside corner for strike three, ending the fourth inning. Cleveland's offense then responded by adding on to the team's lead, helping Bauer cruise to his second win in as many starts.
The White Sox struck for a pair of runs off Bauer in the sixth inning, and the right-hander admitted that he lost his mental focus during that brief outburst.
"I won't let it happen again," Bauer said.
During Spring Training, Bauer had one start in which he gave up three straight home runs. He had another where he allowed four triples in a five-batter span. The 24-year-old righty gave up 35 hits, including seven home runs, in 27 2/3 innings, but he also struck out 26 and only walked one.
Through two starts this season, Bauer has a 1.50 ERA, but he has also issued nine walks to go along with 19 strikeouts in 12 innings. The four hits he gave up on Wednesday were his first hits allowed on the season. On Thursday in Houston, Bauer spun six no-hit innings, but was forced from the contest due to having an escalated pitch count (111; Bauer threw 103 on Wednesday).
"I expect myself to do better," Bauer said. "But, it's the second one of the season. I'll take how it's started off."
Jordan Bastian is a reporter for MLB.com. Read his blog, Major League Bastian, and follow him on Twitter @MLBastian. This story was not subject to the approval of Major League Baseball or its clubs.