Carrasco feeling better; Tribe looking at Monday start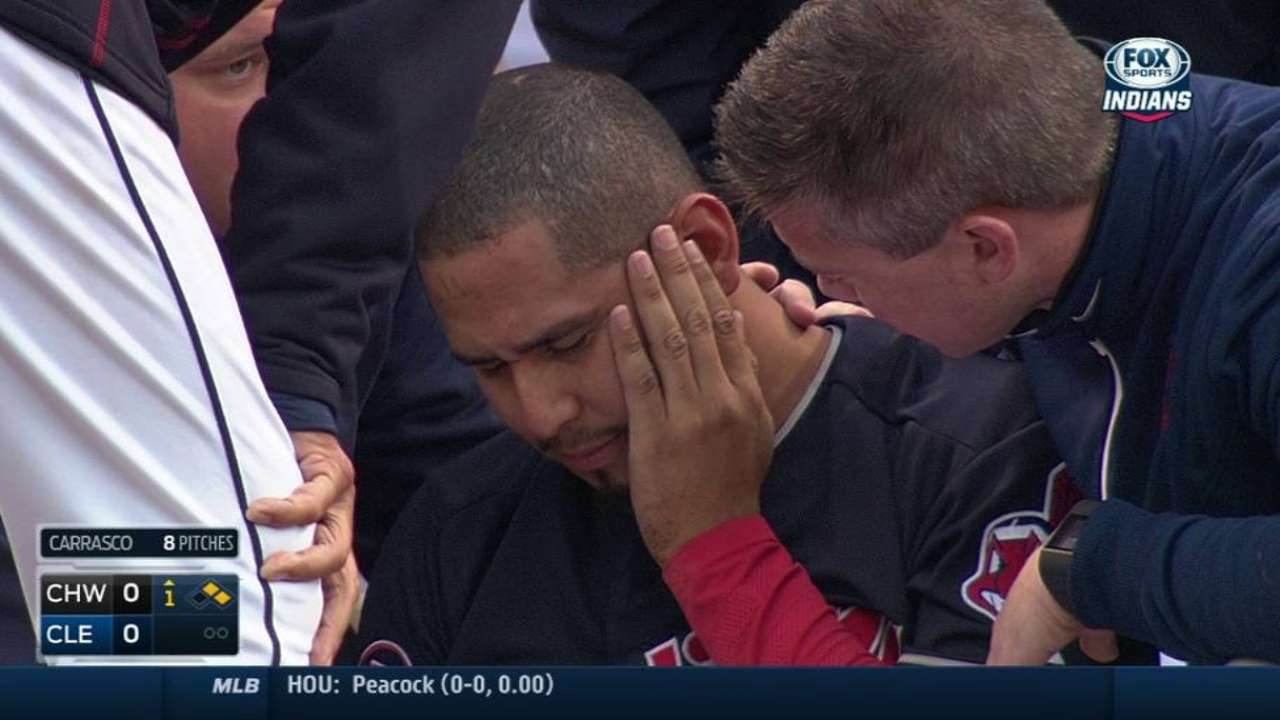 CLEVELAND -- One day after being struck on the side of the face by a line drive, Indians pitcher Carlos Carrasco was only dealing with swelling and a bruised jaw.
Carrasco was in Cleveland's clubhouse on Wednesday morning, and Indians manager Terry Francona noted that the pitcher was feeling better. Carrasco was forced out of Tuesday's 4-1 loss to the White Sox in the first inning after being hit by a sharp comebacker off the bat of Melky Cabrera.
"For everything that happened, I think it's miraculous," Francona said of Carrasco's condition. "His jaw is sore on both sides, but he's in a good place."
Carrasco has improved to the point that Cleveland only believes it will need to push the 28-year-old's next scheduled start back by one day. Instead of pitching on Sunday in Minnesota, the current plan is to have Carrasco take the ball for Monday's road game against the White Sox. The Indians are in the process of determining a replacement starter for Sunday's game against the Twins.
Carrasco watched the replay, but does not plan to view the footage again.
"Not anymore," Carrasco said with a smile. "It's in the past."
The pitcher said he believes he blacked out for about 10 seconds immediately after being hit by the liner. Carrasco said he remembers seeing the baseball -- and thinking he could catch it -- and the next thing he recalls is hearing Indians head athletic trainer James Quinlan talking to him on the field.
120 Sports: Impact of Carrasco's injury
Carrasco said he did not think anything was broken, but he knows it was a scary moment for everyone involved, especially for his family. His wife, Karelis, recently gave birth to a daughter (Carrasco's fourth child), and his other kids were watching Tuesday's game on TV.
"After the game, I checked my phone and she left so many messages," Carrasco said. "My kids watched the game and started crying. But, everything is fine."
Carrasco is counting his blessings.
"The most important is that everything is good and nothing is broken," he said. "It is behind me."
After leaving Tuesday's game after only eight pitches, Carrasco was transported to Lutheran Hospital in Cleveland for a series of tests. He did not sustain any fractures, and he displayed no signs or symptoms of a concussion or serious head injury. His injury was described by the team as a jaw contusion, which was a best-case scenario.
"I do think there's a little swelling, but I'm glad there's not [anything more]," Francona said. "I think he thinks he's going to be just fine, which is more important than anything."
Carrasco went 8-7 with a 2.55 ERA and 140 strikeouts in 134 innings (40 games, 14 starts) for Cleveland last season, when he ran away with a rotation job over the final two months. He posted a 1.30 ERA in his final 10 starts of the season, earning Cleveland's No. 2 rotation spot this year and helping convince the Tribe to sign him to a four-year, $22 million extension on April 7.
In his first start of this season, on April 8 in Houston, Carrasco held the Astros off the scoreboard over 6 1/3 innings and ended with 10 strikeouts against one walk in a victory. Cabrera's ill-fated liner robbed the pitcher of the chance to build on that performance on Tuesday.
Francona believes Carrasco will bounce back from the scary moment just fine.
"I think it's human nature that you always worry about your guys, or at least concern yourself with them," Francona said. "But I think he understands you just go play. If you play this game enough, if you're a hitter, you're going to get hit. Pitchers, the ball is coming back at you. You just play the game."
Jordan Bastian is a reporter for MLB.com. Read his blog, Major League Bastian, and follow him on Twitter @MLBastian. This story was not subject to the approval of Major League Baseball or its clubs.