Peacock encouraged by surprise callup, start
Astros pitcher, who's rehabbing from hip surgery, felt good on mound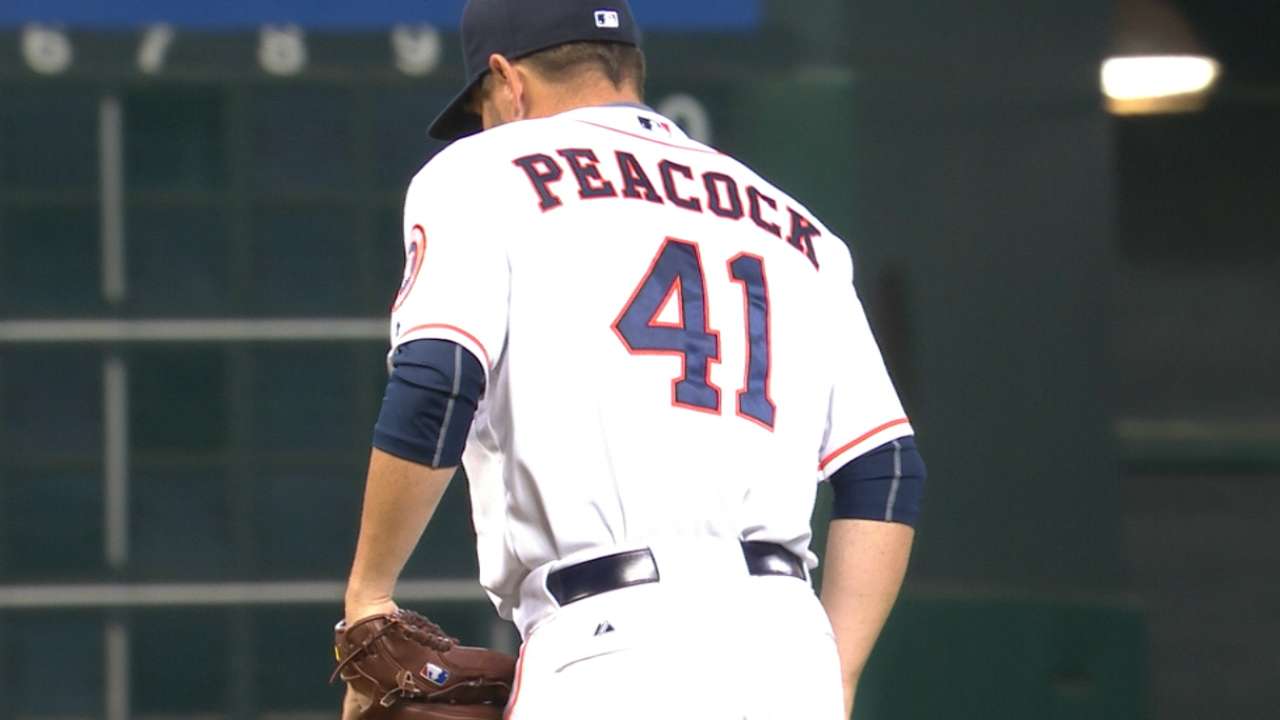 HOUSTON -- Considering Brad Peacock had been up since 4 a.m. catching flights from Fresno, Calif., to Los Angeles and then to Houston, it's to be expected that the right-hander tired in his final inning against the A's in a 4-0 defeat Tuesday at Minute Maid Park.
Peacock, coming off offseason hip surgery, was making his first Major League start of the season following his rehab assignment at Triple A Fresno.
"I felt great," Peacock said. "I was throwing strikes, I mixed my pitches well. I felt good out there. After the first inning I felt great."
Peacock allowed a first-inning run, and then held the A's scoreless the next four innings. The A's scored twice off Peacock in the sixth to knock him out of the game.
"I thought he threw the ball pretty well giving all the circumstances," Astros manager A.J. Hinch said. "He came into the game and they made him work pretty hard early in the game. And he responded and continued to out up zeros throughout the game He tired a little bit at the end."
Peacock was activated before Tuesday's game. He made one rehab start at Fresno on April 9.
"I didn't expect to be back [in the Majors] this early," Peacock (0-1) said. "I worked hard this offseason, and I can see where it paid off. It's been a long day."
In throwing 85 pitches (52 strikes), Peacock allowed three runs and five hits in five-plus innings. He struck out three and walked two batters.
"I knew it would be 85, 90 pitches. I felt really good," Peacock said. "I was throwing strikes, that's all I cared about."
Astros catcher Jason Castro liked what he saw from Peacock. On the mound, and while warming up prior to the game.
"His stuff in the 'pen was some of the best I've ever seen from him, so that was really good to see," Castro said. "He came out and threw pretty well I thought. He battled all night, got out of some tough spots there. It was good to see him have some spots, work through it and be confident out there."
Castro said the 85-pitch count was pretty much what the team was looking for from Peacock.
"He's still coming back from rehabbing, and as good as he looks now, he's still coming back," Castro said. "He probably doesn't feel 100 percent, so it's good to see that this early on, and coming back from his surgery, he's close to being back to where he left off."
Added Hinch: "The pitch count was great but I was looking for a win. I was very happy with his performance, especially given the late notice yesterday to travel today and face a pretty good team."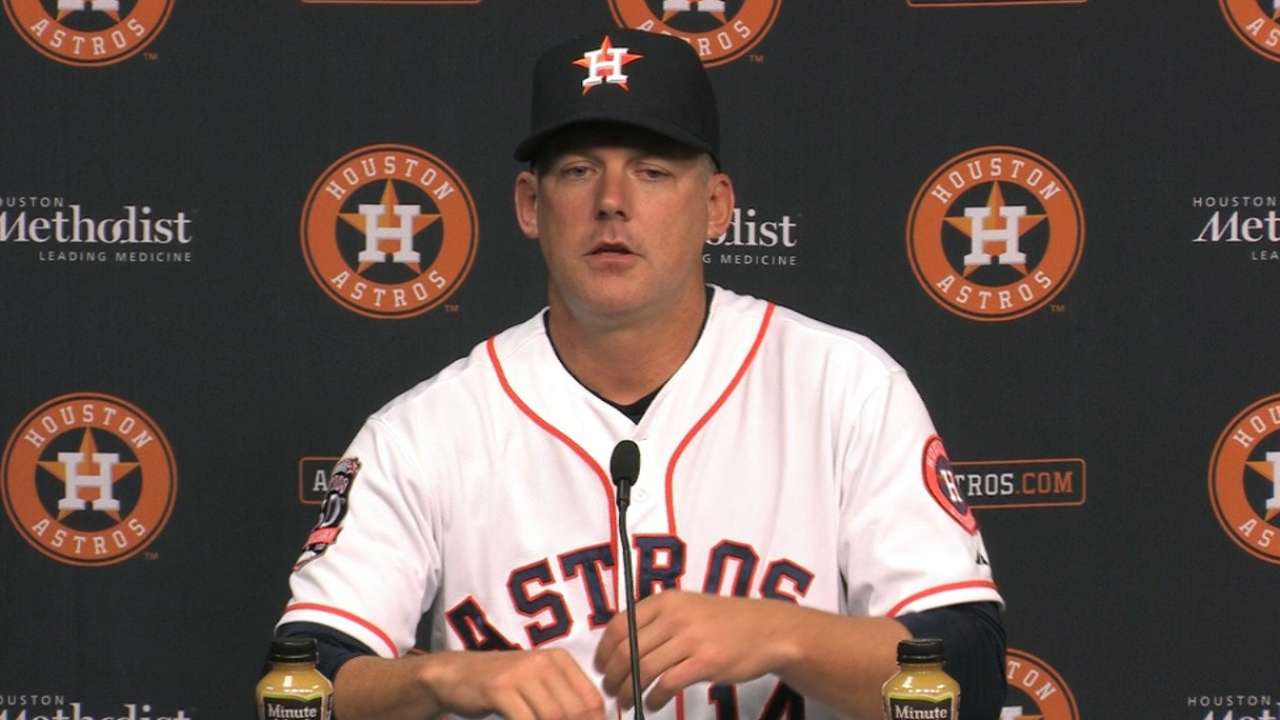 Richard Dean is an associate reporter for MLB.com. This story was not subject to the approval of Major League Baseball or its clubs.