MLB.com Columnist
Fred Zinkie
@Fantasy411 fields fans' questions on Twitter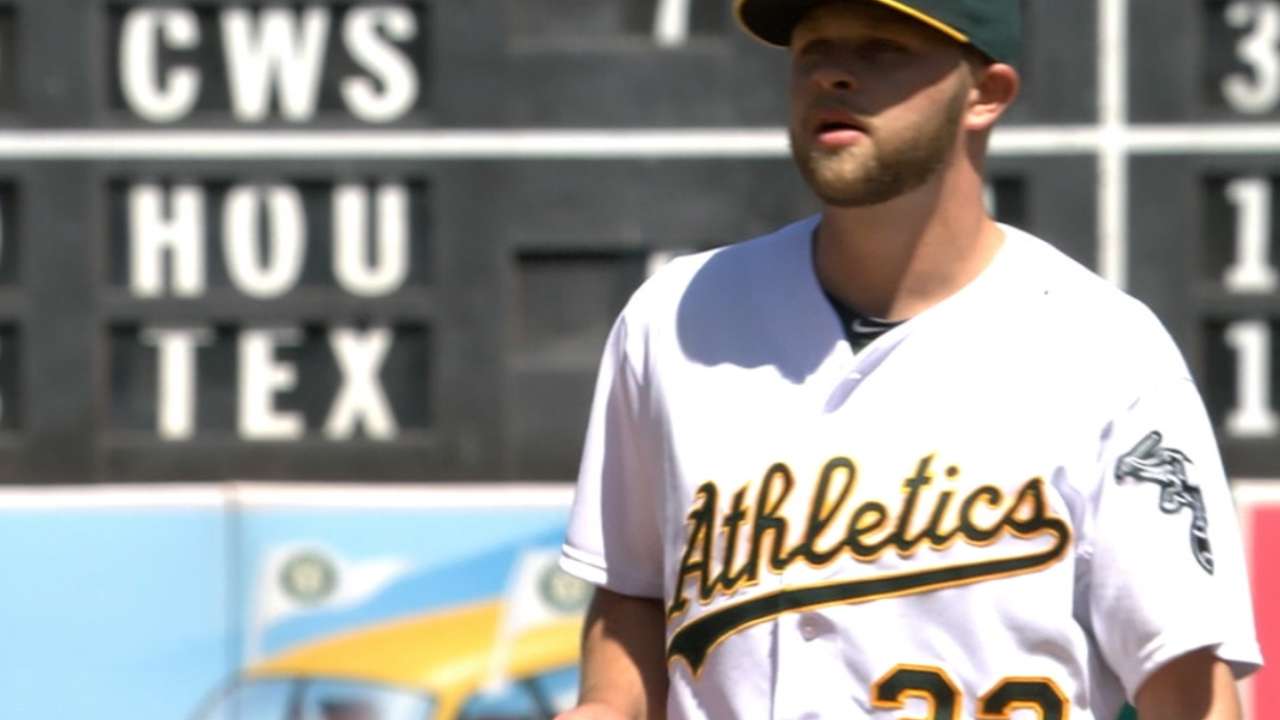 Fred Zinkie: Snider for Semien or Lamb. Not the others.
Q: @kyle7may should I drop Rusney Castillo? He's in Triple-A and is now going on the DL.
Fred Zinkie: Hold for now. Could still be up in May.
Q: @joshcooper1021 should I keep Shane Greene or pick up Jimmy Nelson? And keep 1 of Justin Morneau, Michael Taylor or Ben Revere?
Fred Zinkie: Nelson, but both deserve spots. Keep Revere.
Q: @glenwarrick4 Chris Sale and Jordan Zimmermann for Mike Trout, Trevor Rosenthal and Shane Greene. Who wins?
Fred Zinkie: Trout side.
Q: @PG3Phil Time to drop Jered Weaver for a guy like Anthony DeSclafani?
Fred Zinkie: Can drop Weaver. Possibly better options than DeSclafani.
Q: @joshskins77 Time to panic trade Ryan Braun for Matt Holliday, Doug Fister and Zach Britton? 6x6 Roto league 10 teams.
Fred Zinkie: Fair trade, if you need pitching.
Q: @jamest_19 @FrankDadof4 what should I do with Evan Gattis?
Fred Zinkie: Don't drop. But possibly bench for now.
Q: @bhawksfan27 How long do I hold on to Javier Baez? Think he gets called up soon?
Fred Zinkie: Depends on league/bench size. Shouldn't hold in shallow.
Q: @zrobert Who's the closer in Colorado? Who's the best speculative add? Danny Farquhar, Joaquin Benoit or Brad Ziegler?
Fred Zinkie: Ottavino is the COL RP to add. Farquhar among those you named.
Q: @TJG_007 Was offered Dee Gordon for Mookie Betts. I think I can get more, thoughts?
Fred Zinkie: Stick with Betts.
Q: @MetsMania05 Should I pick up Drew Pomeranz or Archie Bradley? Who's better?
Fred Zinkie: Pick up Pomeranz. More favorable situation.
Q: @gmoney_holla Any thoughts when Danny Salazar or Carlos Rodon get the call up? Who arrives first?
Fred Zinkie: Guess is Rodon first. More need for White Sox.
Q: @TK_Smith3 With Yan Gomes on the DL, who should I pick up to replace him? Yasmani Grandal, Derek Norris, Wilin Rosario, Alex Avila, Mike Zunino or Francisco Cervelli
Fred Zinkie: Grandal.
Q: @JeremyTiermini In a vacuum, Zack Greinke or Joey Votto in standard roto?
Fred Zinkie: Greinke.
Q: @JP3pg @lewism921 Is it too early to let Adam Eaton and Oswaldo Arcia go?
Fred Zinkie: Yes.
Q: @ItsFeezy I got Byron Buxton and Yasmany Tomas in a keeper league. Which one should I hold onto
Fred Zinkie: Buxton.
Q: @jgilbertmedia Order: Ender Inciarte, Travis Snider, Kevin Kiermaier, David Peralta, Jake Marisnick, Jon Jay for OF off waiver wire?
Fred Zinkie: Snider, Peralta, Kiermaier.
Q: @McGuireGMM Archie Bradley, James Paxton, Jered Weaver, Shane Greene, Kendall Graveman and Carlos Martinez. Can you rank these guys?
Fred Zinkie: Graveman, Greene, Bradley, Weaver, Martinez.
Q: @Nihant_Chekuri Eight-team H2H 5x5 scoring, give Yasiel Puig and Yordano Ventura for Arenado and Matt Harvey?
Fred Zinkie: Prefer Harvey side.
Q: @SamRounce15 just a blip for Jon Lester or worth trying to move him?
Fred Zinkie: Should still get 90-95 cents on the dollar for him in a trade.
Fred Zinkie is a senior fantasy baseball writer for MLB.com. Follow him on Twitter at @FredZinkieMLB. This story was not subject to the approval of Major League Baseball or its clubs.