Sugar Ray debuts with bullpen-saving effort
Four-inning outing following Cahill's short start keeps Braves from taxing 'pen too much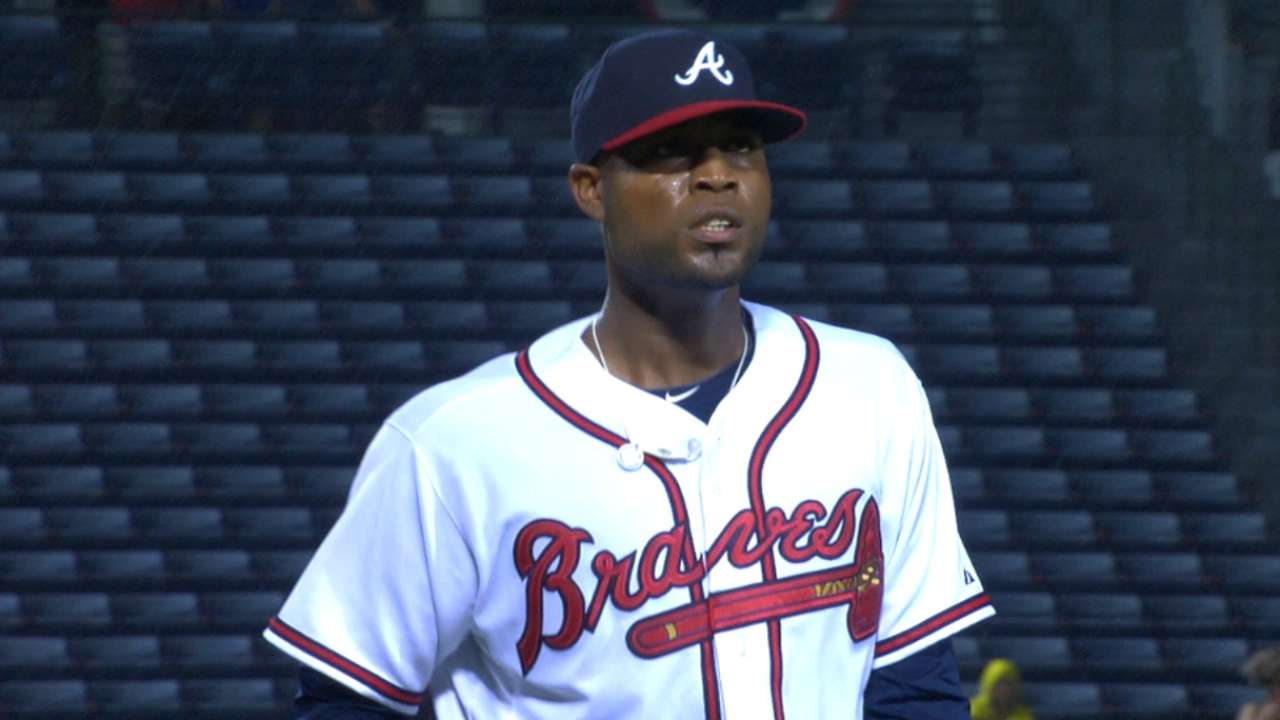 ATLANTA -- Sugar Ray Marimon provided the Braves exactly what they needed Tuesday night, as he completed four solid innings while making his Major League debut during a 8-2 loss to the Marlins at Turner Field.
After starting pitcher Trevor Cahill exited with just one out in the third inning, the Braves were in jeopardy of taxing their bullpen for Wednesday afternoon's series finale. But as Marimon navigated his way through the four frames and picked up his first career hit along the way, he provided a contribution that could pay dividends over the remainder of the week.
"You've got to tip your hat to him," manager Fredi Gonzalez said. "Nice job for his first outing, and he really did a great job for our club."
Marimon, who got his first call to the Majors on Monday, was thrown into the fire as he entered Tuesday's third inning with the bases loaded and just one out. But the 26-year-old reliever promptly retired Jarrod Saltalamacchia and Adeiny Hechavarria to escape the threat unscathed.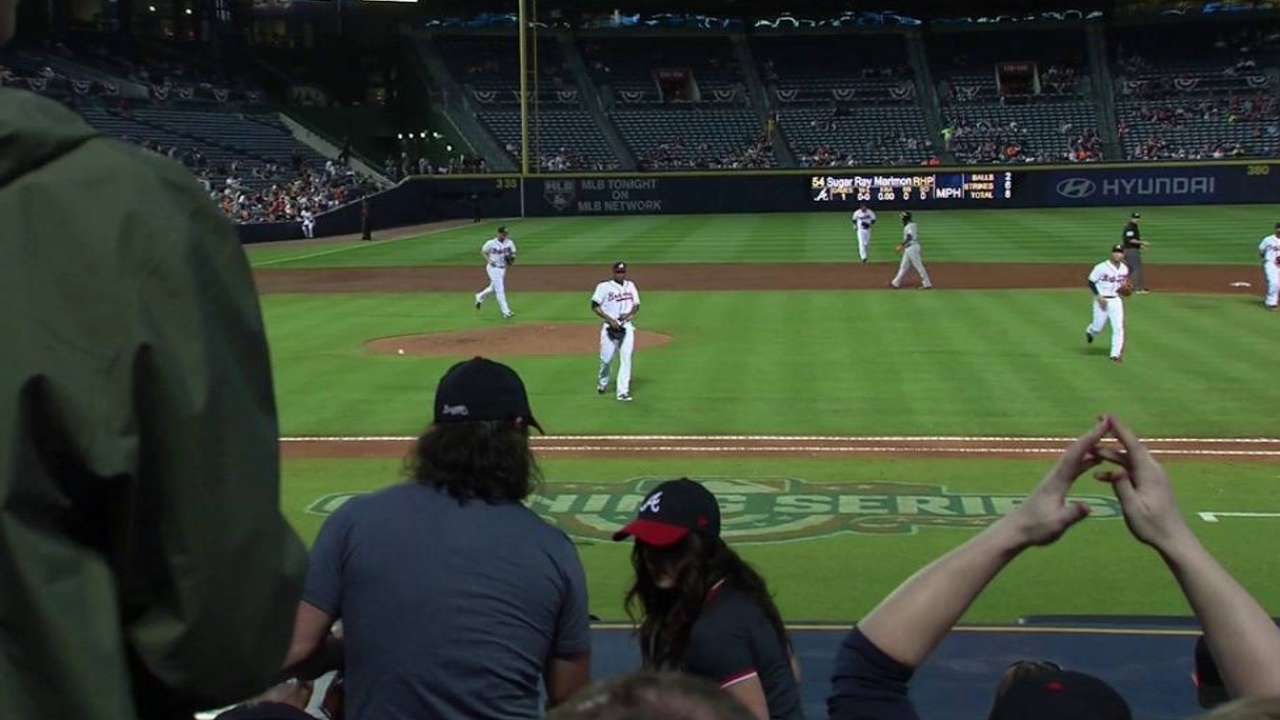 Moments after being energized by this escape act, Marimon experienced another thrill when he recorded an infield single off Tom Koehler in his first career plate appearance.
"I felt really good about my performance, but I would have felt a lot better if we had got the win," Marimon said, with bullpen coach Eddie Perez serving as an interpreter.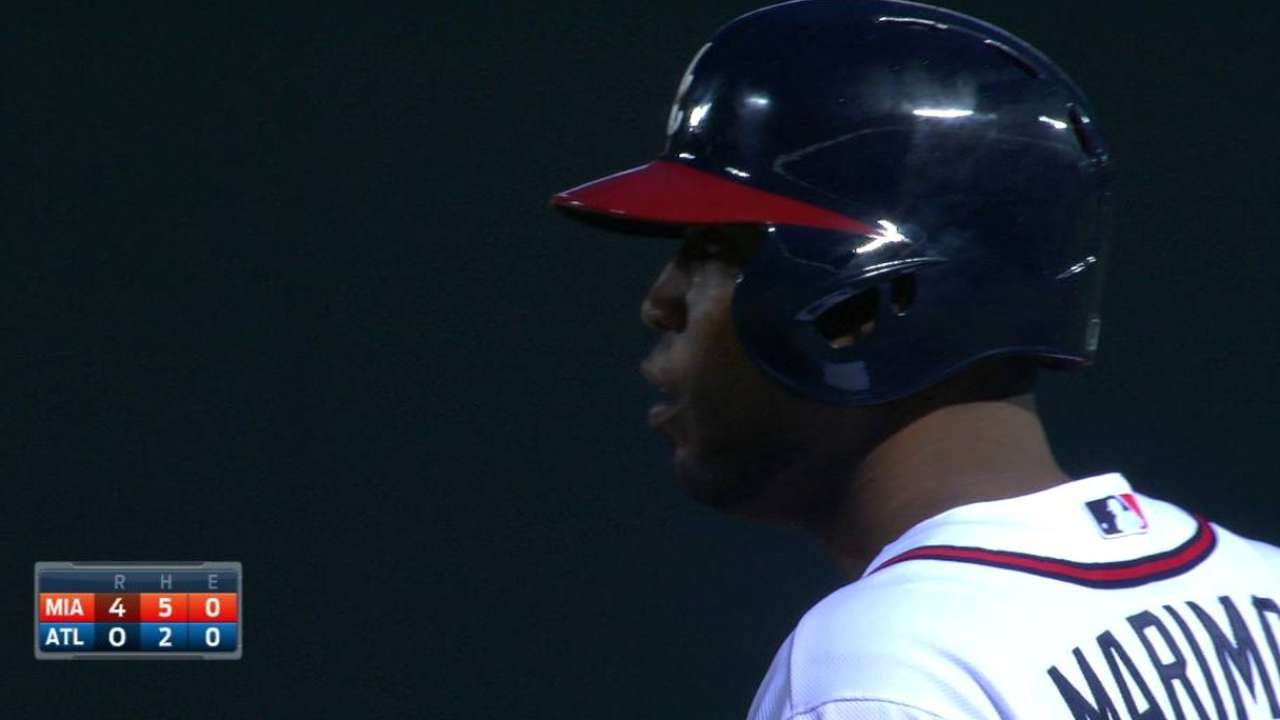 Though Marimon impressed while allowing just two runs, there is a chance the Braves could opt to send him back to Triple-A Gwinnett, because he will be unavailable the next few days.
But because they are not scheduled to play on Thursday and will be playing in an American League stadium (Toronto's Rogers Centre) this weekend, the Braves might opt to allow Marimon a chance to extend the thrill he experienced during this debut.
"I've been waiting for this moment forever," Marimon said. "Thank God that it finally happened today."
Mark Bowman is a reporter for MLB.com. This story was not subject to the approval of Major League Baseball or its clubs.