DeSclafani spinning hits with new dance partner
Right-hander making offseason trade look good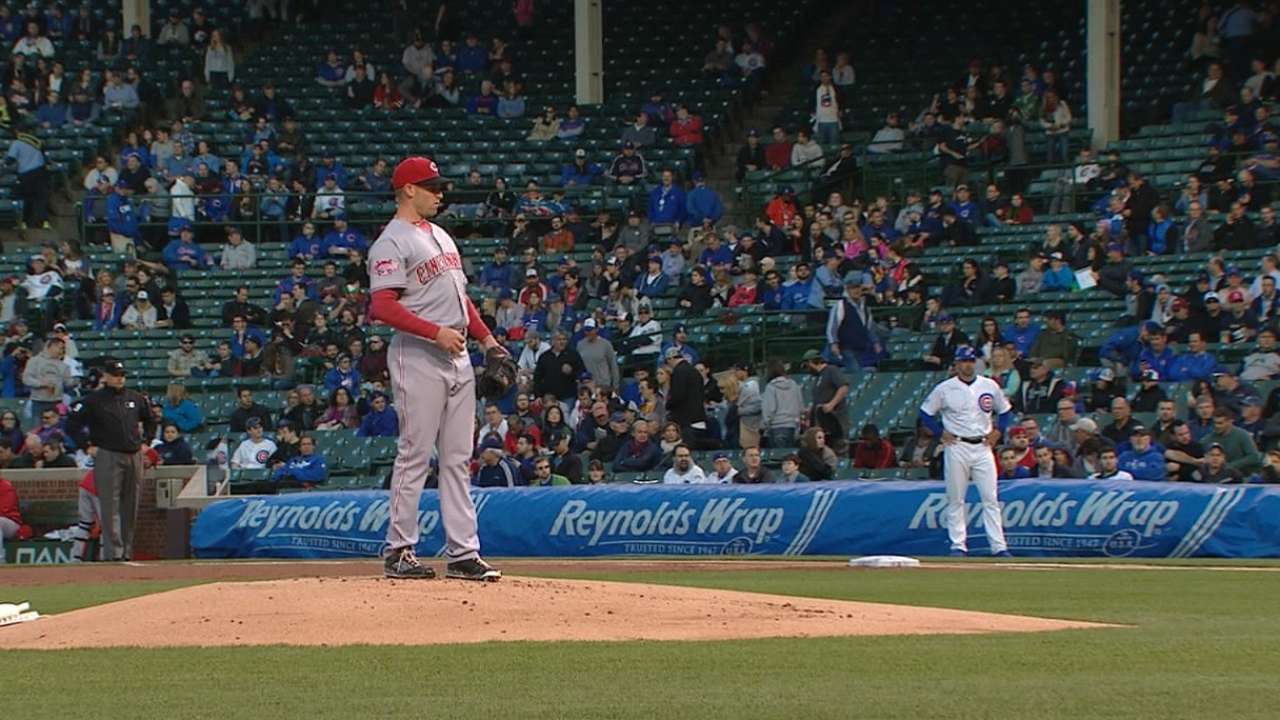 CHICAGO -- When the Reds traded starting pitchers Mat Latos and Alfredo Simon in December, there were some big question marks hanging over their rotation entering the season. Quickly, Anthony DeSclafani is erasing some doubts.
DeSclafani, who came over from the Marlins in the Latos trade, has posted two quality starts in his two starts, both Reds victories. On Tuesday, the rookie also provided Cincinnati's rotation with its first victory of 2015 with seven scoreless innings in a 3-2 win over the Cubs.
"It means a lot," said DeSclafani, who gave up only two singles with two walks and five strikeouts for his first win as a Red. "No matter where I was, I always wanted to get wins and help the team win. It was good to get a win. We've had a tough couple of games. I'm just glad we could pull this one out."
The performance was an early big one for the Reds, who came into the night with a three-game losing streak.
"He gave us what we had to have," manager Bryan Price said. "A team that swung that bat well the last couple of games -- they were starting to feel it and getting their power and the young kid comes in there and does what we needed him to do -- that was throw strikes, work ahead in the count and use the bottom of the strike zone."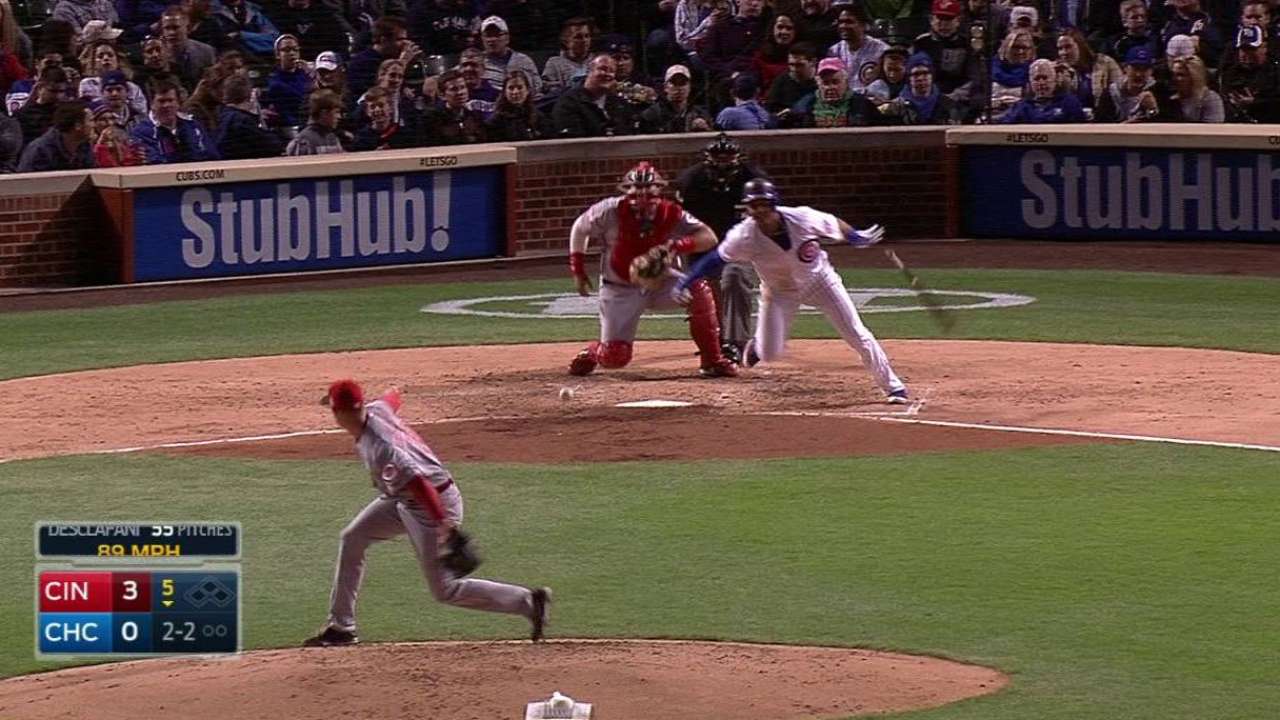 Price was particularly pleased with DeSclafani for giving up only a two-out hit in the bottom of the fourth after the Reds scored their three runs in the top half.
"That was probably his biggest inning for us," Price said.
DeSclafani also showed creative defense. On a Starlin Castro comebacker in the fifth inning, he attempted a behind-the-back stop that knocked off his glove. He recovered and threw out Castro at first base.
"It was just straight reaction," DeSclafani said.
After DeSclafani threw 97 pitches over seven innings, Price took a risk by going to a struggling bullpen. It nearly backfired when Kevin Gregg gave up a two-run homer, followed by harrowing moments for Tony Cingrani and closer Aroldis Chapman.
"I just felt like [DeSclafani] had done his job. We needed to give the bullpen an opportunity to start the inning fresh," Price said. "We get deeper in the season and if he's throwing like that, I would have no problem with him going back out."
Of course, the sample sizes are small after two starts, but it's been a good beginning with a new team. DeSclafani, who faced one over the minimum through his first four innings Tuesday, has a 1.38 ERA after two starts, with two runs and seven hits allowed over 13 innings.
Conversely, Latos is 0-2 with a 17.36 ERA after two rough starts for Miami.
Like it was after his debut last week, the Reds postgame clubhouse was darkened with only a disco-style light spinning along with the music. Makes sense since DeSclafani's nickname is "Disco."
"He's too serious, man. Even though he threw almost a perfect game, in my opinion, he's still very serious," catcher Brayan Pena said. "Hopefully, he can continue [to pitch] like that. It's a pleasure to watch him pitch, especially when I'm behind home plate."
Mark Sheldon is a reporter for MLB.com. Read his blog, Mark My Word, and follow him on Twitter @m_sheldon. This story was not subject to the approval of Major League Baseball or its clubs.