Miggy's slap of baseball all in good fun, says Cervelli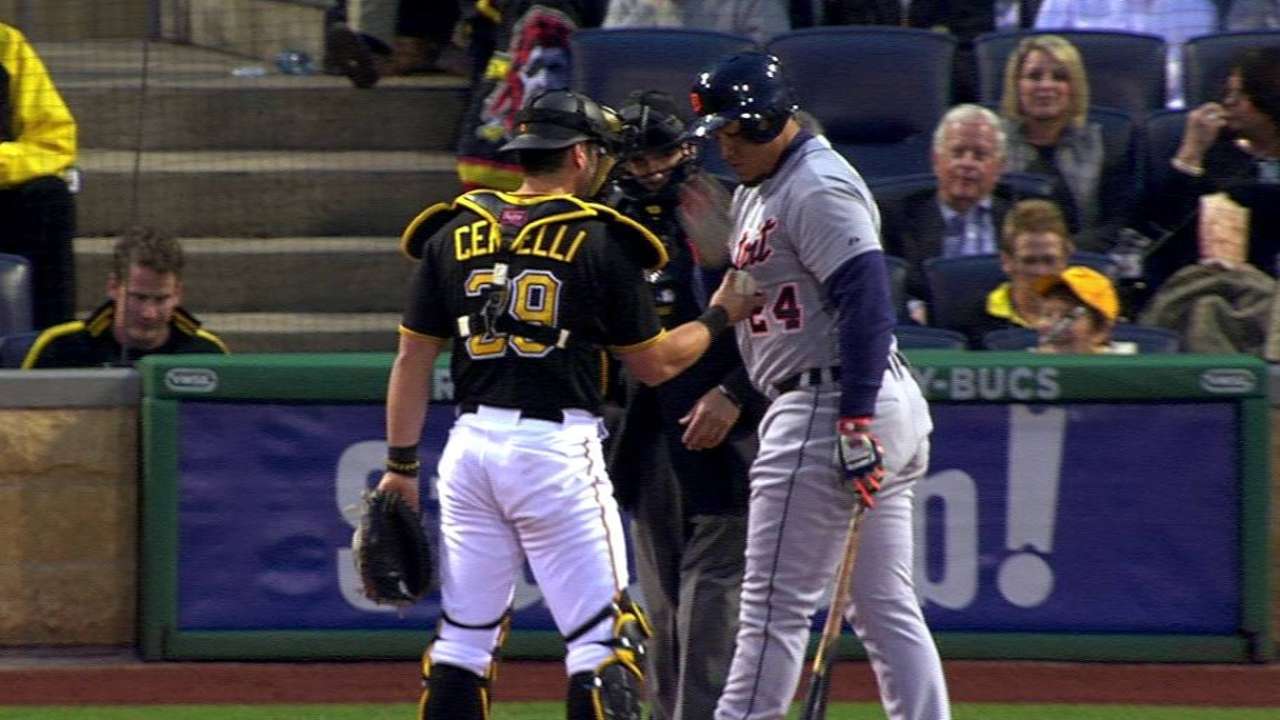 PITTSBURGH -- Tigers slugger Miguel Cabrera drew the ire of nearly 32,000 fans at PNC Park on Tuesday night. It's not unusual for fans to dread seeing the two-time American League MVP face their team, but this had nothing to do with Cabrera's excellence at the plate.
During the fourth inning of Tuesday night's 2-0 Tigers' win, Pirates starter A.J. Burnett got Cabrera to swing and miss on a curveball in the dirt. Catcher Francisco Cervelli picked up the ball and tagged Cabrera in the chest to complete the strikeout.
Cabrera responded by playfully slapping the ball right out of Cervelli's hand.
All in good fun, according to two men who know him well.
"It's joking," said Cervelli, a fellow native of Venezuela. "I've got no problem. That's the way we play. I like to talk a lot when I'm catching, and he talks a lot, too. It's nothing bad."
"I don't even pay attention to Miggy," said Burnett, a teammate of Cabrera's with the then-Florida Marlins from 2003-05.
But the 31,755 fans who made it to the North Shore on Tuesday night let Cabrera know they didn't like the gesture.
They booed Cabrera as he walked back to the dugout, and they booed him each time he walked to the plate after that. When Cabrera singled in the sixth inning, they booed him when he made it to first base, too.
"That's his game, man. He's a little kid playing baseball, and that's just what he does," Burnett said. "As much as you don't want him to hurt you, it's fun to watch him in certain ways, see how he goes about his business."
Adam Berry is a reporter for MLB.com. Follow him on Twitter at @adamdberry. This story was not subject to the approval of Major League Baseball or its clubs.