Norris displays fortitude, gives Blue Jays chance to win
Rookie lefty relies on changeup, which he worked on in Spring Training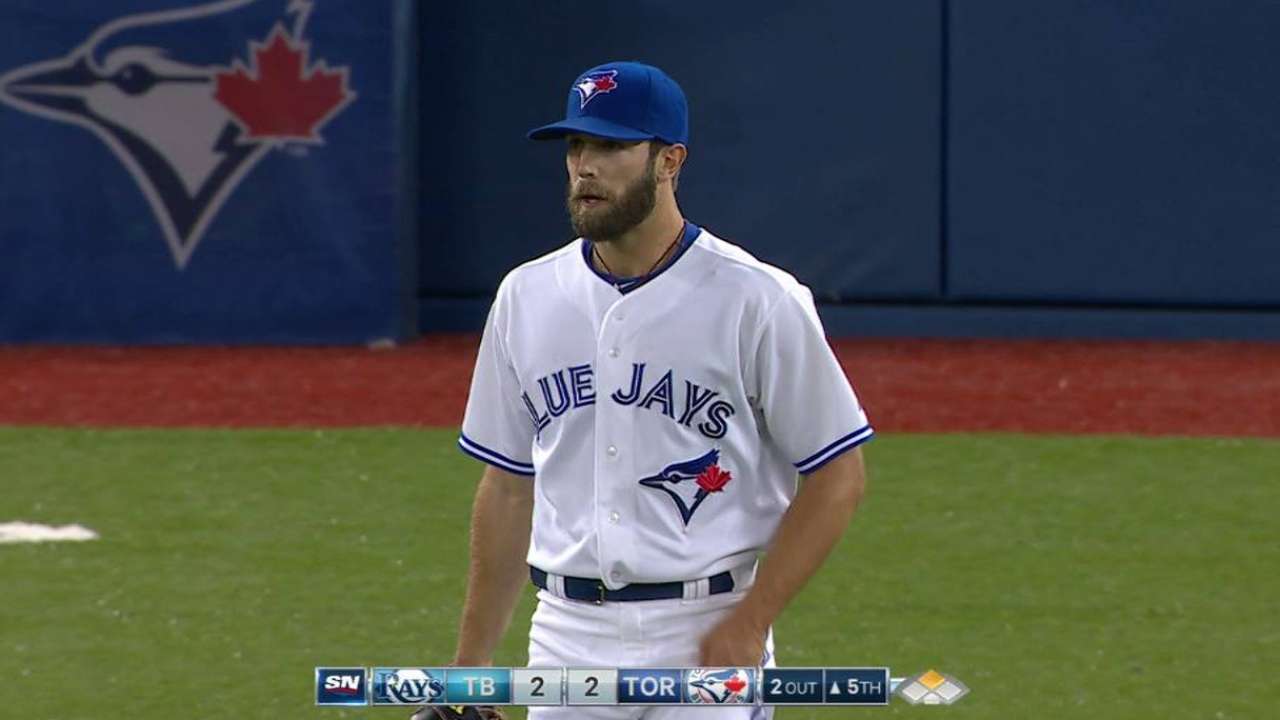 TORONTO -- On a night when Daniel Norris didn't have his best stuff, the Blue Jays' rookie left-hander still found a way to get the job done.
Norris didn't have a whole lot working for him during Tuesday night's 3-2 loss to the Rays. The life on his fastball wasn't quite there, he tried to compensate by overthrowing at times and the overall command was lacking. Those are the negatives.
The positives are that Norris managed to get through five innings having surrendered two runs on two hits and three walks while striking out four. If that qualifies as a bad night, Norris is going to be just fine.
"It was just one of those nights where you don't have your stuff and you have to battle through it," Norris said. "That's kind of what we did. Results-wise, it looks good, but obviously ... I want to have my good stuff, and go out there and compete with that."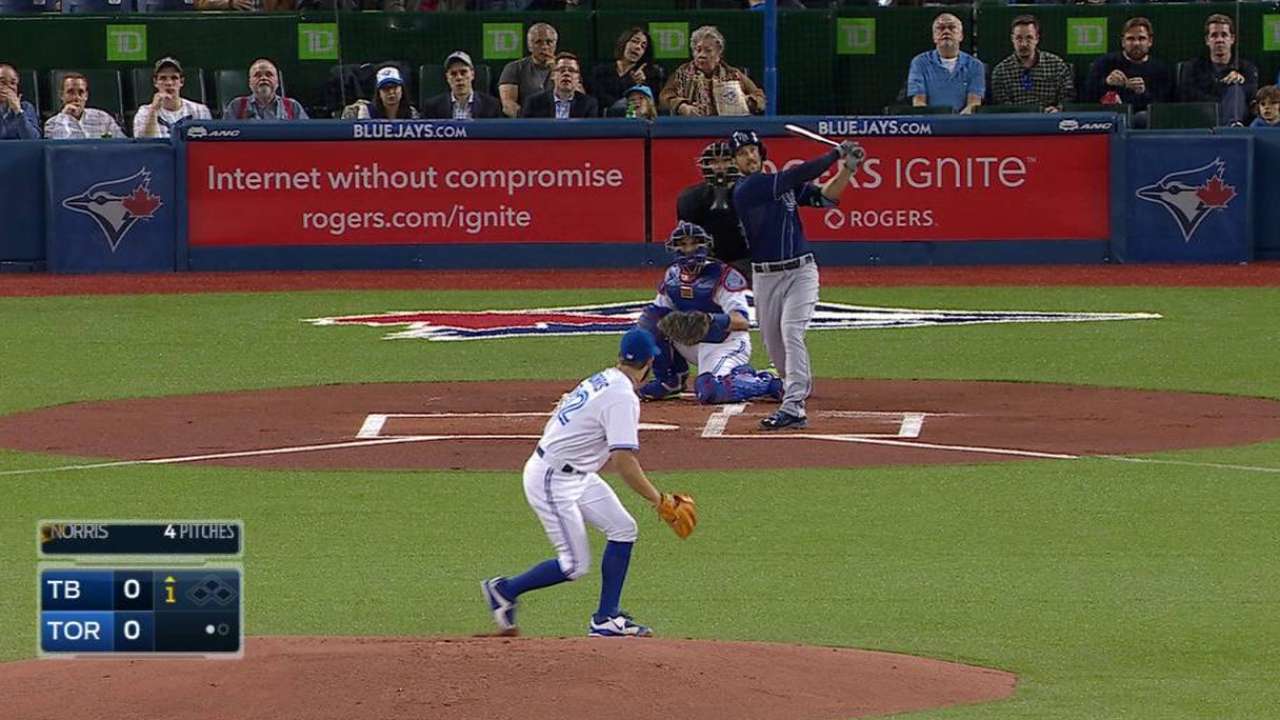 Norris' night started off on a sour note when he surrendered a solo home run in the first inning to Steven Souza Jr. The ball went above the WestJet Flight Deck in straightaway center field and landed into the Sightlines restaurant, located in the third deck of the stadium.
That could have set a negative tone, but Norris managed to survive the rest of the night. With the exception of a sacrifice fly in the second, which came after a hit batter and a walk, Norris did enough to give his team a chance to win.
One of the main reasons Norris got through his outing relatively unscathed was because of the new changeup he began working on in Spring Training. It's a pitch he became comfortable with in the weeks leading up to the season, and it was there for him again Tuesday night.
According to MLB.com's Gameday, Norris threw 21 changeups out of his 90 pitches. One of those included a strikeout of Souza in the fifth, while another saw the pitch used four times during an at-bat with Evan Longoria in the third.
"I had to rely on that," Norris said. "Sometimes the life on your fastball isn't there and you have to find something that's going to work and we used that. [Catcher Russell Martin] and I agreed that was something later on in the game that I got a better feel for.
"That's part of pitching, if you go out there and don't have your best stuff you've got to find something. I told Pete [Walker] after I came out, 'You're never going to get a rollover from me, you're going to get everything I've got no matter what. I'm going to find a way, I promise you that much.'"
Gregor Chisholm is a reporter for MLB.com. Read his blog, North of the Border, and follow him on Twitter @gregorMLB. This story was not subject to the approval of Major League Baseball or its clubs.