De La Rosa looks ready to return after rehab start
Rockies southpaw, recovering from groin strain, works five innings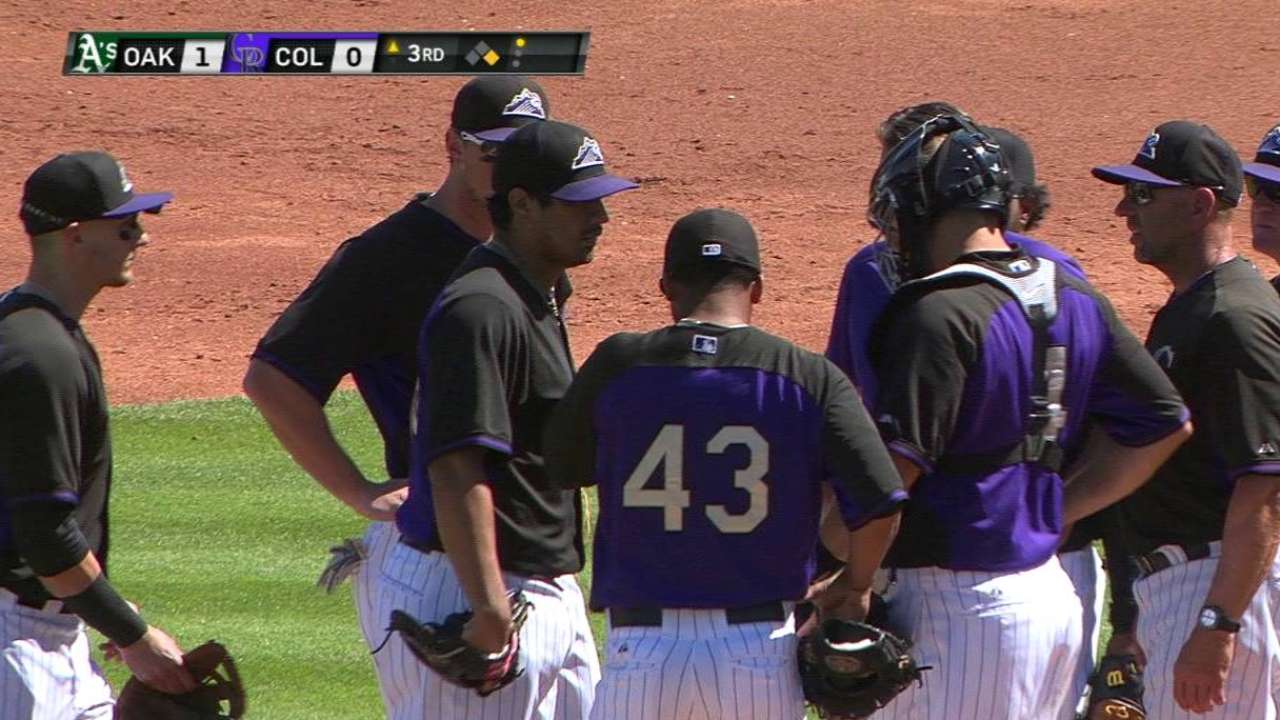 SAN FRANCISCO -- Comfortably attacking the strike zone, Rockies left-hander Jorge De La Rosa struck out five in five innings of an injury rehab start at Triple-A Albuquerque on Tuesday night.
De La Rosa, in his second rehab start for the Isotopes as he recovers from a left groin strain that has lingered since String Training, faced Tacoma in Albuquerque. He gave up three runs (two earned) on five hits -- including a two-run homer by Jabari Blash in the fifth -- and threw strikes on 50 of his 76 pitches.
Manager Walt Weiss and his staff are contemplating when to fold De La Rosa back into the Rockies' rotation. Sunday at Dodger Stadium is a possibility, although the game also lines up for rookie righty Eddie Butler (1-0, 1.64 ERA). The one who doesn't start Sunday will be moved to Monday, the opener of a four-game home series against the Padres.
The veteran De La Rosa and Butler each have spotty histories against the Dodgers. Two of Butler's three Major League starts last year came against the Dodgers, and he was 0-1 with a 9.90 ERA. De La Rosa is 1-5 with a 4.84 ERA in 11 games, including eight starts, at Dodger Stadium.
The Rockies like when De La Rosa pitches at Coors Field, which is an argument for holding him to face the Padres. He was 10-2 with a 3.08 ERA in 15 starts last season and is 45-14 with a 3.98 ERA career at Coors.
• Weiss declared Adam Ottavino the closer to replace LaTroy Hawkins, who was moved to an earlier role. Rafael Betancourt's save Monday and John Axford's history make them viable options should the Rockies consider others.
Righty Brooks Brown pitched just part of last season and the start of this one, but Weiss said he has also shown a closer trait -- effectiveness against lefty (.200 career) and righty (.190) batters. Plus, dating to last Aug. 23, Brown has given up one run and one walk in 14 2/3 innings.
For now, he's an early-game option.
"He's a very valuable piece of our 'pen," Weiss said. "The thing is he can go multiple innings, too, so we've been using him a little bit earlier. But he's a guy that can pitch late in games as well. The fact he gets right and left out, that plays in any part of the game."
Thomas Harding is a reporter for MLB.com. Read his blog, Hardball in the Rockies, follow him on Twitter @harding_at_mlb, and like his Facebook page, Thomas Harding and Friends at www.Rockies.com. This story was not subject to the approval of Major League Baseball or its clubs.