White Sox new 'pen trio shuts down Indians
Jennings, Duke, Robertson combine for three no-hit innings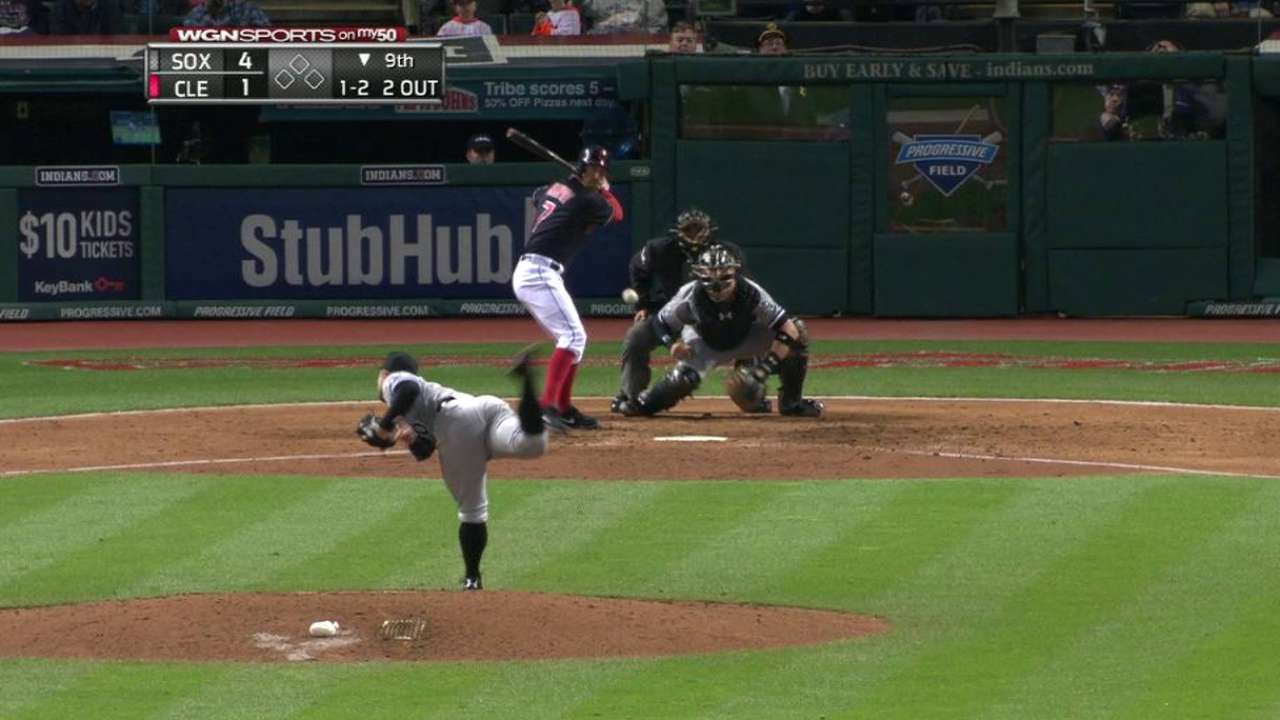 CLEVELAND -- Something needed to be done about the White Sox bullpen.
It was a unit that posted a collective 4.38 ERA last season -- the third worst in the Major Leagues. It was a unit that walked more batters than any other in baseball.
So the White Sox added right-handed closer David Robertson. They added lefty Zach Duke. They traded for lefty Dan Jennings. And on Tuesday night, the vision of a revamped bullpen constructed throughout the offseason became a reality during a 4-1 win against the Indians.
"Every time your roster changes, it changes the dynamic of your team," White Sox manager Robin Ventura said. "Having guys in the bullpen like that, there's just a different vibe to it. You've got some veteran guys, like Duke and Robertson, and you're just seeing a different feeling just because of their experience and their talent."
Jennings came in to pitch a scoreless seventh inning. Duke worked a perfect eighth. Robertson struck out the side in the ninth for his second save in as many chances.
The group struck out eight in three hitless innings of work. Just like the White Sox drew up.
"The feeling of those guys coming out there -- Jennings, Duke and Robertson -- that's a nice little combination right now," Ventura said.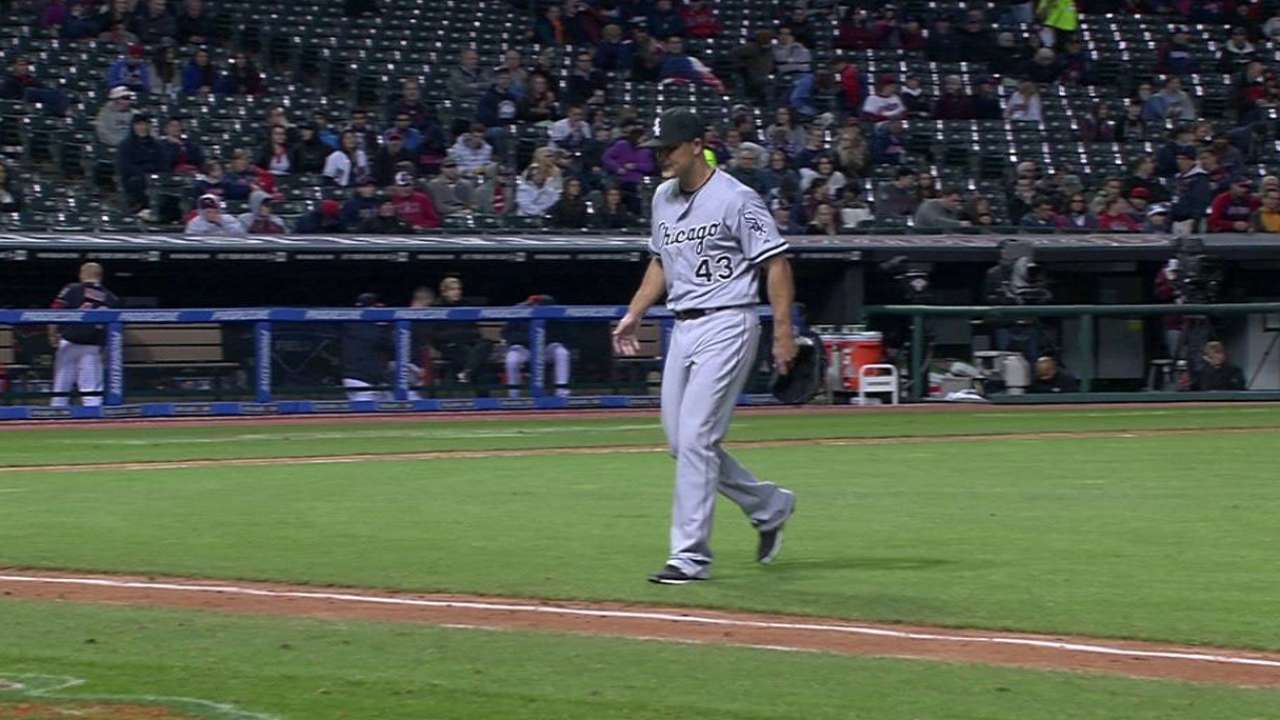 The presence of the lefties Duke and Jennings is particularly important not only for the White Sox as a whole, but for the White Sox against the Indians.
The struggles of the White Sox bullpen last season weren't necessarily the result of an inability to get right-handed batters out. Their production in that regard was not much worse than league average.
The problem was the inability to get lefties out, as the bullpen unit allowed a .756 OPS against left-handed hitting -- tied for the second-worst mark in baseball.
That's where Duke, who revamped his career last season by lowering his arm slot and becoming a strikeout pitcher, comes into play. That's where Jennings, who posted a 1.34 ERA in 40 1/3 innings for the Marlins last year, comes into play.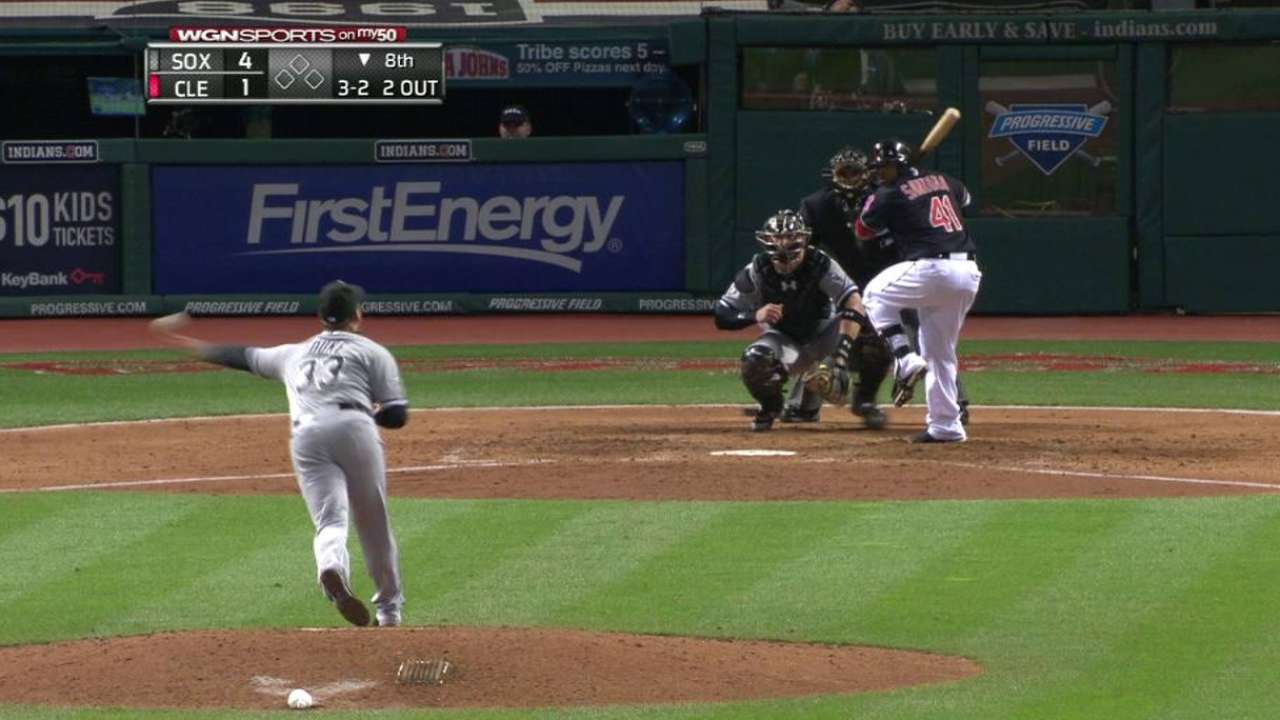 The White Sox now have legitimate left-handed weapons in their bullpen, and that's the last thing the Indians needed to see on Tuesday night.
Few teams have struggled to hit left-handed pitching as much as Cleveland has this season. The Indians had struggled through six innings against left-handed starter Jose Quintana, and with the weapons the White Sox now have in their bullpen, there was no need to let the Indians face a righty before Robertson.
"We've got a good thing going for sure," Duke said. "We're ready to take the ball and get the job done."
August Fagerstrom is an associate reporter for MLB.com. This story was not subject to the approval of Major League Baseball or its clubs.