Shedding face guard for first time, Stanton delivers
Marlins slugger had worn special helmet for every AB this year after being hit in face last season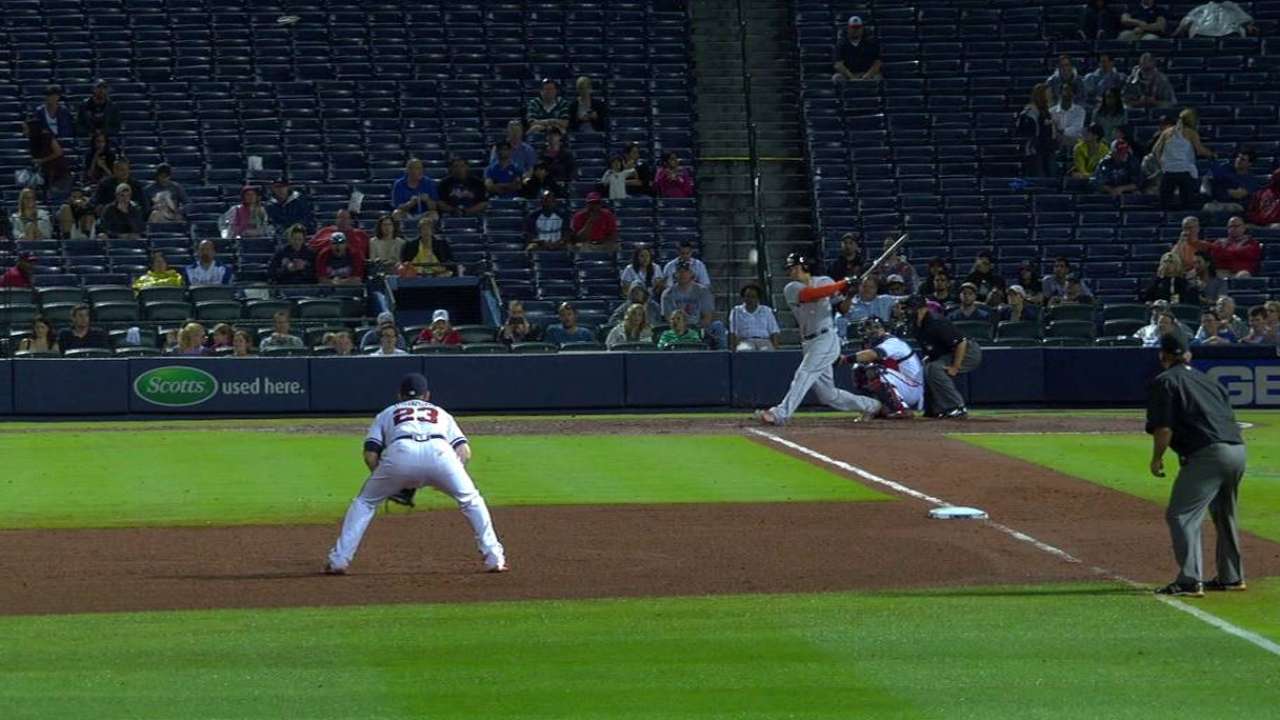 ATLANTA -- Giancarlo Stanton collected three hits, drove in four runs and conquered a personal hurdle on Tuesday night in the Marlins' 8-2 win over the Braves at Turner Field.
In his final plate appearance, Stanton accomplished a first this season. The slugger spurned his customized helmet face guard and delivered a two-run double in the eighth inning off lefty Andrew McKirahan.
Stanton had not appeared in game action without a shield since he was struck in the face by a Mike Fiers fastball in Milwaukee last Sept. 11.
"It's confidence for him," manager Mike Redmond said. "I think that's probably a big step. He swung the bat well. His at-bats were good. It's nice to see him have a couple good at-bats and have a nice night."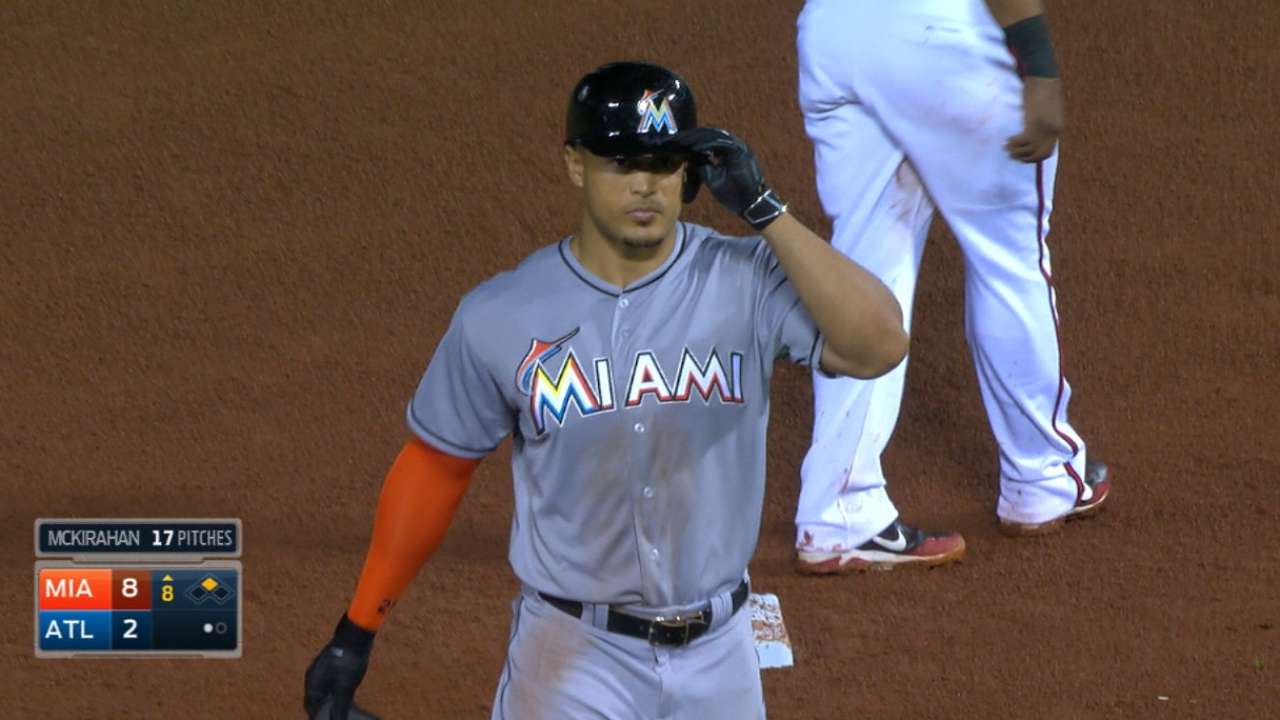 Stanton sustained multiple facial fractures and dental damage after being hit by the pitch in Milwaukee.
The decision to scrap the face guard was because Stanton was facing a lefty. The Braves will be starting southpaw Eric Stults on Wednesday, but Stanton didn't tip his hand on whether he will use a regular helmet or the specially designed one.
"Honestly, it's whatever I feel like doing," Stanton said.
Stanton has 34 plate appearances on the season, and prior to Tuesday, he only faced two left-handers, walking both times.
Against McKirahan, Stanton ripped a hot grounder down the third-base line for a two-run double. Returning to the regular helmet was like old times for the 25-year-old right fielder.
"I felt fine," said Stanton, who entered Tuesday in an 0-for-12 rut. "Just like my whole career prior. It was good."
Stanton noted he likely will continue wearing the guard against right-handers.
In terms of comfort and feel, there is a difference with it on or off.
"You obviously see it," Stanton said of peering through bars on his helmet. "It's not in the way, but it's definitely there."
Stanton has made a point of not letting his helmet situation become a distraction when he is on the bases. If there is a break in the action, he may switch out helmets.
"I don't want to take any time to do it [swap out helmets] on the bases," he said. "If there is a pitchers meeting, I'll change it."
There may come a time later in the season when Stanton scraps the helmet all together. But for now, he likes the extra protection against right-handers, who occasionally test him up and in.
"I'll wear it against righties for the most part, most likely," he said.
Joe Frisaro is a reporter for MLB.com. He writes a blog, called The Fish Pond. Follow him on Twitter @JoeFrisaro. This story was not subject to the approval of Major League Baseball or its clubs.