MLB, Dodgers hold free baseball clinic in L.A.
Event staged in conjunction with Jackie Robinson Day, Civil Rights Game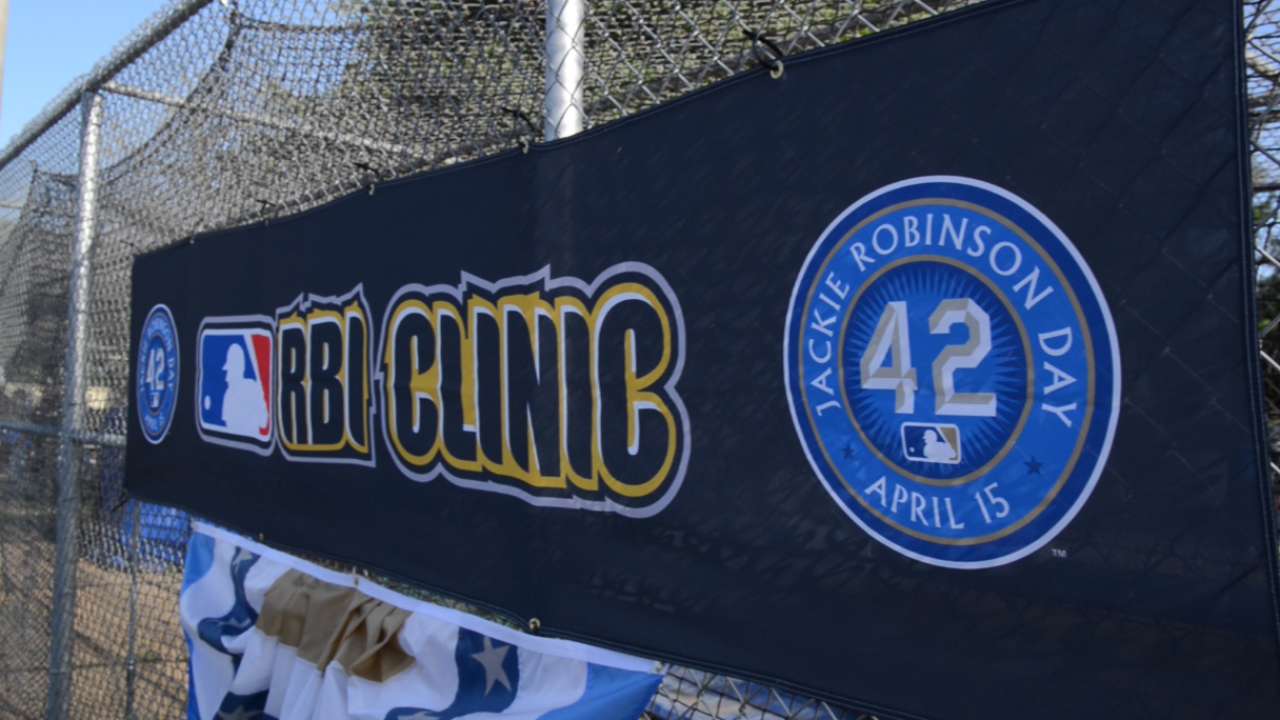 LOS ANGELES -- Major League Baseball and the Los Angeles Dodgers reached out to the local community Tuesday, providing a free instructional clinic in conjunction with Jackie Robinson Day and the Civil Rights Game.
Around 200 kids showed up at the Rancho Cienega Recreation Center, and they were eager to learn about the game they love from some of the region's most successful players.
Four former Dodgers -- two-time All-Star Tommy Davis, Mickey Hatcher, Lee Lacy and Derrel Thomas -- showed up to give them tips on how they can improve in all aspects of their game. And Tony Reagins, recently named MLB's senior vice president of youth programs, was there to take it all in.
"We have to keep in mind that the kids are still kids," said Reagins. "I think they still have to go through life's experiences, but it's important to give them the opportunity and to insert knowledge at the same time. Knowledge is king. If we can educate and give these kids an opportunity to gain that knowledge -- about not only the game of baseball but life in general -- we're ahead of the game."
The event, staged one day before Jackie Robinson Day and the Civil Rights Game celebration at Dodger Stadium, was held exclusively for kids from the local RBI league. RBI -- which stands for Reviving Baseball in Inner Cities -- has been an engine of inclusion for MLB, and it's grown to the point where it serves more than 200,000 inner-city boys and girls across the country.
Los Angeles, home to MLB's first Urban Youth Academy, has been receptive to the youth movement. The Compton Urban Youth Academy, which opened in 2006, has been a tremendous success, and it has seen more than 500 kids go on to play in college and more than 100 drafted to the professional ranks.
But that facet -- the creation of pro players -- is the farthest thing from the mission placed in front of the RBI leagues and the youth academies. MLB is hoping to produce Major League citizens who will go on to success in whatever they choose.
"We always view Jackie Robinson Day as the kickoff of the youth season," said David James, senior director of the RBI program. "This is a good celebration and a reminder, but not necessarily for the kids. It's history for them, but it's an opportunity for us to thank the coaches, parents and the league administrators. We can remind people about what a pioneer Jackie was, and we can make sure we still make the opportunities available for the next generation of youth. We want them involved."
That journey began in a fitting place on Tuesday. Rancho Cienega, located less than 20 miles from the Urban Youth Academy, is a complex that serves all of southern Los Angeles.
There's an indoor gymnasium and a pool, and the baseball fields are adjacent to a track and football field that bears the name of Jackie Robinson. Robinson, the iconic star who went on to break baseball's color barrier on April 15, 1947, was a star athlete at UCLA.
"Jackie Robinson. No. 42. That's what it's all about, and we know that," said Hatcher, who played for the Dodgers' 1981 World Series team and later won a championship as hitting coach with the Angels. "We want to come here and share some of our stories and motivate some of these kids. We want to get them excited about moving forward in life. ... We want to help them get to where they want with their goals, and it might not be baseball. It might be other things."
Reagins, the former general manager of the Angels, is a perfect example for the local kids to follow. Reagins didn't play professionally, but he loved the game, and he joined the Angels as an intern after graduating Cal State Fullerton.
Reagins first worked in marketing and later in baseball operations, and over two decades, he worked his way through the ranks of the organization. Reagins, 48, spent six years as the Angels' director of player development before ultimately ascending to the GM role.
Now, Reagins, who became just the fourth African-American general manager in Major League history, has a new mission with his role. Reagins' job is to coordinate MLB's relationships with high school, college, youth and amateur baseball organizations around the country.
"Extremely important," he said of working in inner-city communities. "It's not just to be in the community, but to be a part of the community, and to be a part of the community for a long-term basis. We obviously have academies around the country in place today, and there are plans to even grow that. But we want to not just be inserted into the community. We want to stay in it. That's really important."
The kids participated in a two-hour clinic on Tuesday, and the practice was run by administrators from the Cal Ripken Sr. Foundation. The kids took turns at several stations that simulate all of the game's core skills, from hitting and baserunning to throwing and fielding. And they did so under the watchful eyes of such players as Davis, who led the National League in hits, RBIs and batting average in 1962.
Davis, prior to the start of the clinic, told an anecdote from his life. The Brooklyn native said he was pursued by both the Yankees and Dodgers, and he was leaning toward signing with the former club. But then the Dodgers got wind of that, and they had Robinson call Davis on the phone.
The gambit worked. Davis didn't just change his mind, he signed two days later.
Hatcher, who played six seasons for the Dodgers and spent a decade with the Angels as a hitting coach, loves the chance to be able to have an impact on young lives.
"I was from a little town," said Hatcher. "There wasn't a lot of programs back then, and I'm just so happy that Major League Baseball has come forward to push programs like this. They didn't have this when I was growing up, and it's well needed. I think it's exciting for the kids. We'll see what happens."
Spencer Fordin is a reporter for MLB.com This story was not subject to the approval of Major League Baseball or its clubs.