McGehee impatient, but making progress with injury
Posey gets rest; Pence slated for X-ray to update forearm fracture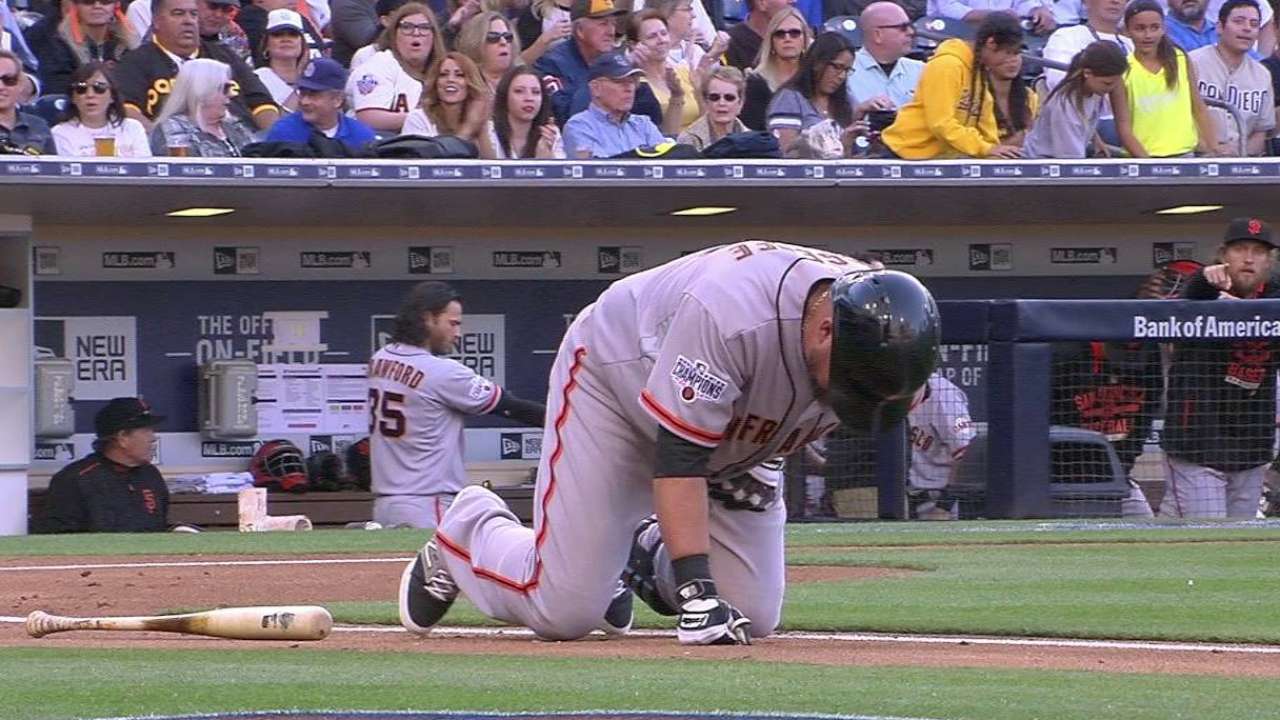 SAN FRANCISCO -- Slow and easy has been the plan for Giants third baseman Casey McGehee as he recovers from a bone bruise on his left knee.
McGehee said he's making progress and has had no setbacks, but his patience is being tested.
"I want to go run and see what happens," said McGehee, who was out of the lineup for the third straight game Tuesday night against Colorado. "But at the same time, listening to ... the trainers and stuff, we'd be better off in the long run to keep going this way rather than just go and throw caution to the wind and take a chance of going backwards and starting from scratch. As much as I don't want to, I'm trying to go at the pace that they want me to go."
McGehee, who is wearing a brace on his left knee, took some swings in the cage, played catch on the field and jogged on a treadmill before Tuesday's game.
Last year with the Miami Marlins, McGehee played 160 games. He had hoped to duplicate that feat with his new team this year.
"The hardest part for me is this is the first time since I've been in the big leagues that I haven't been physically an option for a day or two," McGehee said. "Whether I played or not, there was a chance I could contribute or help. The last two days have been a little tough for me to know that there really wasn't an opportunity to be able to contribute other than to try to be supportive as best I can."
• Catcher Buster Posey was out of the starting lineup Tuesday for the first time this season and will return to the lineup Wednesday night against Colorado, possibly at first base, Giants manager Bruce Bochy said.
"We knew this was coming up at some point for a day off, and today he's getting it," Bochy said before Tuesday's game, the Giants' ninth in a string of 14 straight games without a day off to start the season. "He'll be fine to go tomorrow. He's available to come off the bench and those kind of things. We've been going back and forth, catching and playing first. He needs a break, so he's getting one."
• Right fielder Hunter Pence was scheduled Tuesday to have another X-ray of his fractured left forearm.
"As far as his status, nothing has changed except he's making improvement," Bochy said. "I don't have a target date for you right now when he'll take some swings. My guess is after his X-ray we'll have a better idea. He's coming around. He just can't quite swing the bat yet."
Eric Gilmore is a contributor to MLB.com. This story was not subject to the approval of Major League Baseball or its clubs.