MLB.com Columnist
Fred Zinkie
DraftKings picks: Jennings, Kinsler, Bautista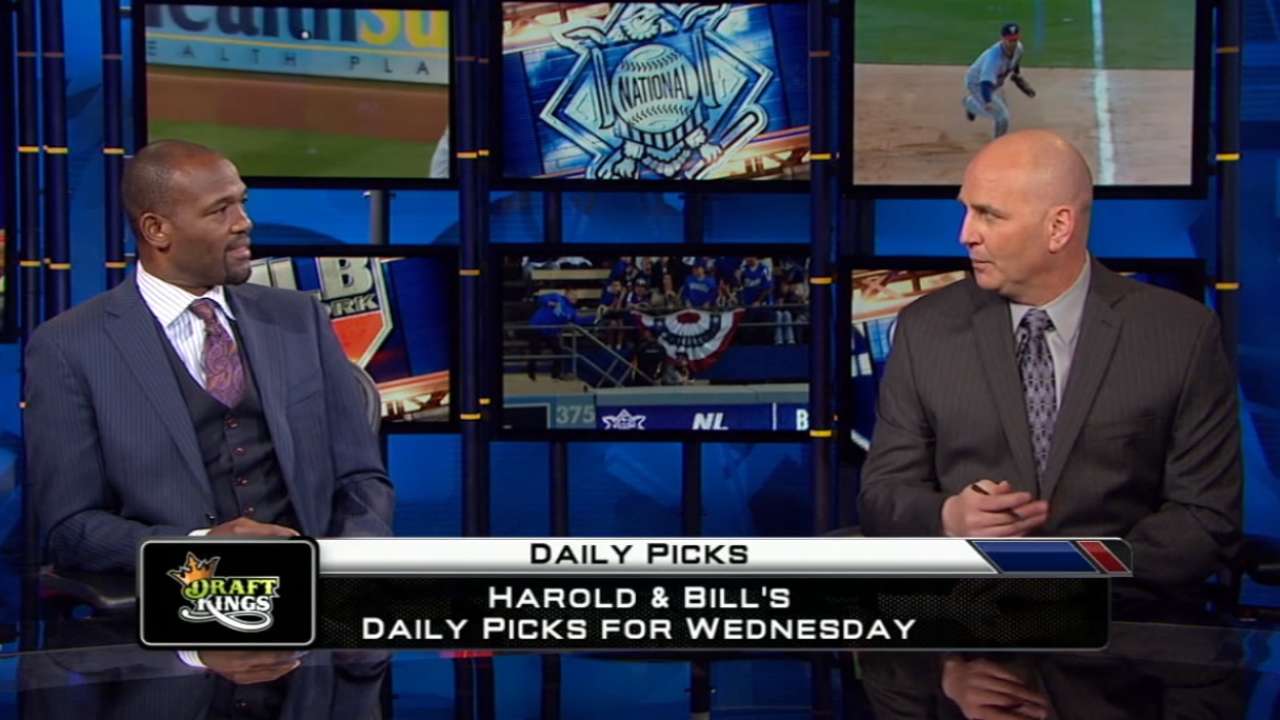 DraftKings participants can find several outstanding hitting options on Wednesday, as most teams are dipping into the back of their rotations. Those who do not roster a cast of productive hitters will likely be left behind in the competition. With that in mind, the following players deserve a close look.
Matt Joyce (Angels): The owner of a career .814 OPS vs. right-handers (.577 against lefties), Joyce could have a great game at hitter-friendly Globe Life Park against Anthony Ranaudo, as the Rangers dip deep into their pitching depth in an effort to cover the loss of Derek Holland.
Mike Trout (Angels): Trout is always a pricey option for DraftKings participants, but he could be worth the cost Wednesday due to his .966 career OPS vs. right-handers (.893 vs. lefties). As one of baseball's most powerful and fastest players, he could have great success against an inexperienced right-handed starter -- Ranaudo -- in a hitter-friendly venue.
Desmond Jennings (Rays): Jennings has already drawn five walks to just four strikeouts on the young season, and he could find continued success at the plate when he matches up against lefty Mark Buehrle in Toronto. Jennings is particularly effective against southpaws, having hit an impressive .272/.358/.452 against them in his career. Additionally, while hitter-versus-pitcher records may not be very predictive, Jennings' .955 OPS against Buehrle in 27 plate appearances is certainly not a bad sign.
Ian Kinsler (Tigers): Kinsler is off to an excellent start in 2015, as is most of the Detroit lineup, and he could stay hot when he matches up against Francisco Liriano. The veteran southpaw may be a solid pitcher, but his weakness against right-handed hitters has resulted in a .716 OPS allowed in his career vs. a dominant .583 mark against fellow lefties. This could mean big things for the right-handed Kinsler, who has smashed left-handed pitching to the tune of a .305/.375/.510 mark in 10 Major League seasons.
Adrian Beltre (Rangers): Beltre, who has compiled a career .848 OPS against lefties, opposed to an .805 mark vs. right-handers, could have a great game in his hitter-friendly home park against Angels southpaw Hector Santiago. The third baseman may have multiple opportunities to drive in runs if Santiago (career 1.36 WHIP) struggles to limit baserunners.
Alejandro De Aza (Orioles): The outfielder has been working out of the leadoff spot against right-handers due to his career .753 OPS in those matchups (.674 OPS vs. lefties). On Wednesday, he could be effective at reaching base and scoring runs against Yankees starter Nathan Eovaldi, who owns a career 1.38 WHIP.
Chris Davis (Orioles): If O's table-setters such as De Aza can get on base, Davis -- who owns a career .850 OPS vs. right-handers -- is a strong candidate to drive them in. The first baseman has ripped 118 of his 157 career homers against right-handers such as Eovaldi, and he could use his hitter-friendly home park to his advantage on Wednesday.
Jimmy Rollins (Dodgers): Quality shortstop options are sometimes tough for DraftKings participants to find, but Rollins (career .755 OPS vs. right-handers) could fare well in a home game against Mariners righty Taijuan Walker, who gave up nine runs in his first start of the season. If he reaches base, the shortstop and likely leadoff hitter should get the green light to run against catcher Mike Zunino, who does not excel at throwing out basestealers.
Jose Bautista (Blue Jays): The outfielder could smack a homer against the Rays' staff on Wednesday, as they may end up patching together a bullpen game. Right-hander Erasmo Ramirez is starting for Tampa Bay, but he has allowed 31 homers in 208 2/3 career innings and did not perform well in his Rays debut. Playing at his hitter-friendly home park, Bautista could certainly clear the fences facing Ramirez or another subpar reliever in a taxed bullpen.
Edwin Encarnacion (Blue Jays): Encarnacion (career .820 OPS vs. righties) is another Blue Jays slugger who could take Ramirez deep in this matchup. The first baseman could drive in multiple runs, as Ramirez owns a career 4.87 ERA and could be overmatched against the powerful Blue Jays lineup. Additionally, Encarnacion could feast on any relievers that come in on mop-up duty should this game get out of hand.
Mike Moustakas (Royals): The third baseman -- who owns a career .700 OPS against right-handers, as opposed to a .603 mark vs. lefties -- could continue his April surge against Twins righty Kyle Gibson, who has a career 5.08 ERA and lasted 3 2/3 innings in his season debut.
Todd Frazier (Reds): On Wednesday, Frazier could be part of a productive Reds stack against Wood. The third baseman owns a career .811 OPS vs. southpaws (.767 vs. right-handers), suggesting that he could help anchor the team's offense from his usual third spot in the lineup.
Trevor Bauer (Indians): Despite erratic control, the right-hander fanned 11 Astros during six no-hit innings in his 2015 debut. On Wednesday, he could rack up more K's and pick up win No. 2 during a home start vs. the White Sox.
Dan Haren (Marlins): Wednesday's matinees offer few surefire starting-pitcher options for DraftKings participants. Haren is unlikely to rack up many whiffs in his tilt, but he should post solid ratios against the light-hitting Braves at pitcher-friendly Turner Field.
Drew Pomeranz (A's): The left-hander tossed seven shutout innings in his 2015 debut after recording a 2.35 ERA and a 1.12 WHIP across 69 innings last season. On Wednesday, he could record several whiffs in a quality outing against a strikeout-prone Astros offense.
Brandon Morrow (Padres): Morrow fanned seven batters in seven shutout frames during his first start with his new team. With pitchers-paradise Petco Park as his backdrop, the right-hander could post an excellent stat line against the D-backs on Wednesday.
All statistics are accurate through the completion of Monday's games.
Fred Zinkie is a senior fantasy baseball writer for MLB.com. Follow him on Twitter at @FredZinkieMLB. This story was not subject to the approval of Major League Baseball or its clubs.