Collins ejected for arguing catcher's interference call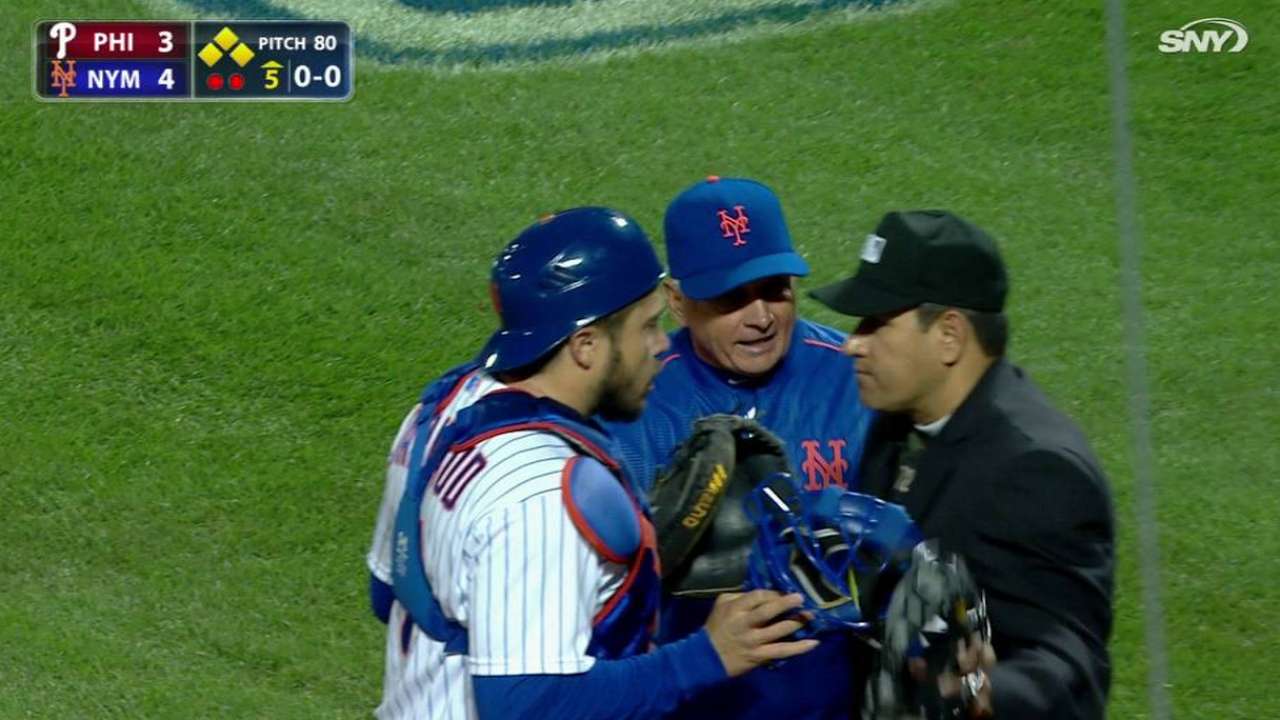 NEW YORK -- Mets manager Terry Collins was ejected in the fifth inning of Tuesday's 6-5 victory against the Phillies for arguing a catcher's interference call at home plate.
Home-plate umpire Alfonso Marquez sent Ryan Howard to first base on catcher's interference, prompting an argument from backstop Travis d'Arnaud, who after the game said he was shocked at the call and maintained he did not make contact with Howard.
Collins came flying out of the dugout, twice turning away from Marquez before turning back to resume his argument, pointing to the lack of reaction from Howard as evidence of no interference. As Collins yelled, Marquez ejected him from the game.
"Anybody's who's ever swung the bat and had it stopped in the middle of your swing, you know it's what happened," Collins said. "And Ryan [Howard] never did a thing."
"It's what our home-plate umpire heard, called, saw, and that's why he ruled that," Tom Hallion, the crew chief and Tuesday's third-base umpire, told a pool reporter.
Collins' ejection energized the crowd at Citi Field, who worked themselves into a frenzy, chanting "Ter-ry, Ter-ry."
"That's huge," d'Arnaud said. "For any manager standing up for a player like that, it drives a player and drives a team to want to win even more."
It continued a wild night at Citi Field that included a warning one batter prior. Harvey received a warning when he drilled Chase Utley -- who was 2-for-2 with a home run and two RBIs at the time -- in the back with a first-pitch fastball.
Phillies starter David Buchanan hit two Mets batters with pitches in the second inning, injuring one of them, and Harvey came close to plunking Freddy Galvis with a pitch half an inning later.
When home-plate umpire Marquez ruled that he did, Collins attempted to challenge, but the umpires determined the Mets had not made the challenge in time. The umpires did review video footage, and after nearly four minutes, determined that Harvey was back on the rubber and catcher d'Arnaud was back in his squatted position, signaling the start of the next play.
"That was mostly my fault," Collins said. "We were waiting for our video guy to make a decision."
"You give them every chance to make the challenge," Hallion said. "But for some reason the Mets couldn't make the decision whether they were going to challenge it or not.
Jamal Collier is a reporter for MLB.com. Follow him on Twitter at @jamalcollier. This story was not subject to the approval of Major League Baseball or its clubs.