Myers learning to take charge in center field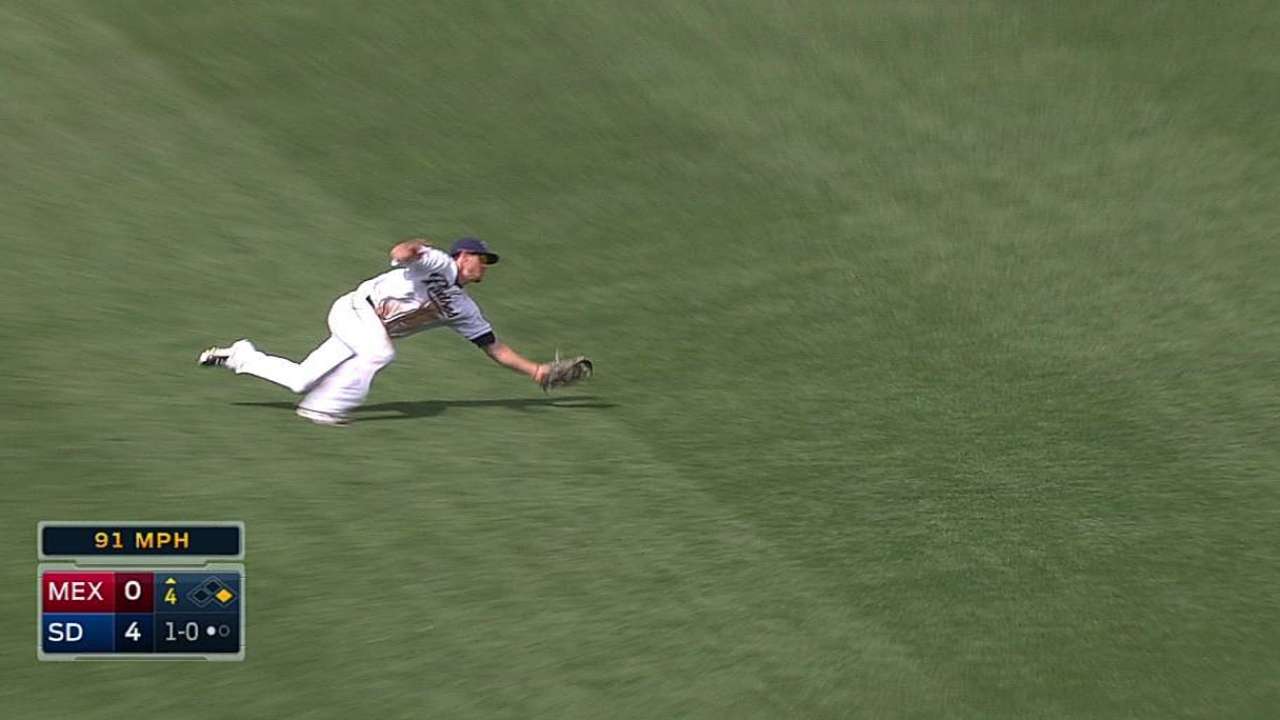 SAN DIEGO -- On Tuesday, Wil Myers played in just his 17th career game in center field, which means he is still getting used to the position -- the routes, the angles, how the ball comes off the bat, etc.
Myers, 24, is still getting accustomed to working next to veteran Justin Upton (left field) and Matt Kemp (right field), including knowing when to take charge and when to defer to them.
"It's been good," Myers said before Tuesday's game against the D-backs. "But it was definitely weird at first, especially in Spring Training. The first time that I played with both of them, I didn't want to yell at Justin to get over. But I'm a lot more comfortable with them now."
Upton appeared in his 1,021st career game in the outfield on Tuesday, while Kemp played in game No. 1,090. As for Myers, this was game No. 163 in the outfield -- though center field still rates as new for him, as he's mostly played right field in his career.
San Diego manager Bud Black even noted that Myers felt "a little funny about" taking charge in center field initially, playing alongside Upton and Kemp, who won two Gold Gloves with the Dodgers (2009, 2011).
"Yesterday [Monday] was the first time I really called off Matt. I was like, 'my bad.' And he was like, 'no, that's your job,'" Myers said. "That was cool for him to say that."
"We're doing a lot better now, especially because we have spray charts; we know where to play now. In Spring Training, we were on our own," Myers said. "But these two guys are good. Matt has the two Gold Gloves and Justin has made some good plays already.
"Nothing has surprised me about these guys. I think they expect that from themselves."
Corey Brock is a reporter for MLB.com. Keep track of @FollowThePadres on Twitter. This story was not subject to the approval of Major League Baseball or its clubs.