Torre talks to students about abuse, accepts grant
Funds to benefit Safe at Home Foundation's Margaret's Place initiative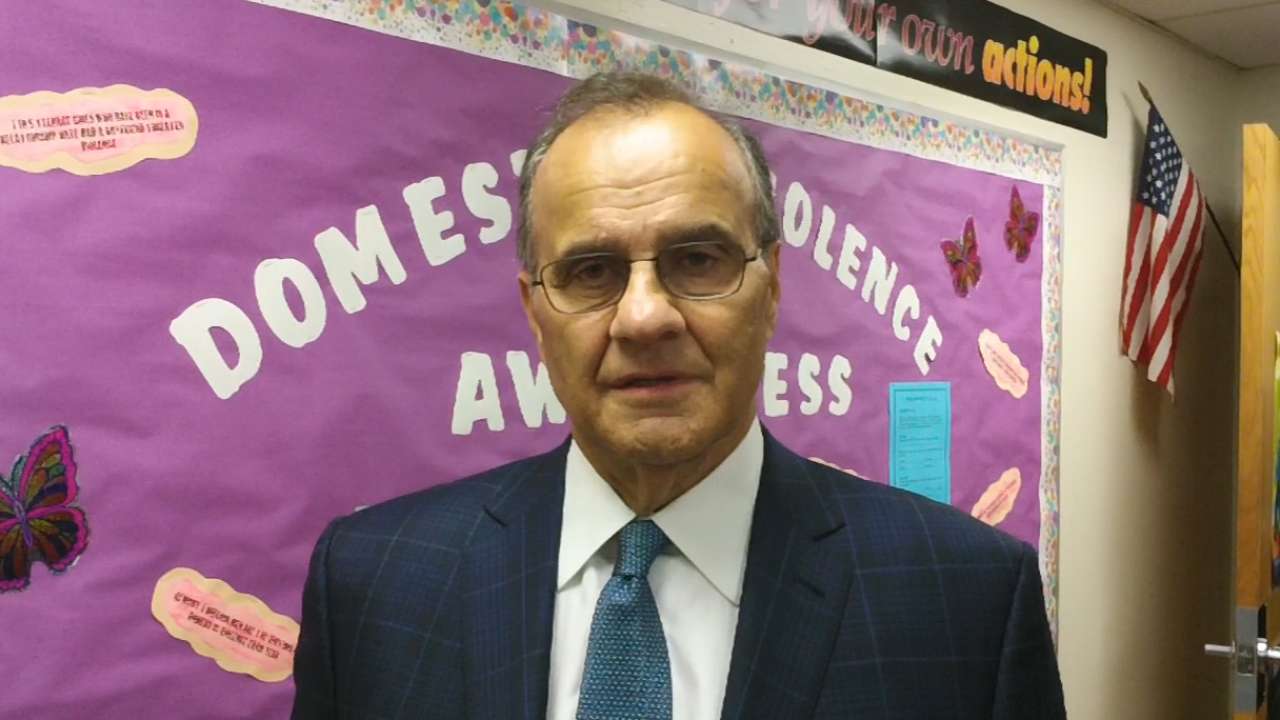 UNION CITY, N.J. -- Joe Torre walked into the Emerson Middle School gymnasium in Union City, N.J., and was showered with a hero's welcome by students. It was not just because of his stature as a Hall of Fame manager. It was also because he had made possible the three-room "Margaret's Place" safe haven inside their school, where kids who experience domestic violence can share feelings and maybe find hope.
Torre took a break from his role as Major League Baseball's executive vice president of baseball operations to appear at a moving school-wide assembly on Tuesday afternoon and receive a check for a $65,000 grant from HopeLine from Verizon and the Verizon Foundation to support his Safe At Home Foundation and its Margaret's Place initiative. He addressed hundreds of students about his experiences with domestic violence and held a long question-and-answer session.
"I grew up with domestic violence," Torre said. "I was a nervous kid growing up. I was afraid of school. ... I just had very low self-esteem. It really wasn't until not too long ago that I went through some counseling and discovered what my dad was doing to my mom in the house -- even though he didn't physically abuse me, that it was the cause of the fear that I felt and carried into my adult life.
"I felt bad stuff that went on in the house was my fault, that I was causing it. I thought we were the only family in the neighborhood that was going through this, and I never really shared it with any of my friends. Once I discovered that I wasn't born this way and it was caused by what was going on around me, then I wanted to talk about it.
"I was lucky -- I had the ability to play baseball. I had a place to hide. ... But other youngsters aren't as lucky as I was. They don't feel good about themselves.
"What we're trying to do with our Safe at Home Foundation, with Margaret's Place and our counselors and our leaders, is to let you know how important you are to us. We want you to come out the other end of this and go in the right direction -- the direction of respect, a direction of doing something positive with your life. And more than anything else, understand that we care and that people out there care a great deal about you."
Torre spent about 30 minutes answering questions, giving signed baseballs to those who spoke. The Q&A session supported the foundation's mission of encouraging students to express their feelings.
"You may have heard the phrase, 'Love is not abuse,'" Torre said. "Can anybody tell me what that means? Over there, with the Yankee hat on. Come on up."
A student named Scarlett bounded up on stage and addressed her peers confidently:
"We all have a person we love, right? Our mom, our dad, our sister, our brother. The difference between love is, when you love someone you show them that you care. You don't hurt them, you don't say mean things. When bad things happen, you're always there for them. That's what love is. When you verbally abuse, you're mean, you do bad things, that's not love. ... "
The crowd of students shouted their support.
"We all know that Margaret's Place was named after my mom," Torre said in an interview inside one of the Margaret's Place rooms before the assembly. "She endured the wrath and the abuse of my dad, and anything she did was basically for her kids. She was a tough lady, and I certainly want her memory to cast a very positive shadow on the kids who come through this room."
Verizon has worked with Torre and his foundation for the last decade. That check helps the initiative at Emerson, as well as other schools in the region.
Torre's appearance came one week after his appearance at Yankee Stadium to throw out the ceremonial first pitch.
"Seriously, it meant a great deal. I mean, when you get to Yankee Stadium on Opening Day and see all those people who are hungry for baseball. ... Those 12 years with the Yankees really made my career, and it sort of helps when people pay attention to what I say, and if I can give the message off about our Safe at Home Foundation and the work we do, it certainly has been a wonderful 12 years."
Mark Newman is enterprise editor of MLB.com. Read and join other baseball fans on his MLB.com community blog. This story was not subject to the approval of Major League Baseball or its clubs.