Yankees to continue to play matchups in save situations
Girardi says no decision made to stick with either Miller, Betances in ninth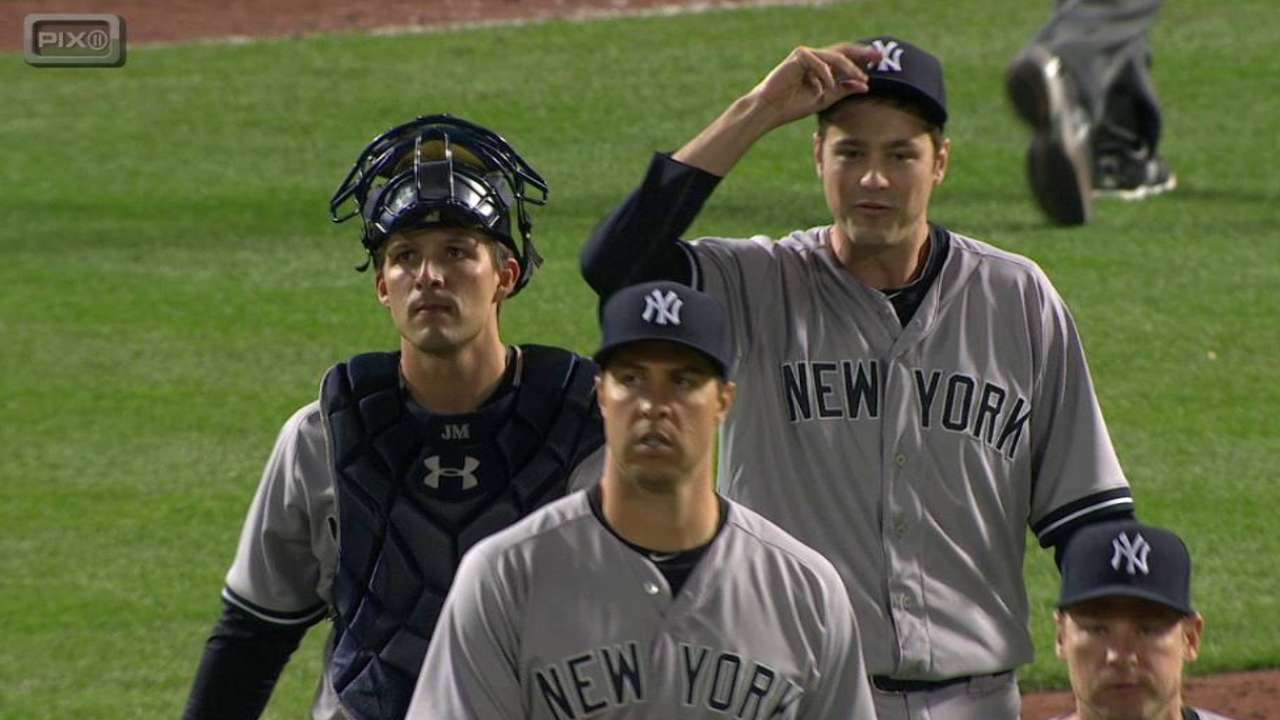 BALTIMORE -- Andrew Miller has been deployed twice to handle the ninth inning in save opportunities this season, but the Yankees say that they are still operating without a set closer, and that the phone could still ring for Dellin Betances in those situations.
Miller locked down the final five outs of the Yankees' 6-5 win over the Orioles on Monday, entering in the eighth after Betances permitted the first two batters of the inning to reach base, and recorded his third career save.
"I don't think what we're doing is traditional at all, so that's not really surprising," Miller said. "It's just the way it worked out."
Miller has made it easy to call on him -- he has yet to allow a hit, striking out six over 3 2/3 innings, but said that he has not been told to expect regular reps in the closing role just yet. Yankees manager Joe Girardi said that he is still looking at his matchups on a case-by-case basis.
"We haven't really made a decision one way or another," Girardi said. "I said I'd wait to see how it plays out here a little bit. We'll re-evaluate, but it's just kind of been where we've been in the lineup that I've made that decision."
Betances has allowed nine baserunners, including six walks, in his first 3 1/3 innings; this, after walking just 24 batters over 90 innings last year. Girardi believes that Betances is "a tick off," but Betances was pleased with some of the seventh-inning sliders that he threw to strike out Chris Davis and escape a bases-loaded jam Monday.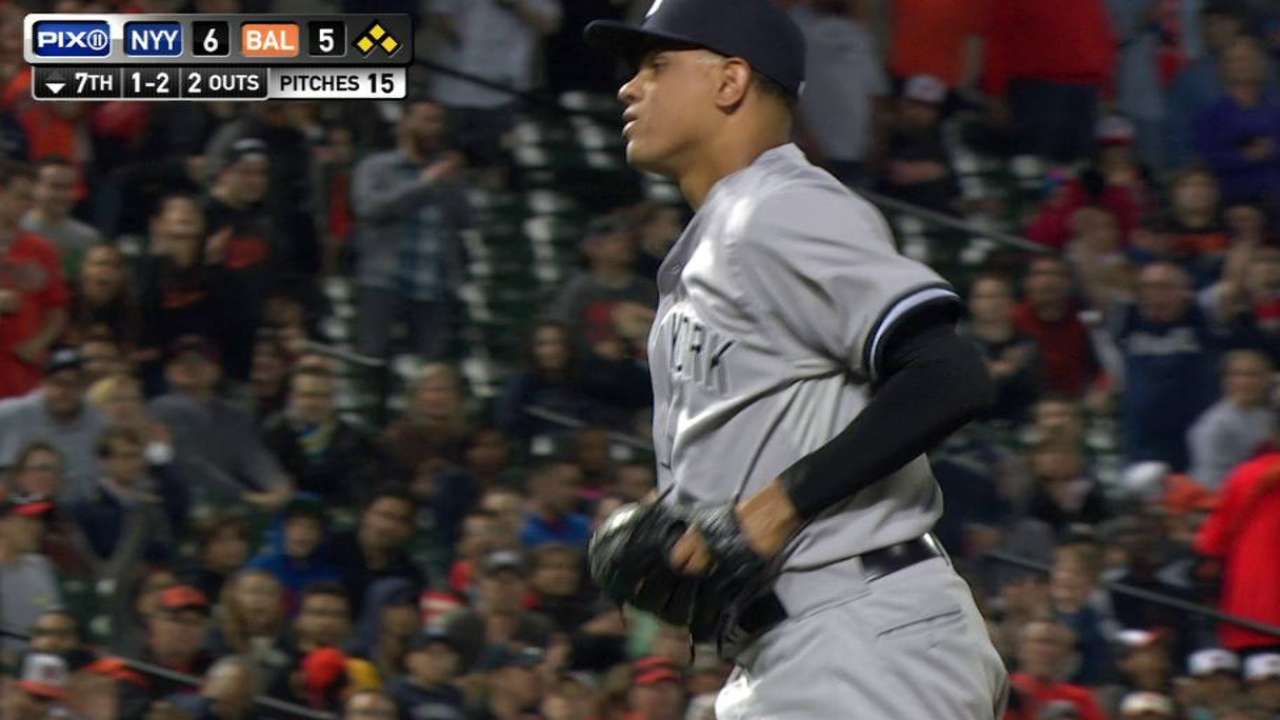 "I'm right there. I'm missing right there, but you just have to have confidence in yourself," Betances said. "Keep going out there and battling. You have guys like Miller picking you up. I made some good pitches to get out of that inning, and we won that game, so you have to look at the positives."
After having so many years of service from Mariano Rivera, then calling upon Rafael Soriano and David Robertson as set closers in recent years, Girardi said that this new ninth-inning arrangement is not necessarily foreign because he usually moves around relievers from the sixth through the eighth innings.
"I've had teams that have it, and I've been on teams that mix and match," Girardi said. "It's not something we've seen a lot around here. I'm not sure that's what we're going to do all year. We'll continue to re-evaluate, but at the beginning of the year we thought that was the best way to handle it."
Bryan Hoch is a reporter for MLB.com. Follow him on Twitter @bryanhoch and read his MLBlog, Bombers Beat. This story was not subject to the approval of Major League Baseball or its clubs.