Trout, Joyce learning each other's style in outfield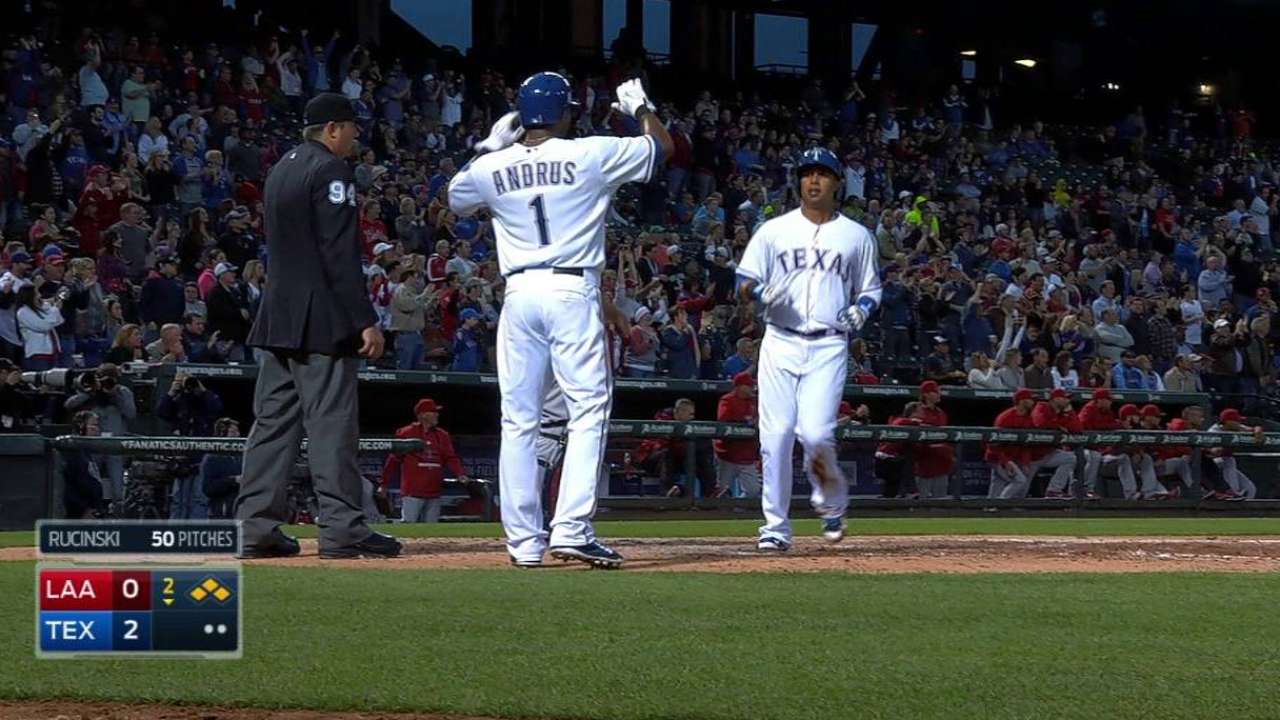 ARLINGTON -- Angels left fielder Matt Joyce sprinted deep into the gap, chasing the Robinson Chirinos fly ball that would either plate two runs or become the final out of Tuesday's second inning.
"I thought I could get there," Joyce said. "I called it."
Mike Trout called it, too, with every bit of the same confidence.
"I thought I had a bead on it," the Angels' center fielder said. "I thought I was going to catch it."
Neither did, though. The ball grazed Trout's glove, landed on the warning track and ricocheted off the left-center-field fence at Globe Life Park, giving the Rangers an early three-run lead, making life difficult on rookie Drew Rucinski and sending the Angels to an 8-2 loss.
It was a weird night.
The Angels started the game with a single, a double and a walk, and couldn't score.
Rucinski, optioned to Triple-A Salt Lake after the game, walked four batters, uncorked a couple of wild pitches, had three runners steal bases off him and needed 77 pitches to record eight outs.
"I never got in that groove tonight," said Rucinski, who was holding down the fort for Garrett Richards. "I fell behind in counts and was kind of all over the place with my fastball."
Jose Alvarez retired his first seven batters, then gave up four runs to four hitters in the sixth. The Angels' left-hander gave up a leadoff homer to Elvis Andrus, who snapped a 481-at-bat homerless drought that was the longest active streak in the Majors. Alvarez then hit Carlos Peguero, gave up a single to Leonys Martin and served up a three-run homer to Chirinos, the Rangers' No. 9 hitter, who drove in a career-high five runs.
It was the Angels' second loss in their last 12 games in Arlington -- and perhaps it doesn't happen if Trout and Joyce communicated on that one play.
"It's a big play in the game, obviously," Trout said.
"It's tough," Joyce said. "It's one of those situations where you're still trying to feel each other out."
Oblique and hamstring issues limited Joyce to only 18 Cactus League games this spring, with a lot of them coming at designated hitter. The 30-year-old outfielder, acquired from the Rays for reliever Kevin Jepsen in December, hasn't had a lot of time playing with Trout. He doesn't know where Trout plays certain hitters, what balls Trout can get to. They're still working on it.
"It's just one of those things, getting adjusted to him in left field," Trout said. "We didn't really get a chance to in spring because he was banged up. We'll get it straightened out."
Joyce understands that the center fielder has priority on fly balls, but he heard Trout call him off too late to get out of the way. And he let him know immediately after the play.
"I think the crowd got pretty loud," Joyce said, "and I want him to get a little louder."
Trout and Joyce had a similar occurrence on Opening Day, though on a much tougher play.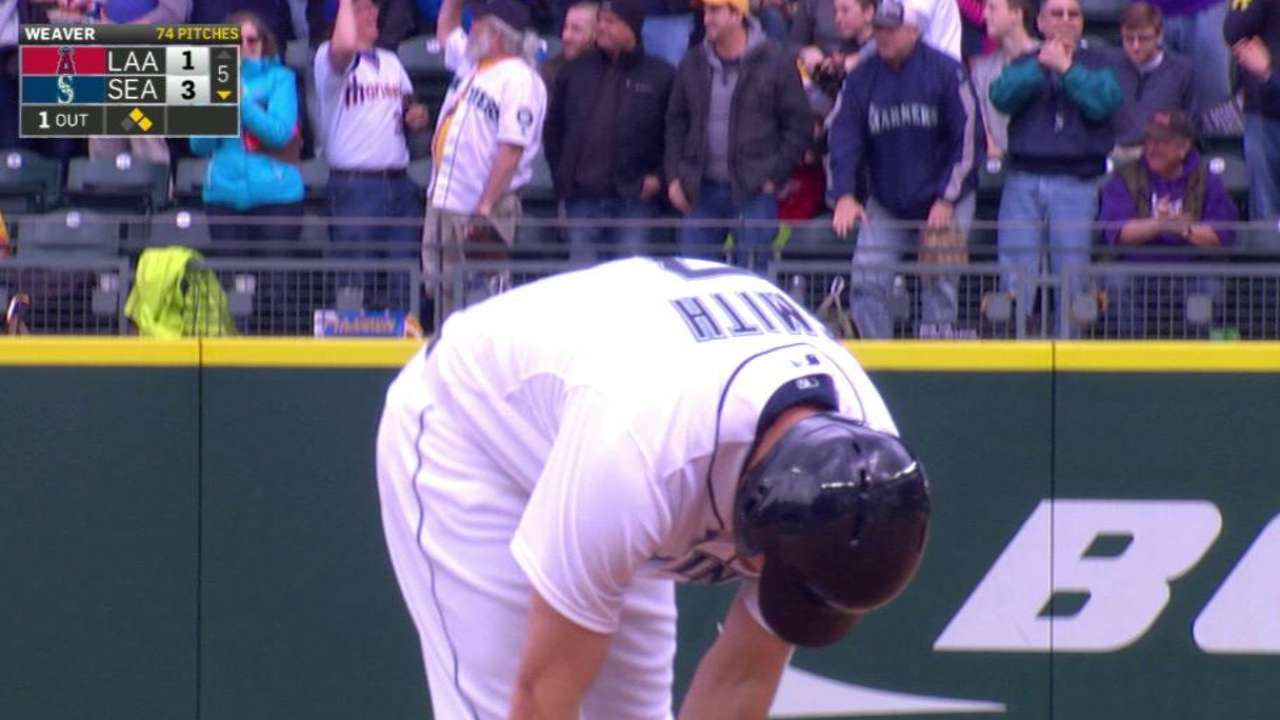 It was in the fifth inning at Safeco Field in Seattle, on a Seth Smith drive to deep left-center field. Joyce slid late and Trout tripped over him on what resulted in a ground-rule double.
"You're still learning about playing with each other in the outfield," said Joyce, batting .185 to start his Angels career. "For me, personally, I know I haven't really played the best baseball. It's been frustrating to start, but it's a long season. You're going to have ups and downs. That's the way the game goes. It's a hard game sometimes."
Alden Gonzalez is a reporter for MLB.com. Read his blog, Gonzo and "The Show", and follow him on Twitter @Alden_Gonzalez. This story was not subject to the approval of Major League Baseball or its clubs.