Hurdle not concerned about slow-starting Marte
Left fielder hitting .115 early on gets night off vs. Tigers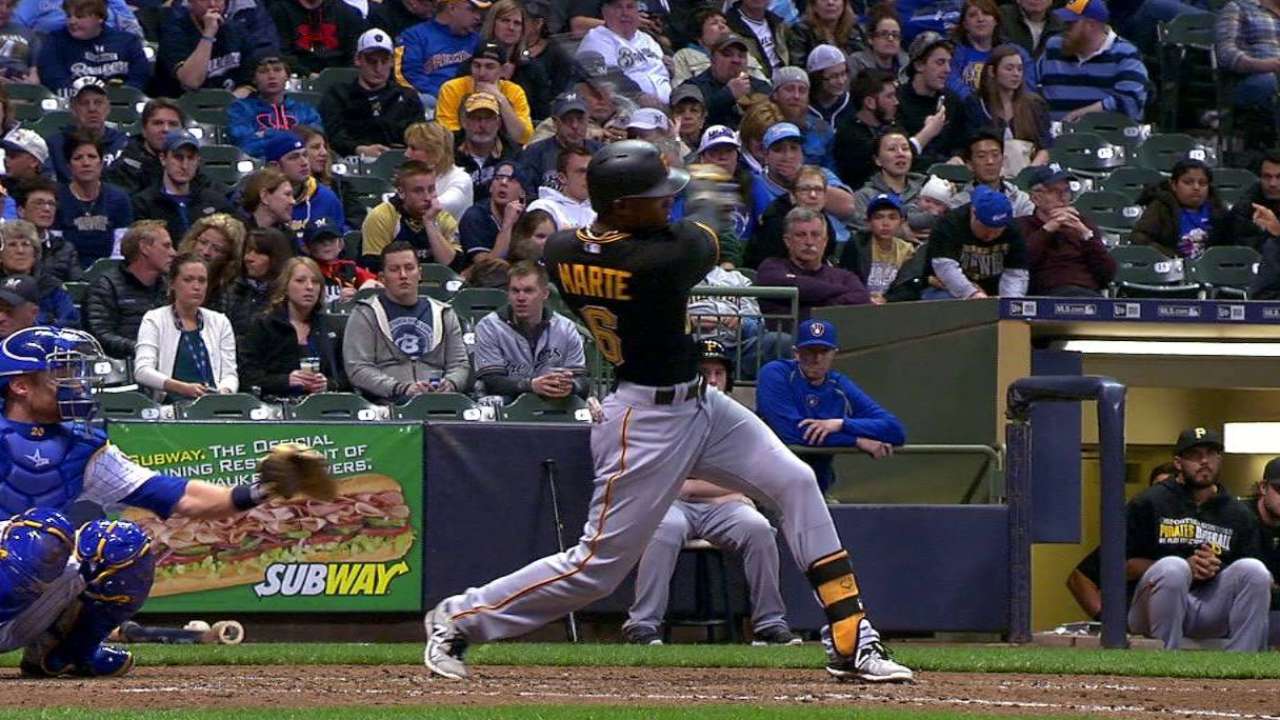 PITTSBURGH -- Pirates manager Clint Hurdle has mostly shrugged off any questions and concerns about his club's offense early on this season. And it's precisely for that reason: The season is barely a week old.
But the Pirates saw left fielder Starling Marte struggle enough through seven games to give him a day off Tuesday against the Tigers.
Marte was out of the lineup for Pittsburgh's first night game of the season at PNC Park. Gregory Polanco shifted from right to left field, and Corey Hart got the start in right field, batting fifth.
Coming off a spectacular second half last season, Marte has sputtered to a 3-for-26 (.115) start. He entered Tuesday with a Major League-leading 14 strikeouts, and he's drawn only one walk.
"He's just being challenged right now," Hurdle said. "We've seen Starling get in some funks. He's been able to work his way out of them. One of the ways you help him is just to sit him down, give him a chance to catch his breath."
Marte isn't the only Pirates hitter off to a slow start, of course. The Bucs began Tuesday leading the Majors with 75 strikeouts as a team. They've walked only 14 times, the fourth-lowest total in the Majors.
"That's not a sign of strength or a sign of confidence. Being stubborn with your routine is. Being patient. Hitting the ball hard where it's pitched," Hurdle said. "Early in the season, no matter how many years you've played sometimes, you get a little antsy. I think that's what we've seen."
The sluggish start brings to mind last season, when Pittsburgh carried a collective .221/.296/.351 in April. Is it possible that the Pirates are just slow starters by nature?
"I wouldn't say that," Hurdle said, "but we've been slow starters."
It's not as if the Pirates are lagging behind the competition. They rank 15th in the Majors with 29 runs scored and 14th with a .688 OPS.
Besides, as second baseman Neil Walker pointed out, the Bucs saved their best month last year for September. They hit .271/.333/.439 as a team that month, at which point the memories of a slow start at the plate had long since faded.
"I'm pretty sure if we had the exact same year last year and you would've flip-flopped the months of April and September, and you would've said, 'Which one would you rather have?' I think most people would say we'd rather have you guys start off slow than end slow," Walker said. "We're in a good place."
Adam Berry is a reporter for MLB.com. Follow him on Twitter at @adamdberry. This story was not subject to the approval of Major League Baseball or its clubs.