Yelich out with tight back, could sit Wednesday too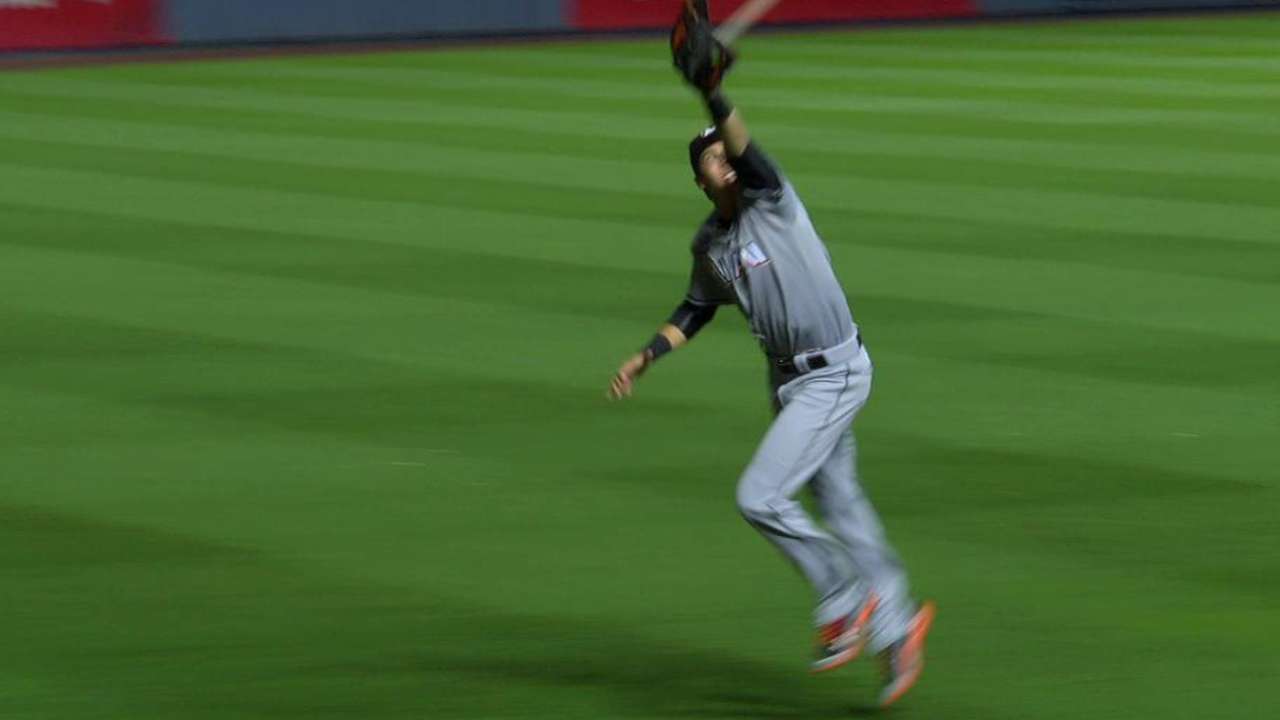 ATLANTA -- The aches and pains keep mounting for the Marlins. The latest discouraging news is that left fielder Christian Yelich sat out on Tuesday due to back tightness.
Yelich has dealt with some discomfort for a couple of days, and Ichiro Suzuki started in left and hit second against the Braves at Turner Field.
"Yeli's got a little bit of a tight back," manager Mike Redmond said. "I think it's something that has kind of been lingering for a day or so."
The National League Gold Glove Award-winning left fielder in 2014, Yelich made an incredible run-saving catch in the second inning of Monday's 3-2 loss. On Cameron Maybin's hot line drive, Yelich raced back, extended and tumbled to the ground, taking away at least a double and preventing two runs from scoring.
Redmond isn't sure if that play caused the injury.
"That play probably didn't help it," Redmond said.
Yelich's setback comes a day after the Marlins placed right-hander Henderson Alvarez (shoulder inflammation), catcher Jeff Mathis (fractured right hand) and infielder Don Kelly (fractured right fourth finger) on the disabled list.
Yelich is batting .259 with a .355 on-base percentage in seven games. He delivered a walk-off single in the 10th inning of the Marlins' 10-9 win against the Rays on Friday at Marlins Park.
Miami has a day game on Wednesday, and Redmond may side with caution about using Yelich in the series finale with Atlanta.
"I think the important thing is to get him feeling good," Redmond said. "If it is a day or two or a DL stint, that's the important thing. Right now, we're just treating it as a day-to-day thing. We'll evaluate him tomorrow and see how he is. I know he's been getting treatment on it all day, trying to get that thing feeling better."
Ichiro, signed as the fourth outfielder, is making his second start. On Sunday, he played center field against the Rays.
"That's been the luxury of having Ichiro," Redmond said. "We've talked about it since Spring Training. We weren't sure how it was going to happen, where we would get him into games. As you see, there have been places where we can plug him in. What he brings to our ballclub is huge. Maybe Ichiro is what we need to give us that lift, to give us that spark."
Joe Frisaro is a reporter for MLB.com. He writes a blog, called The Fish Pond. Follow him on Twitter @JoeFrisaro. This story was not subject to the approval of Major League Baseball or its clubs.